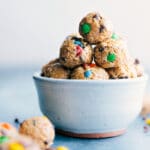 Print
Monster Energy Balls
Monster Energy Balls are like channeling your favorite peanut butter-packed, M&M-filled Monster Cookies into a more nutritious snack -- an energy bite!
COMBINE: Combine all of the ingredients in a very large bowl. Using a hand mixer on low speed, beat until a thick mixture is formed. (Or do this in a stand mixer.) See Note 2.

ROLL: Use a 1-tablespoon measuring spoon or 1-1/2 tablespoon cookie scoop to portion out the dough and then tightly roll into balls (Note 3). Once rolled, place in the fridge (on a parchment paper-lined plate or tray so they don't stick) to firm up for about 30 mins to an hour and then transfer to an airtight container. Store in the fridge for 1-2 weeks or freeze (see next step).

FREEZE: To freeze, space the energy balls on a lined plate or tray in the freezer. Once firm (about 1-2 hours), transfer to an airtight bag or freezer container. They'll last up to 6 months in the freezer. To thaw: Simply pull one out and let it stand for about 15-30 minutes. You could also pop them in the microwave for 10-15 seconds. When these bites are completely frozen, they are very hard to eat, but don't feel like you need to completely thaw them before eating -- we enjoy them still a bit frozen. They're delicious that way!
Note 1: If peanut butter is salted, you might want to leave this out. If you are sensitive to salt, reduce or leave out. If using table salt you'll want a tiny pinch (fine sea salt and table salt aren't the same!)
Note 2: Since there can be great variations in specific ingredients (especially peanut butter), you may need to add a bit more oats or a bit more peanut butter/honey to the mixture. If the mixture is too wet and sticky (and not rolling nicely into a ball), add a few more oats and re-mix everything. If the mixture is too dry (and crumbling), add more peanut butter and/or honey and re-mix everything until you can easily roll the balls. If these do seem too moist, keep in mind that oats continue to absorb liquid and may just need a little time to firm up.
Note 3: With a good cookie scoop, the dough can just be scooped and packed tightly in scoop then placed on a plate instead of requiring the effort of rolling individual balls. 
Calories:
64
kcal
|
Carbohydrates:
9
g
|
Protein:
2
g
|
Fat:
3
g
|
Saturated Fat:
1
g
|
Polyunsaturated Fat:
1
g
|
Monounsaturated Fat:
1
g
|
Trans Fat:
1
g
|
Cholesterol:
1
mg
|
Sodium:
22
mg
|
Potassium:
52
mg
|
Fiber:
1
g
|
Sugar:
3
g
|
Vitamin A:
4
IU
|
Vitamin C:
1
mg
|
Calcium:
8
mg
|
Iron:
1
mg