Print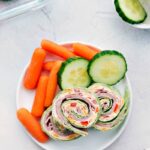 Lunchbox/Meal Prep Ham and Cheddar Pinwheels
Easily "Meal Prep" these Ham and Cheddar Pinwheels with fresh fruit, fresh veggies, and Marzetti's Veggie Ranch Snack Packs
Rest of Meal Prep
1

package

Marzetti Ranch Veggie Dip Snack Packs

fresh cut veggies such as: cucumbers, peppers, cherry tomatoes, carrots, broccoli, cauliflower, etc
Mix softened cream cheese with the freshly grated cheddar cheese, dry ranch mix, crumbled bacon, and diced red pepper until well combined.

Spread about 3-4 tablespoons of this mixture evenly on each tortilla then lay 4-6 slices of deli ham flat on top of the cheese mixture to cover in a single layer.

Gently (and tightly) roll up the tortilla to make sure it holds together and keeps its shape. Wrap in plastic wrap.

Refrigerate for about 30 minutes to firm up the softened cheese. Cut off the ends of tortilla roll (discard or eat em) and cut the rest of the log into even 1-inch slices.

To meal prep/make for lunches: Place the pinwheels into a plastic bag and then into the meal prepping container. This makes sure they don't harden at all and don't get soggy from the veggies. Add in a separate dip container and fresh veggies of your choice. Cover and store in the fridge until ready to eat.
Cook time refers to chilling time