Walking Dead Mummy Dogs make for the perfect spooky snack to celebrate the Halloween season with. Hot dogs wrapped with ribbons of pastry crust and decorated to look like the walking dead, these are sure to be a party hit! Not to mention they make a kid-friendly Halloween meal. Dip them in some ketchup and/or mustard and you'll be set with this one!
Above this text is a quick video overview (1 min, 40 seconds) showcasing four creative and "scary" Halloween Appetizers! These Halloween Appetizers are wickedly good
To view the other appetizers shown in the video click these links: 7-Layer Spider Web Dip, Monster Meatball Sliders, & Cheesy Bread Fingers.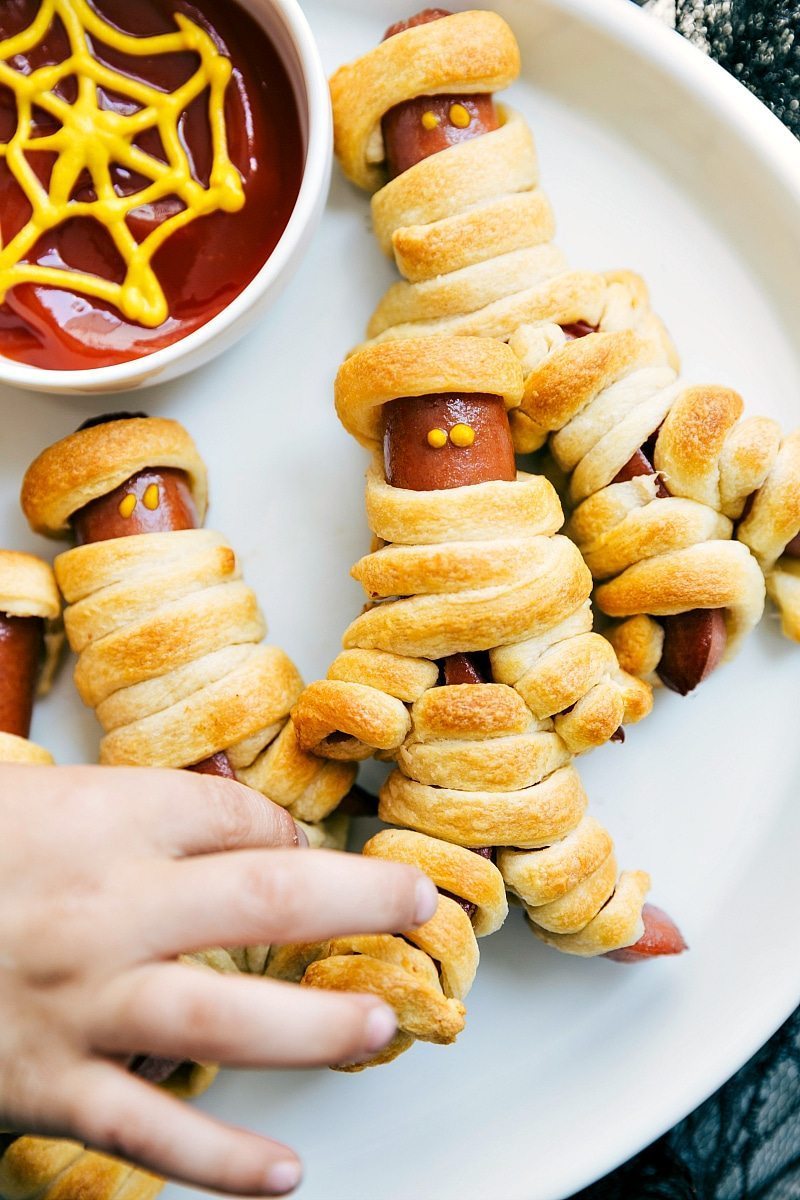 WALKING DEAD MUMMY DOGS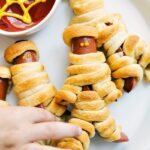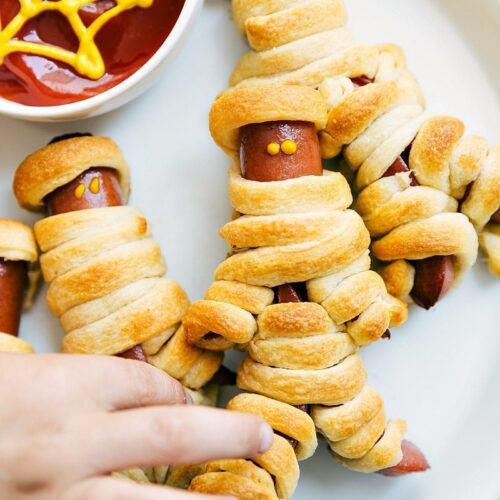 Walking Dead Mummy Dogs
These finger food mummies are delicious and simple to make -- a Halloween appetizer favorite for kids and adults!
Ingredients
1

container (8 ounces)

refrigerated crescent dinner rolls

10

large hot dogs

Cooking spray

Mustard and/or Ketchup
Instructions
Preheat the oven to 375 degrees F. Unwrap the crescent dough and lay flat on a cutting board. Cut at the perforations to create 4 even rectangles. Press the other perforations to seal.

With a sharp knife, cut each rectangle lengthwise into 10 strips, making a total of 40 strips of dough.

Take one hot dog at a time and make two slits along the sides for the mummy's arms. Make a slit at the bottom for the mummy's legs.

Wrap strips of dough around the individual arms and legs and then around the body of each hotdog, leaving small space for where the mummy's face will be.

Place the mummies on a large (ungreased) baking sheet and lightly spray the dough with cooking spray.

Bake for 12-15 minutes or until the dough is light golden brown. Pour some mustard in a plastic bag and snip off the tip of the bag with scissors. Pipe "eyes" on the mummies.

Enjoy the mummy dogs with extra mustard and ketchup if desired.