5-minutes prep and a delicious + healthy breakfast will be ready the next morning! This tasty vanilla-almond crunch and creamy peach chia pudding will be your new favorite breakfast!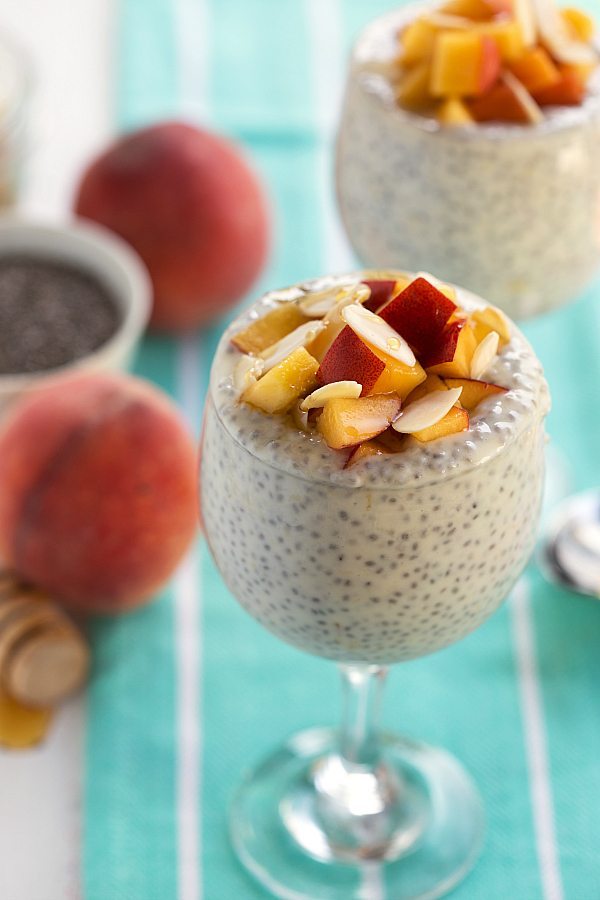 I love overnight breakfast ideas – you probably know this from my overnight oats obsession (here, here, here, here, here, here). Or perhaps from my overnight slow cooker quinoa, OR maybe even the fact that I bake cookies for breakfast so I can grab a cookie in the morning and go.
So I guess saying I love overnight breakfast ideas was probably an understatement.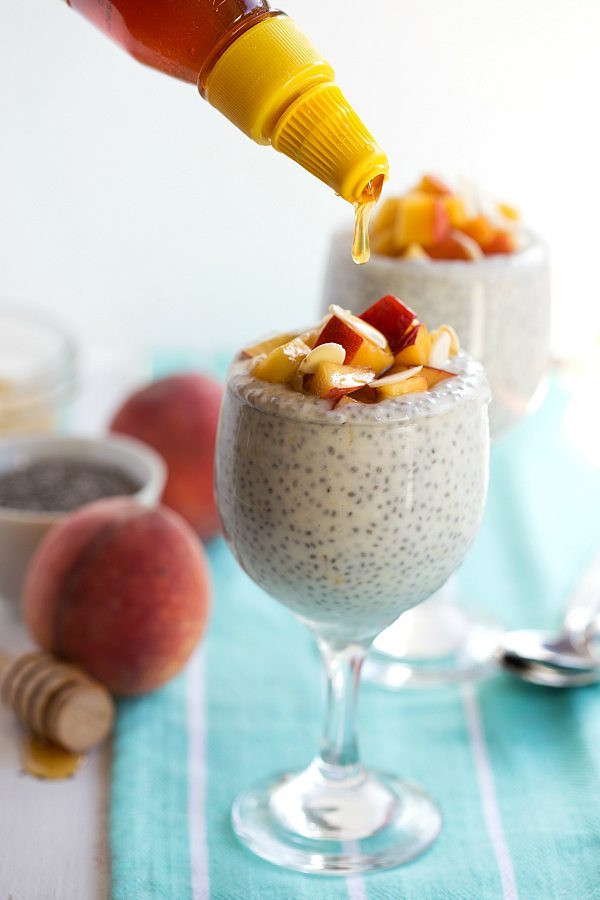 Anyways, when I first discovered chia pudding, I was actually a little grossed out and a bit intrigued all at the same time. My first exposure with it was actually just a week ago… (I know, have I been living in a cave?!)
Being brand new in Australia, we hadn't gotten any groceries yet and headed to a local supermarket for breakfast. Near all of the yogurts and breakfast things was a whole section for chia puddings called Chia Pods. All different flavors and varieties.
At first I thought it looked a little creepy – like a bazillion eyeballs staring at me. Does anyone else see this when you look at chia pudding?!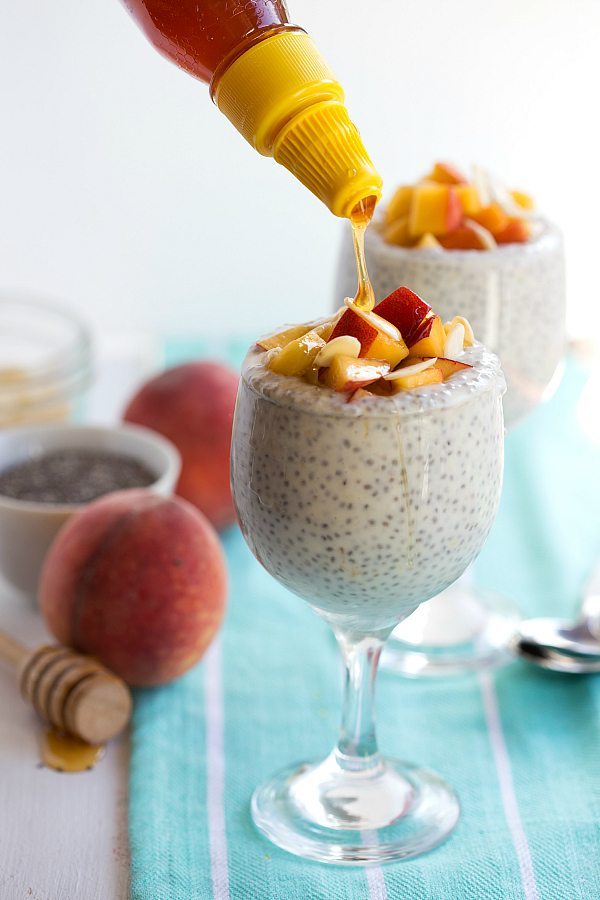 Naturally the non-adventurous part of me thought to steer clear of the eyeballs and just get some yogurt. And then the adventurous-food-blogging-person in me grabbed a chia pudding. I promptly left before I could change my mind.
After one bite I was thrilled that the adventurous side of me had won out because this stuff is AMAZING. The texture, which I was quite unsure of, is unlike anything I've ever had! Absolutely delicious! It definitely has a pudding texture, but because of the chia seeds it's almost an overly chewy type of pudding with a bit of a soft crunch.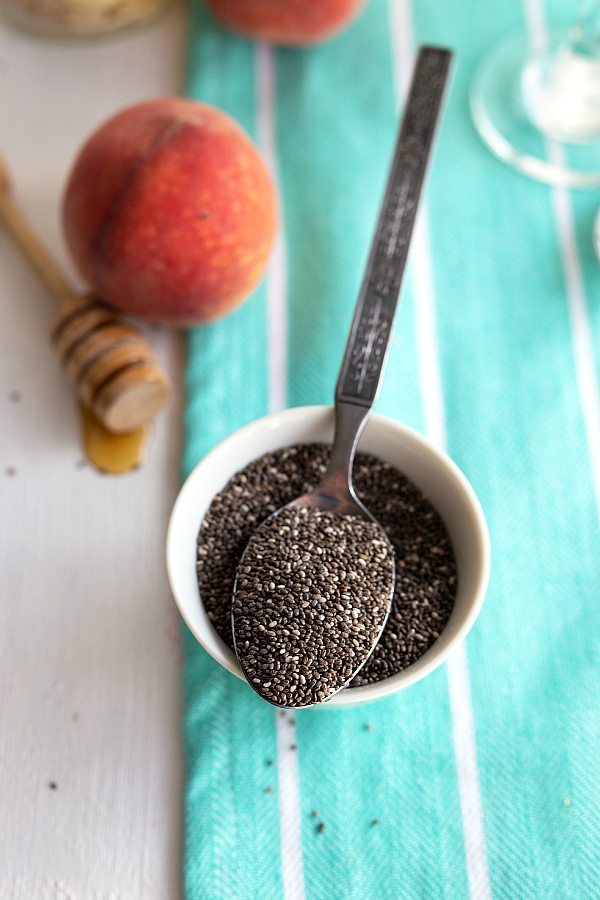 Before I had even finished my breakfast I was already thinking of different flavors and various varieties. The version I had from the store was vanilla almond, so I started brainstorming from there. Peaches and peach yogurt (both ingredients in this pudding) sounded like the perfect accompaniment to the other flavors so they won out.
The great news is this recipe can be adapted to really any fruit. Raspberries? Use fresh (or frozen) raspberries and raspberry yogurt. Strawberries? Use fresh strawberries and then strawberry yogurt. Blueberries? Blueberries and blueberry yogurt… And you get the idea. My only suggestion is to skip the Greek yogurt. I know I'm usually all about the Greek yogurt, but I didn't absolutely love it in this pudding. I tried a few different combinations and my favorite is a plain (as in not Greek) yogurt with vanilla almond milk.
Also the almonds? Such a fun "mix-in" for some extra crunch in this breakfast. I'd also recommend a handful of granola or a different kind of nut – I love the texture it adds!
Ch-ch-ch-chia!!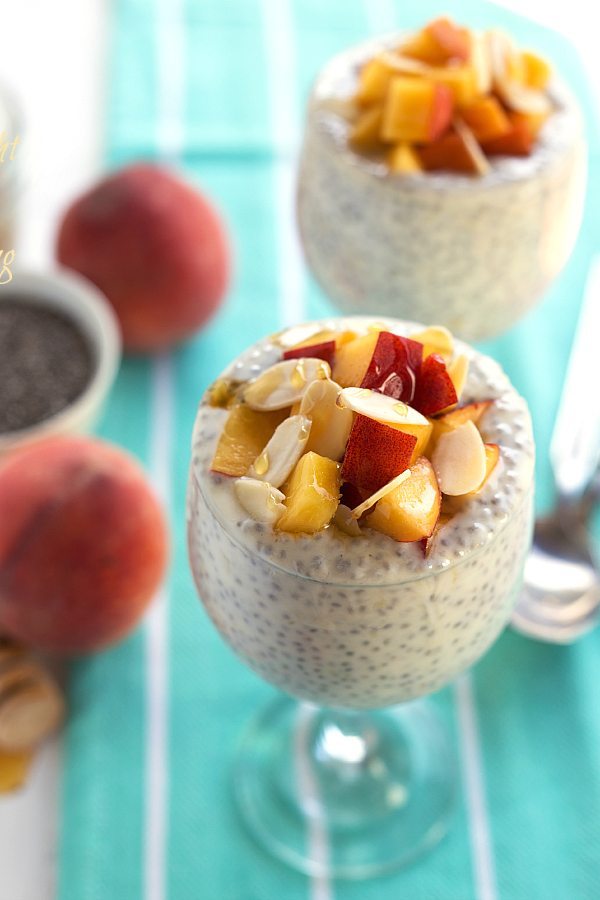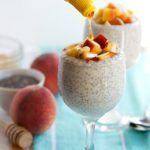 Vanilla Almond + Creamy Peach Overnight Chia Pudding
Ingredients
1

cup

unsweetened vanilla almond milk

or sub another milk

1

cup

peach yogurt

4

tablespoons

chia seeds

1 and 1/2

teaspoons

vanilla extract

1/8

teaspoon

almond extract

optional

1 and 1/4

teaspoon

truvia

or 1 tablespoon honey/agave

1/3

cup

slivered almonds

1

large peach
Instructions
In a small bowl or jar, stir together the milk, peach yogurt, chia seeds, vanilla extract, almond extract (only for a super almond taste - and scale to preference adding less or more as desired), and truvia or honey or agave.

Stir well and let sit for 15 minutes. Stir again and then seal container and store in the fridge overnight,.

In the morning, stir the almonds (toast the almonds lightly for additional flavor if desired) throughout the pudding.

Remove the pit of the peach and coarsely chop. Stir the peach throughout the pudding and enjoy!

Drizzle the top of the pudding with extra honey if desired.
More healthy breakfast ideas: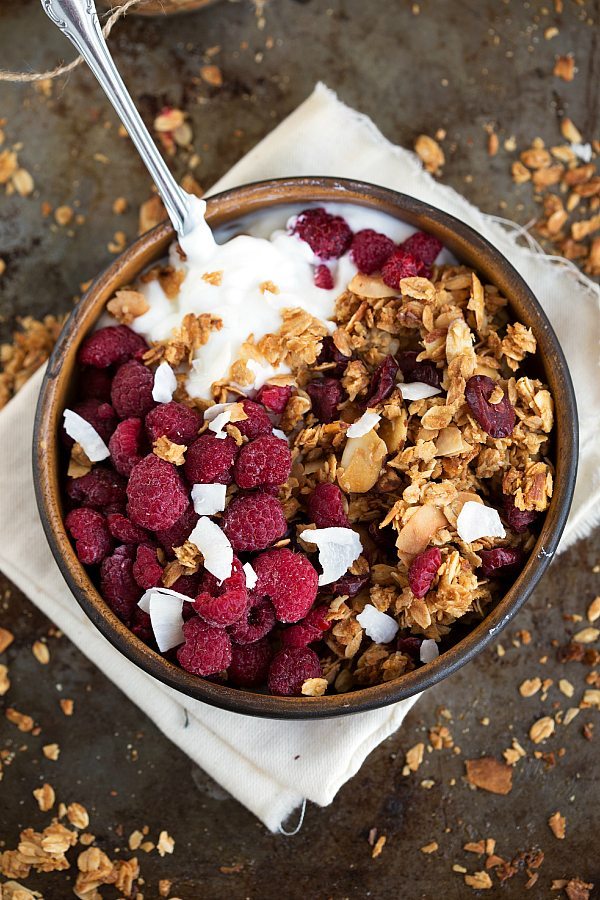 Toasted coconut and vanilla almond granola
Skinny and Flourless Pumpkin Chocolate-Chip Muffins
A gluten-free, healthy peanut butter oatmeal breakfast cookie