The best healthy brownies with no flour, no refined white sugar, no butter, and no eggs. These delicious and healthy brownies are easy to make and include an optional frosting recipe made using Greek yogurt!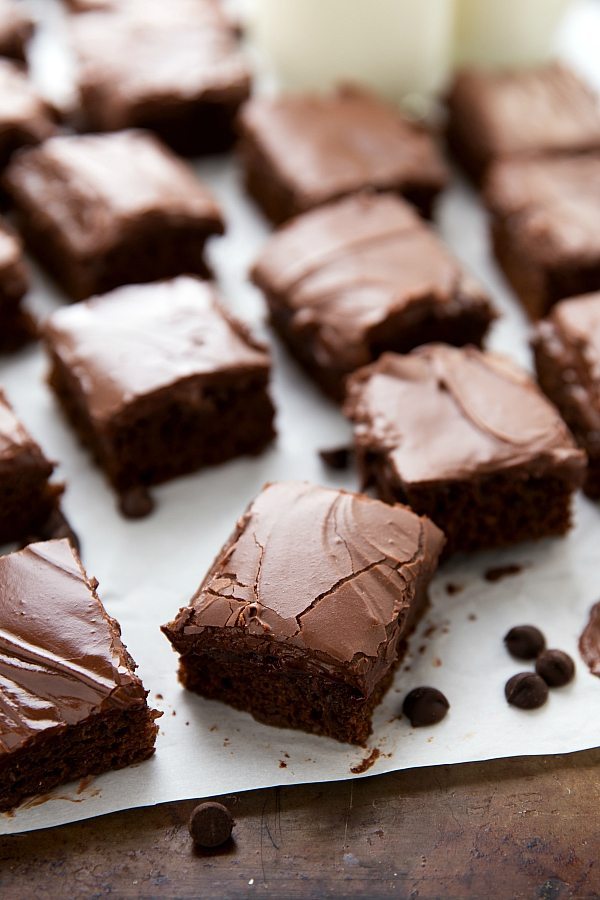 My dad knows just how much I love chocolate (I'm not too different from my chocolate-obsessed mother & sisters) and in his attempts to stay "hip" he sends my sisters, mom, and me what he thinks is a chocolate-chip emoji frequently. (?) The text will be something like "Have a great day cooking!?" Or "Want me to bring home a treat for you:?"
My sister finally decided to confront my dad and ask why he was always sending everyone a "pile of poop" emoji. He was completely surprised and then confused by her question… After showing him the emoji, he said, "You mean the cute little chocolate chips?"
And since then, we've all tried to convince him that it is not a chocolate chip. However, he is certain (and maintains) that Apple would never create a poop emoji and that it is indeed a chocolate chip. So he goes right along and continues using it in his various messages.
So I group messaged all my sisters a few weeks ago telling them they needed to come try my healthy brownies. I jokingly included the? emoji and scared them all off from trying the healthy brownies even after explaining that it was just a "chocolate-chip."? And now that I've put in a total of 6? emoji's I hope I haven't scared anyone else off from these healthy brownies because they are chocolate heaven!! GUILT-FREE chocolate heaven to be exact. Although I have a strict "no guilt" policy when eating chocolate. Because life is short and chocolate just makes life better 🙂
And one of my favorite ways to eat dark chocolate is in baked goods. Breads, muffins, cakes — chocolate pretty much always makes everything better. But BROWNIES. Brownies are hands down my absolute favorite way to eat chocolate. And if I don't have a planned place for a batch of brownies to go (family, friends, neighbors, etc.) they will all get consumed by yours truly.
As a result, I've worked and worked and WORKED on a healthy brownie recipe that I absolutely love but has better ingredients. Oh, and beans, they are a no go. (Sorry all you black bean brownie lovers, I just don't love beans in brownies!) I've published a healthy brownie recipe that's gotten great reviews and we all love and I will still continue to make because they are delicious, BUT it is a peanut butter brownie recipe that calls for quite a bit of peanut butter. So, there has been a definite need for a pure fudge-y ?% chocolate-y healthy brownie recipe. This is IT.
I call these the impossible healthy brownies because it's pretty amazing how great the ingredients are for the pure delicious fudgy taste you'll get. Also this is probably contrary to every single brownie law of the universe, but these are actually my favorite served COLD. I know, I know. Warm brownies are incredible and these are great warm too (warm up leftover pieces in the microwave!), but please promise you will try them chilled. Cover these tightly and chill them overnight (or about 4-6 hours) and then you'll know what I'm talking about. They taste like straight fudge.
SO what can you expect from these healthy brownies? After being chilled are very dense and fudgy and not at all cake-like. When warmed up they do have a lighter and more cake-like texture. They do not have an overpowering bitter cocoa taste because NO cocoa powder, but if you don't love the flavor or slight bitter taste of dark chocolate you likely won't love (or even like) these. The flavor will also depend highly on the chocolate you use. I used 53% cacao dark chocolate and didn't find these bitter, but they do taste like dark chocolate. They are thick, chewy, and quite rich with the frosting on them. They are so thick you really do need a glass of milk with them! This is a chocolate recipe you need in your life ASAP. 🙂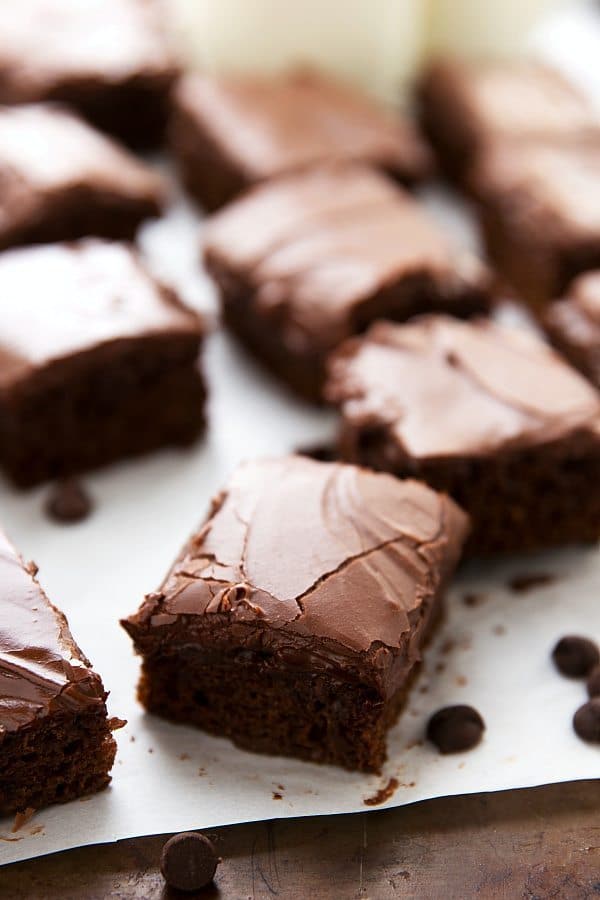 More healthier baked goods: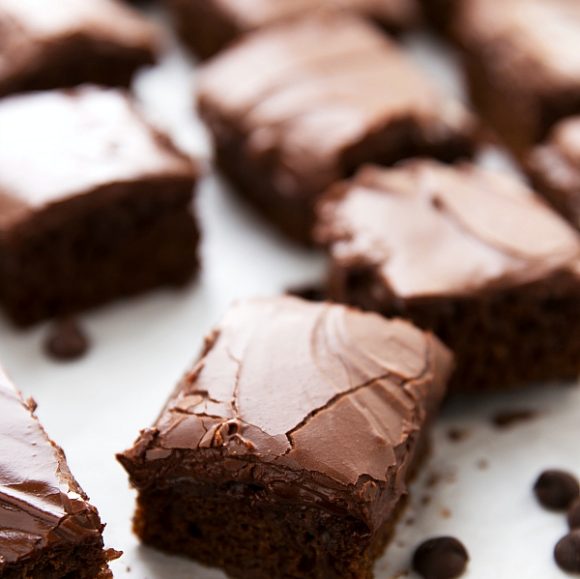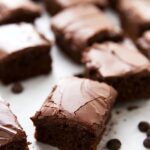 The Best Healthier Brownies
The best healthy brownies with no flour, no refined white sugar, no butter, and no eggs. These delicious and healthy brownies are easy to make and include an optional frosting recipe made using Greek yogurt!
Keyword:
healthy brownies
Servings
:
1
8x8 pan (12 bars)
Ingredients
Brownies:
1 and 1/2

cups

dark chocolate chips

separated, I use 53% cacao

1/4

cup + 2 tablespoons

coconut oil

LouAna brand recommended

1

cup

vanilla Greek yogurt*

1

teaspoon

vanilla extract

1/2

teaspoon

salt

1/2

teaspoon

baking soda

1/2

cup

coconut sugar

brown sugar can be substituted

3/4

cup

oat flour

just blend regular oats in your blender
Optional Frosting:
1/2

cup

dark chocolate chips

2

tablespoons

unsweetened vanilla almond milk

or whatever milk you have on hand

2

tablespoons

vanilla Greek yogurt

3/4- 1 & 1/4

cups

powdered sugar
Instructions
Preheat the oven to 350 degrees F. Line an 8 x 8 pan with foil or parchment paper and then spray with nonstick spray (I use a coconut oil based spray that I love.)

In a bowl place 1 cup of chocolate chips or chopped and measured dark chocolate.

Microwave the coconut oil and measure the coconut oil in its melted, hot state.

Pour the hot melted coconut oil over the dark chocolate and stir the chocolate until it is completely melted.

For best results I suggest using LouAna coconut oil as I've found other coconut oils vary in their baked taste and sometimes result in a bitter-tasting baked good.

Add in the Greek yogurt. Make sure the Greek yogurt is quite thick (check the notes) and not watery. If needed drab it with a paper towel after stirring and measuring it.

Stir in the vanilla, salt, baking soda, and coconut sugar.

In a blender or food processor put in quick oats or old fashioned oats. Blend or process until the oats resemble flour. Measure the oat flour after blending and not before.

Stir into the mixture. Stir in the remaining 1/2 cup chocolate chips.

Spread the mixture (it is very thick) into the prepared 8 x 8 pan. Bake in the preheated oven for 28-32 minutes or until a fork comes out clean when inserted.

Do not over-bake. Slightly under-baking is better and will yield a better taste and texture. (More fudge-like)

Remove from the oven and allow to cool completely.
Optional frosting
In a microwave safe bowl combine the chocolate chips and milk. Microwave in bursts of 15 seconds, stirring for 15 seconds in between each burst until the chocolate is completely melted.

Stir in the Greek yogurt and then whisk in the powdered sugar.

Start with 3/4 a cup and add as needed. Note that the frosting thickens up a lot after being refrigerated.

Refrigerate the frosting (covered in an airtight container) for at least 30 minutes.

Cover the brownies with the frosting.

Remove the brownies using the overhang of the parchment paper or foil. Cut into pieces and enjoy.
Storing Notes:
These are great warm but they are OUT OF THE WORLD good after being refrigerated overnight or for 6-8 hours (and eaten cold.) I never thought I would say a brownie is good cold but it tastes like brownie fudge after being chilled all night! 🙂 So when I make these now, I automatically just chill them overnight because that's the way we like them the best.

However, they are also super good warmed up in the microwave for a few seconds before enjoying! Just be careful warming these as the frosting melts.

Store brownies in an airtight container in the fridge for up to 3 days.

Frosting doesn't freeze well, but the brownies do freeze well by being individually wrapped.
Recipe Video
Recipe Notes
I've tried this recipe with several different types of yogurt. The best success I've had with lower fat yogurts is with a light Greek yogurt that is 130 calories a serving. Do not use a yogurt with less calories than that as it becomes too watery. I recommend a vanilla flavored yogurt as I believe it adds a lot more flavor than a plain yogurt.