An Applebee's copy-cat salad with an Asian salad blend, sliced almonds (or peanuts), peanut sauce shrimp, wonton strips, fresh cilantro, red bell pepper strips, and a chili lime vinaigrette.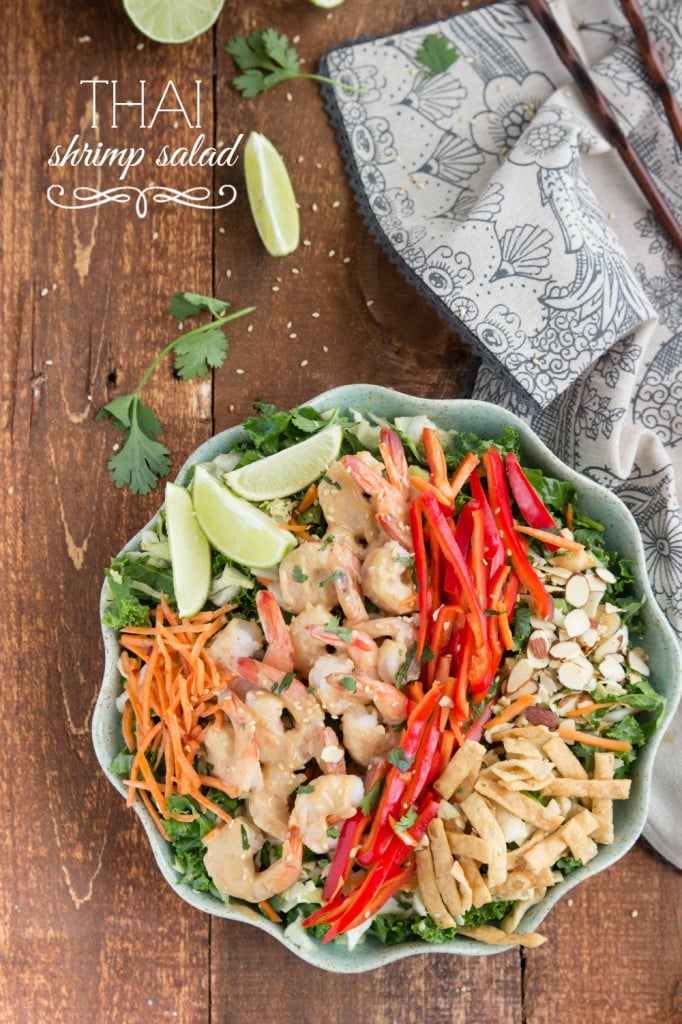 Remember that peanut sauce stir fry the other day? Well, I promised I would be back. With a copy-cat Applebee's salad.
Quick re-cap: The husband took me to Applebee's and I went out on a limb, tried this salad, and LOVED it. So naturally I had to re-create it.
And eat it non-stop for the past two weeks. In the name of recipe experimentation of course.
Although, this salad is not exactly the same as the Applebee's one, because, well I love changing things up.
Like, for instance, the red bell peppers. Those were added. But definitely a great flavor add for the salad. Pretty much I'm addicted to peppers. I try to sneak them into just about everything, and the husband tries to sneak them off just about everything. Ahem. Note to husband: I've noticed the pile of peppers neatly picked off to the side of your plate…
But he'll never complain about anything I make. Except if there are onions.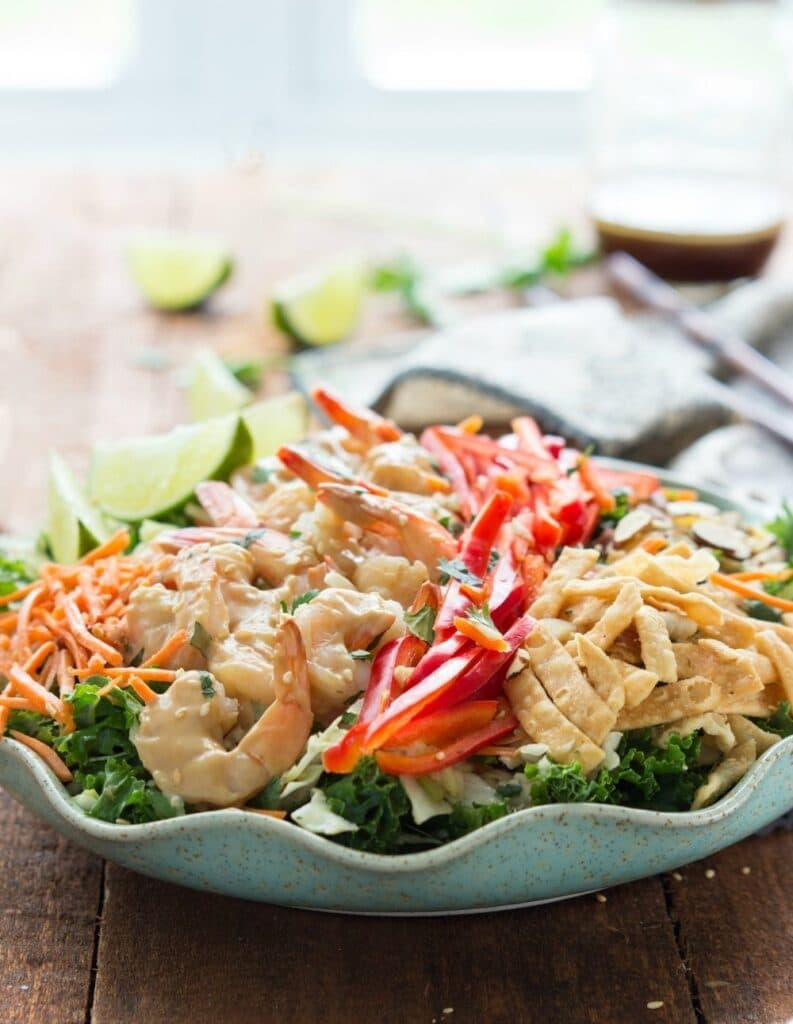 Okay and the shrimp? Guess what, I'm totally not a huge shrimp fan. Like, not a huge seafood fan at all. I know, I know craziness.
But having a food blog means trying new things and new flavors. And I have to admit, I've found lots of new foods and flavors that I love since I've been blogging. However, shrimp is still not my favorite, and probably never will be. BUT the good news is, that means I tried this salad two ways. Shrimp, because I promised to try new things. And I tried it with some cooked chicken, which I loved. You can do either the shrimp or chicken in this salad. The peanut sauce gets brushed over which ever one you choose and is d.i.v.i.n.e.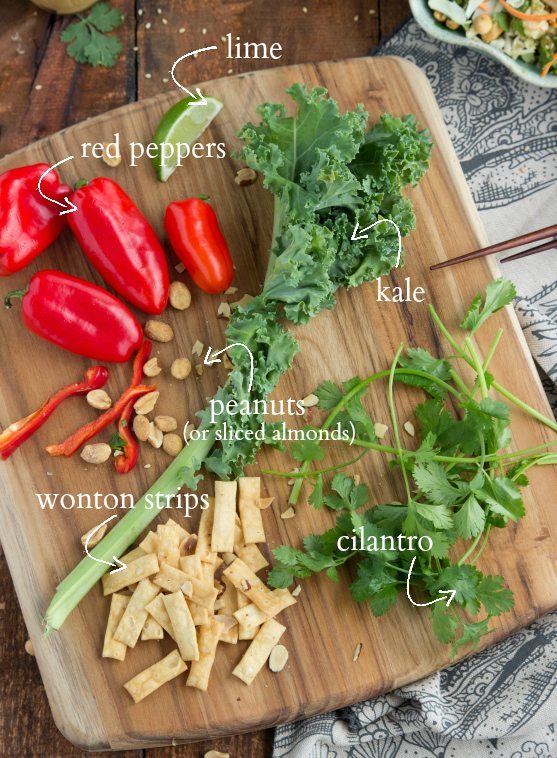 Also, I tried two different kinds of nuts – sliced almonds and smoked peanuts. I have to say, the almonds won in my book, but chose whichever you like best, because both were really good and a great complement to the other ingredients.
Another great aspect of this salad? It starts off with a kit. I used an Asian blends kit which has shredded green and red cabbage, kale, broccoli slaw, cilantro, and shredded carrots. Then I chopped up some extra kale and added that to the mix for a more robust salad. And by that time, there wasn't enough cilantro to salad ratio, so more of that got added too. (Not a big cilantro fan? Leave it out!)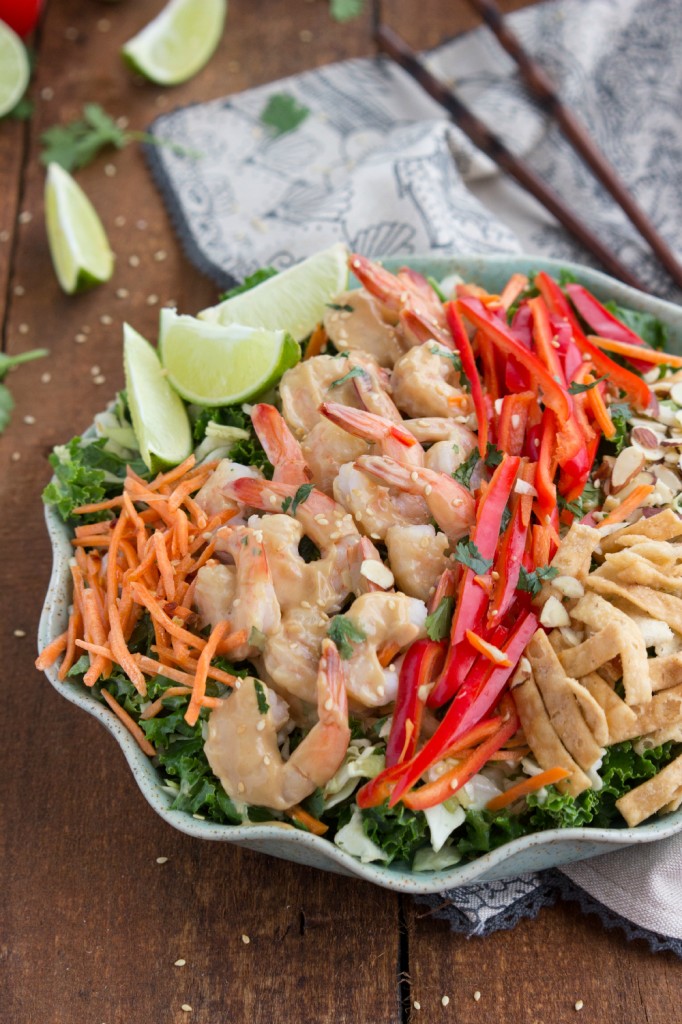 And finally, I think we just have the dressing to talk about. I created a chili lime vinaigrette for this salad. It's an easy, throw-the-ingredients-together, and shake kind of recipe. However, a pre-made dressing can definitely be used if you are in a pinch for time. I added a note to the dressing that crushed red pepper flakes can be added. This is for people that like it HOT. The husband, not so much. Me? Bring it on. If a meal is hot enough to make me cry, it's gooo-ood.
And there you have it – an awesome salad thanks to some Applebee's inspiration!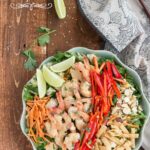 Thai Shrimp Salad
An Applebee's inspired Thai Shrimp Salad
Ingredients
8

ounces

shrimp

peeled and deveined

2

tablespoons

olive oil

Salt and Pepper

1

package Asian blend chopped salad

I like Dole

3

cups

kale

1/2

cup

thinly sliced red bell pepper

1/3

cup

shredded carrots

1/4

cup

sliced almonds or peanuts

Wonton Strips

Optional: sesame seeds, additional cilantro
Chili Lime Vinaigrette
4

tablespoons

freshly squeezed lime juice

2

tablespoons

soy sauce

2 and 1/4

teaspoons

olive oil

1

tablespoon

brown sugar

packed

3/4

teaspoon

minced garlic

3/4

teaspoon

red pepper flakes

Salt and pepper
Shrimp Peanut Sauce
2

tablespoons

creamy peanut butter

1

tablespoon

coconut milk

3/4

tablespoon

soy sauce

1/8

teaspoon

minced garlic

1

teaspoon

brown sugar

1

tablespoon

fresh lime juice

2-3

drops hot sauce

optional
Instructions
Preheat the oven to 400 degrees F. Line a large baking tray with parchment paper. Rinse the shrimp under cold water for a minute and then toss in olive oil and with salt and pepper. Spread evenly on the tray and bake for about 5 minutes or until just pink, firmed, and cooked through. Remove from the oven and set aside.

Remove the packaging for the Asian chopped salad and pour into a large bowl. Thoroughly wash and scrub the kale. Chop into very small pieces and toss with the chopped salad.

Add in the red pepper (remove seeds and slice thinly), shredded carrots, and almonds or peanuts.
Chili Lime Vinaigrette
Combine all of the ingredients in a sealable jar. Seal the jar tightly and shake until combined. Adjust seasonings to preference and then pour over the salad and toss to combine.
Peanut Sauce
Combine all of the ingredients in a blender or food processor. Blend until smooth, taste, adjust seasonings to preference, and brush or toss the shrimp in the sauce.

Add the shrimp to the salad.

Add in additional cilantro and seasame seeds if desired.

Top each salad plate with a generous handful of wonton strips.

Enjoy immediately.
Recipe Notes
If you don't plan on eating this salad right away, hold off on tossing it with the dressing as it makes the lettuce wilt. Toss with dressing right before eating. *Want some heat to the dressing? Add in some crushed red pepper flakes!
Here are some more delicious salad recipes:
(Under 30 minutes) Incredible Southwest Pasta Salad
Arugula and Brussels Sprouts Salad with a Creamy Dressing