Cut into this delicious butter pound cake to find a surprise strawberry cake flower.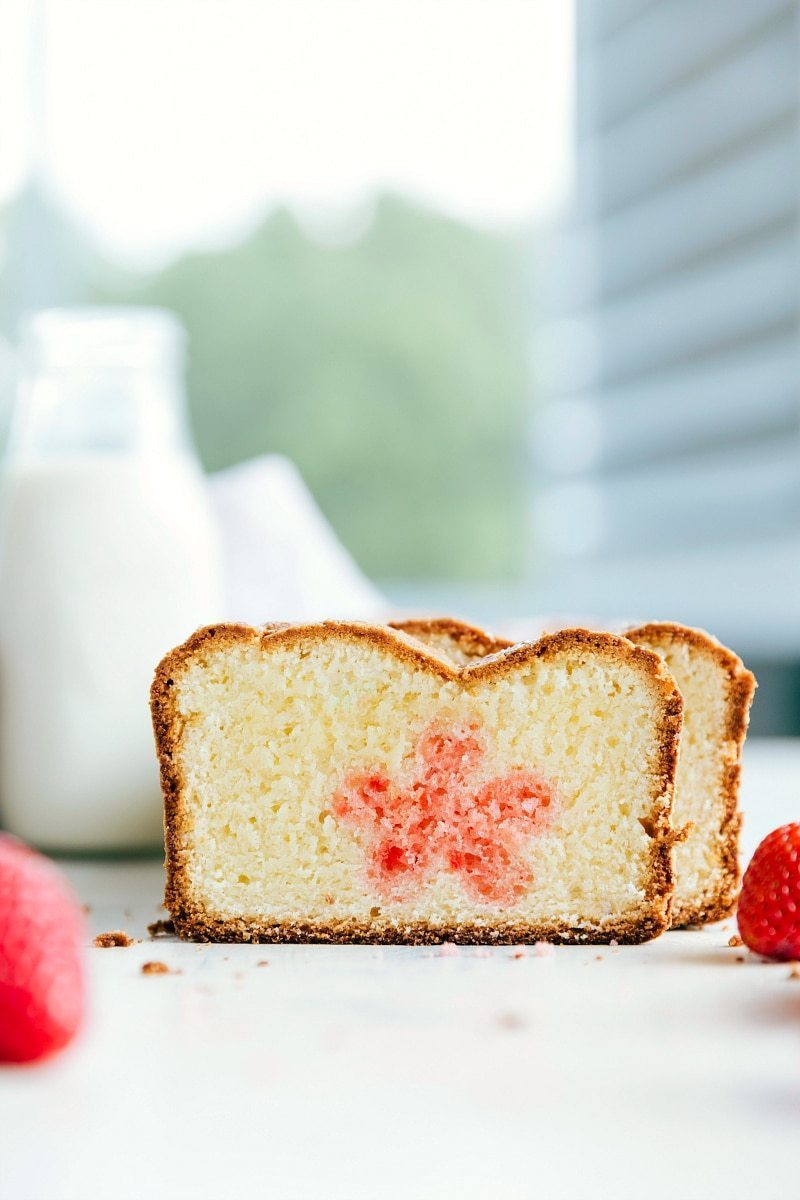 Mother's Day is coming up and this pound cake is the perfect dessert slash breakfast or brunch for the day.
I made a red-velvet heart stuffed pound cake back in February, which would also be great for Mother's Day, but I thought it would be fun to change things up a bit and make it a little more Spring-ish.
These cakes are a bit time consuming, but they are pretty simple to make. Quick overview: you'll make a strawberry cake and let it cool. Once that is cool, you'll cut out flower shapes and then put those flower shapes into a bread pan along with the next cake mixture — an easy butter pound cake.
Here's a quick list of my top tips for success:
SMALL and well shaped flower cookie cutter: if the flower cookie cutter is too large, the outside pound cake won't bake evenly. It's also important you have a very "distinct" flower shape so it can be easily recognized as a flower. The more intricate the flower design, the less it will look like a flower in the end. Here's a link to the exact cookie cutter I use for this cake.
Very little pound cake at the bottom: put very little batter on the bottom — just enough to hold the cut out flowers in place.
Pack the flower cut-outs tightly: Pack as many flower cut outs into the bread pan as possible. They should go from one side to the next and have no space in between.
Freeze the inside cake: It's so much easier to cut out shapes from a frozen cake. I also freeze the cut out pieces before putting them into the second pound cake.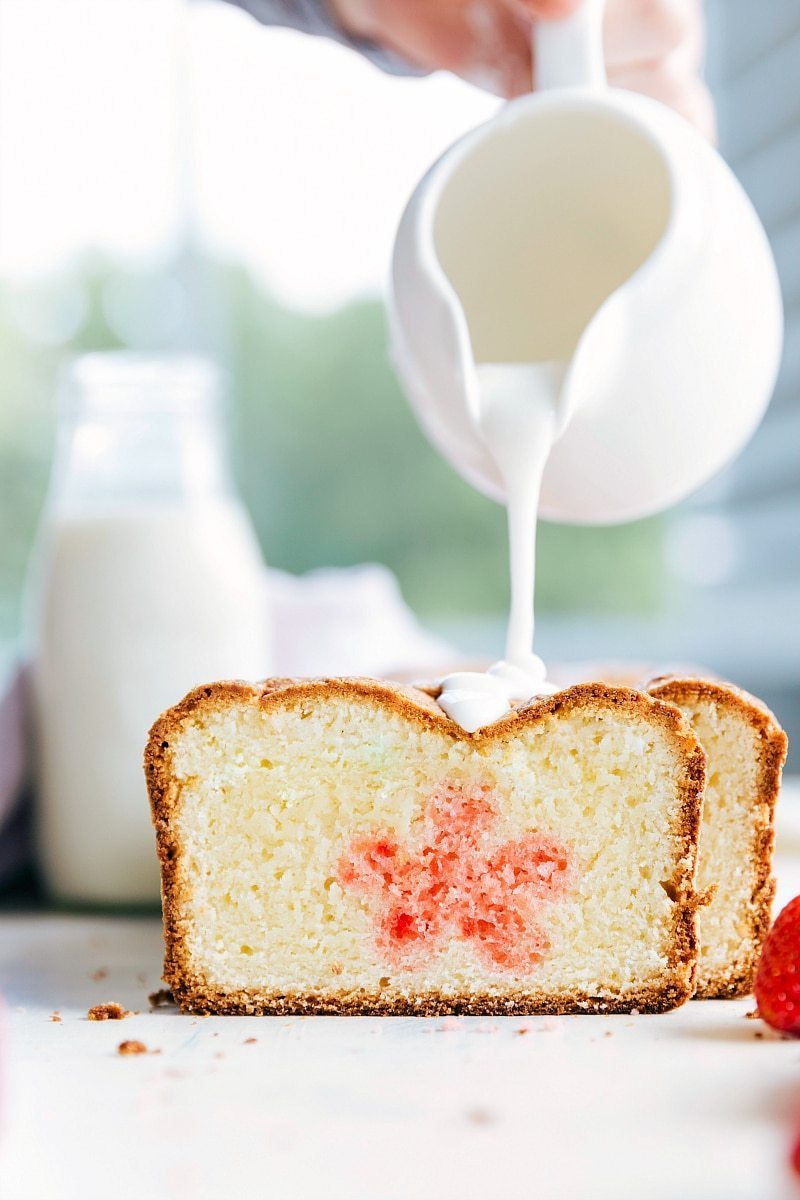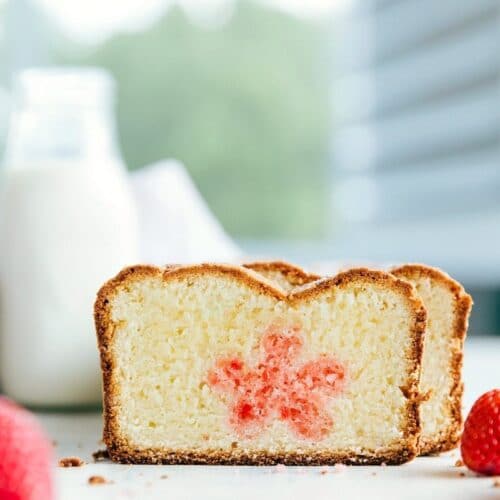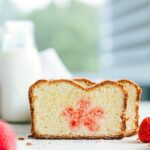 Surprise Strawberry Flower Bread
Ingredients
Pink Flower
1

box

strawberry cake mix + ingredients called for
Cream Cheese Pound Cake
4

ounces

cream cheese,

softened, I used full-fat

3/4 cup

(12 tablespoons)

salted butter,

softened

1 and 1/2

cups

white sugar

3

large

eggs,

at room temperature

1/2

teaspoon

vanilla extract

1 and 1/2

cups

white flour

3/4

teaspoon

salt
Glaze
1 and 1/2

cups

powdered sugar

3-4

tablespoons

milk

1

teaspoon

vanilla extract
Instructions
Preheat the oven to 350 degrees F. Prepare the cake mix according to package directions.

Grease and flour the bottom only of a loaf pan and bake for 35 to 55 minutes depending on the pan size. One 9x5 loaf pan will be very full and will bake for 50 minutes (or more). You can use two 8x4-inch pans and start checking for doneness at around 35 minutes. Alternatively you can bake the cake in a 9 x 13 pan.

Bake the cake and then let it cool for about 10 minutes. Then remove from pan onto a cooling rack.

Cut the bread into slices and let slices continue to cool in the freezer while you prepare the next layer.

In a large bowl, combine the cream cheese and butter. Using hand mixers, beat for about 2 minutes or until soft and creamy.

Add in the sugar and eggs and continue to beat.

Sift the flour and salt in another small bowl and then slowly mix in with the wet ingredients. Continue to beat and add in vanilla extract.

Using a small and well shaped flower cookie cutter, cut out the flower in the sliced strawberry cake.

Grease and flour the bread pan very well.

Pour a very small amount (about 1/4 cup) of the pound cake layer into the bottom of the pan and spread it along the bottom. Then stick the flower pieces from the back of the pan to the front. Pack the flowers in tightly so cake can't seep between the layers.

Pour the remaining pound cake on top so that all the flowers should be completely covered. Use a spoon if needed to place the batter around the flowers. Be gentle so you don't ruin any of the flowers.

Cook for about 60-80 minutes or until a toothpick (stuck in only the pound cake layer) comes out clean. This time variance is so large because of altitude differences.

Watch the cake and make sure the top and sides aren't burning. If they seem to be browning too quickly, cover with a tin foil tent,

Let the cake cool for about 10-15 minutes and then remove onto a large plate or platter.

While the cake is cooling, whisk together the glaze ingredients until smooth adding additional milk as needed to thin. (You do want it thick enough to coat the cake and not run off of it.)

Spoon the glaze over the cake generously.

Using the cookie cutter as a guide for how thick your pieces should be cut, cut and serve.
More Mother's Day Ideas: