A football stadium complete with the yard lines, touchdown zones, fans, and footballs all in a delicious royal iced sugar cookie form. The perfect dessert for game days!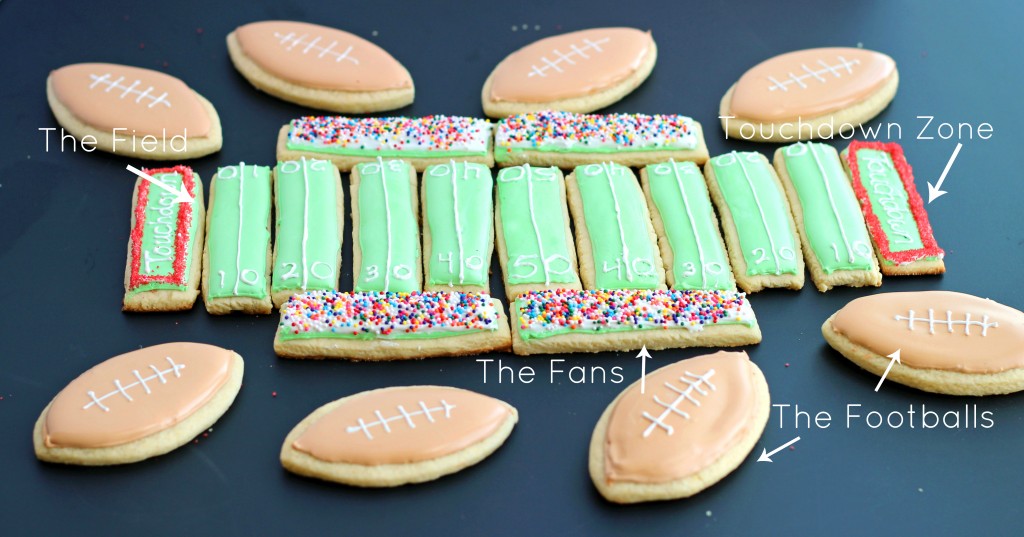 I know, I know. The Superbowl is still a couple of weeks away. But before you know it, it will be here!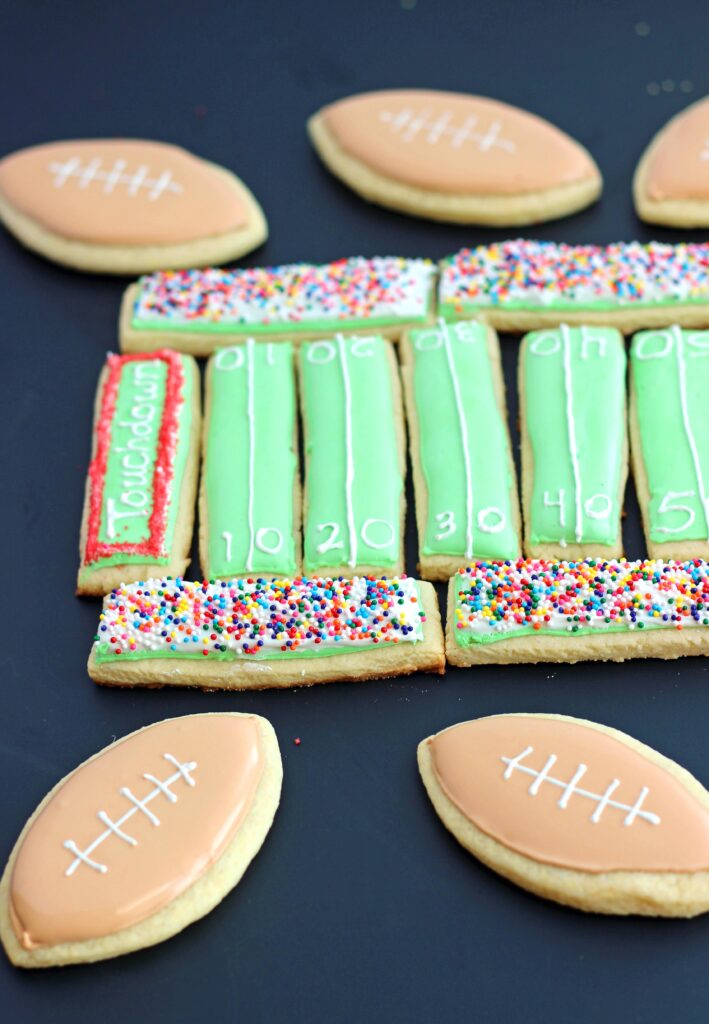 A little bit about this stadium: it comes together super easily simply by placing cookies next to each other. Butttt the cookies do take a little TLC. In my opinion, if you have all the materials, royal icing cookies aren't hard, they are just a bit time consuming. The good news is, these royal iced cookies aren't super detailed or ornate. Just simple lines and a few letters here and there.
This sugar cookie dough is my all time favorite. It's incredibly simple, few ingredients, and best of all it doesn't require chilling (!!!). The amount of dough produced by this recipe should be enough to finish your field and football cookies if you don't roll the cookies too thick.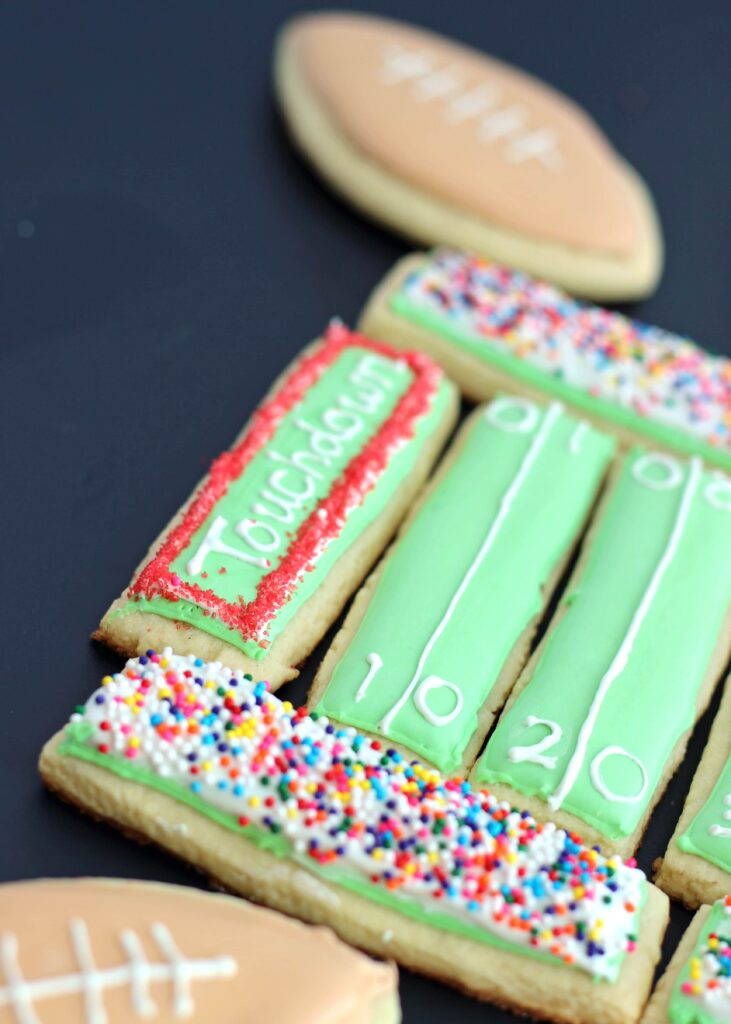 If you haven't ever tried royal icing, here is a fantastic tutorial you should read before getting started: How to decorate cookies with royal icing.
To make this stadium and these cookies, here is a list of supplies you will need:
(I included links in case you are a first timer with royal iced sugar cookies. These are not affiliate links and you can find most of these things at a grocery or craft store. I've bought these items at both JoAnn's and Wal-Mart)
Batch of sugar cookie dough (recipe below)
Batch of royal icing (recipe below)
Squeeze bottles
Toothpicks
Happy preparation for Game Day!!!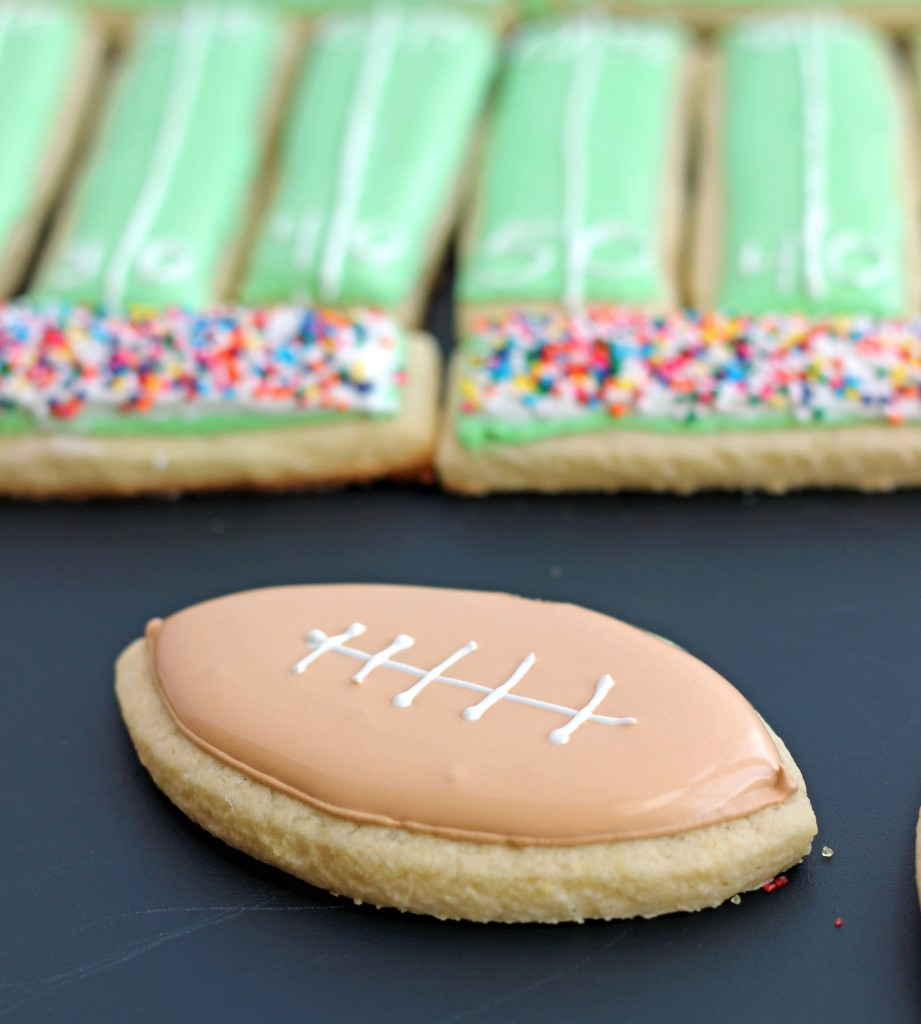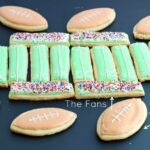 Sugar Cookie Football Stadium
Ingredients
Royal Icing
3

ounces

egg whites

measure with a food scale

1

teaspoons

and 1/2 vanilla extract

I love Mexican vanilla

4

cups

powdered sugar

Brown dye

Green dye
Decorations
Colorful nonpareil sprinkles

Red sugar sprinkles
Instructions
Prepare the sugar cookies and allow to completely cool.
Prepare the icing
In a stand mixer, add in the whites and vanilla. Beat until frothy.

Add in the powdered sugar and beat at high speed until mixture is glossy and forms stiff peaks (for about 5-7 minutes)

Separate the icing into 3 bowls. Leave one white, dye one green, and dye the other brown.

Place the green dye into a disposable bag with a #2 tip. Pipe a rectangle around all of the rectangular cookies. Add a little bit of water to the remaining green dye in the bowl and let the frosting sit with a damp towel for a few minutes. Transfer the frosting to a squeeze bottle and flood the cookies. Use a toothpick to pop any bubbles that appear in the cookie and to guide the frosting to the edges. Allow the frosting to dry completely before piping on the white lettering with a #1 tip.

For the footballs, outline the cookie with a #2 tip and brown icing. Add a little bit of water to the remaining brown dye in the bowl and let sit with a damp towel over the frosting for a few minutes. Transfer the frosting to a squeeze bottle and flood the cookies. Again, use the toothpick to help pop bubbles and guide the frosting

For the touchdown cookies, allow the green frosting to dry fully and then pipe a white line around with a #1 tip. Put the red sprinkles on the white part and shake off the excess sprinkles. Carefully pipe the word "Touchdown" with the #1 tip.

For the fans, instead of flooding the cookies, pipe white or green frosting over the cookies and pour nonpareil sprinkles over the frosting. This way when you shake off the excess sprinkles, wet frosting won't come with them.
Putting it together.
Place the yard lines together going from 10 to 50 and back down to 10 again. Place the fans on either sides of the field and the touchdown zones and each side. Place footballs around the scene.
This post includes some affiliate links. This means if you purchase through a link I will receive a small commission without it costing you any additional money. Thanks for your support!