A strawberry shortcake popsicle made with fresh ingredients and coated in crumbled shortcake cookies – a Good Humor Popsicle inspired treat. These popsicles are simple to make and perfect to enjoy on a hot summer day.
Strawberry shortcake has been a classic dessert in America for over 100 years. Crazy right?
Well today I am bringing you a classic strawberry shortcake flavor in a very different form. I'm talking popsicles. But these aren't just regular popsicles – they are strawberry-filled, flavored, AND coated with crushed up shortcake cookies.
This is a strawberry shortcake dessert at its finest. And I'm talking, the husband could not put these down. Good thing I made a couple of batches or I wouldn't have even gotten to try these!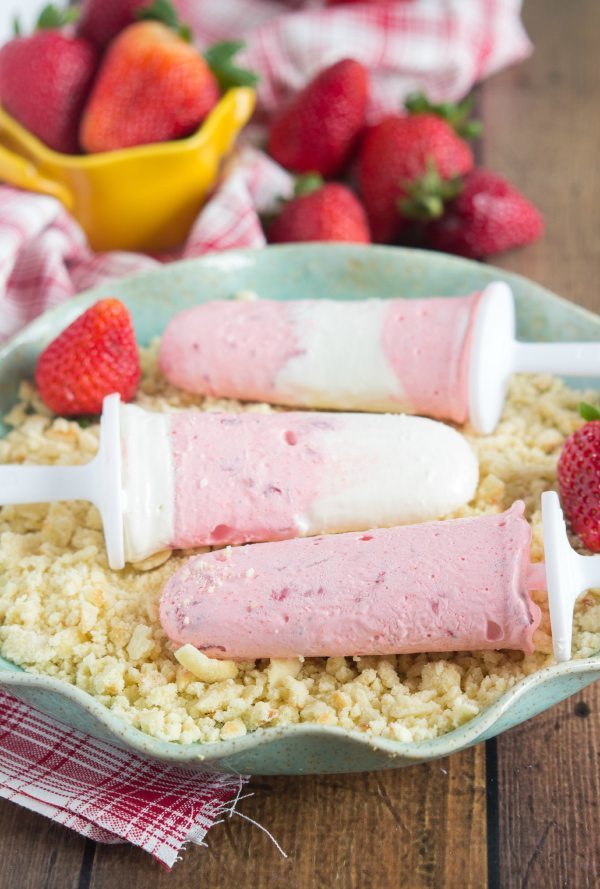 And this dessert is right in time for "National Strawberry Shortcake Day" on June 14th. So naturally, I'm posting these guys today to give you plenty of time to get the ingredients so you can celebrate this momentous holiday. 🙂
These popsicles whip up quickly and they are super simple to make. And while the popsicles are getting all cold and frozen, you can make the shortcake cookies. Which, I might add – they are to. die. for. good.
You start off by finely chopping up some strawberries super small. These strawberries get mixed with some fresh lemon juice and sugar. They sit while you prepare the rest of the mixture – cream cheese, sweetened condensed milk, and some whipped topping. Everything gets beaten and then stirred together.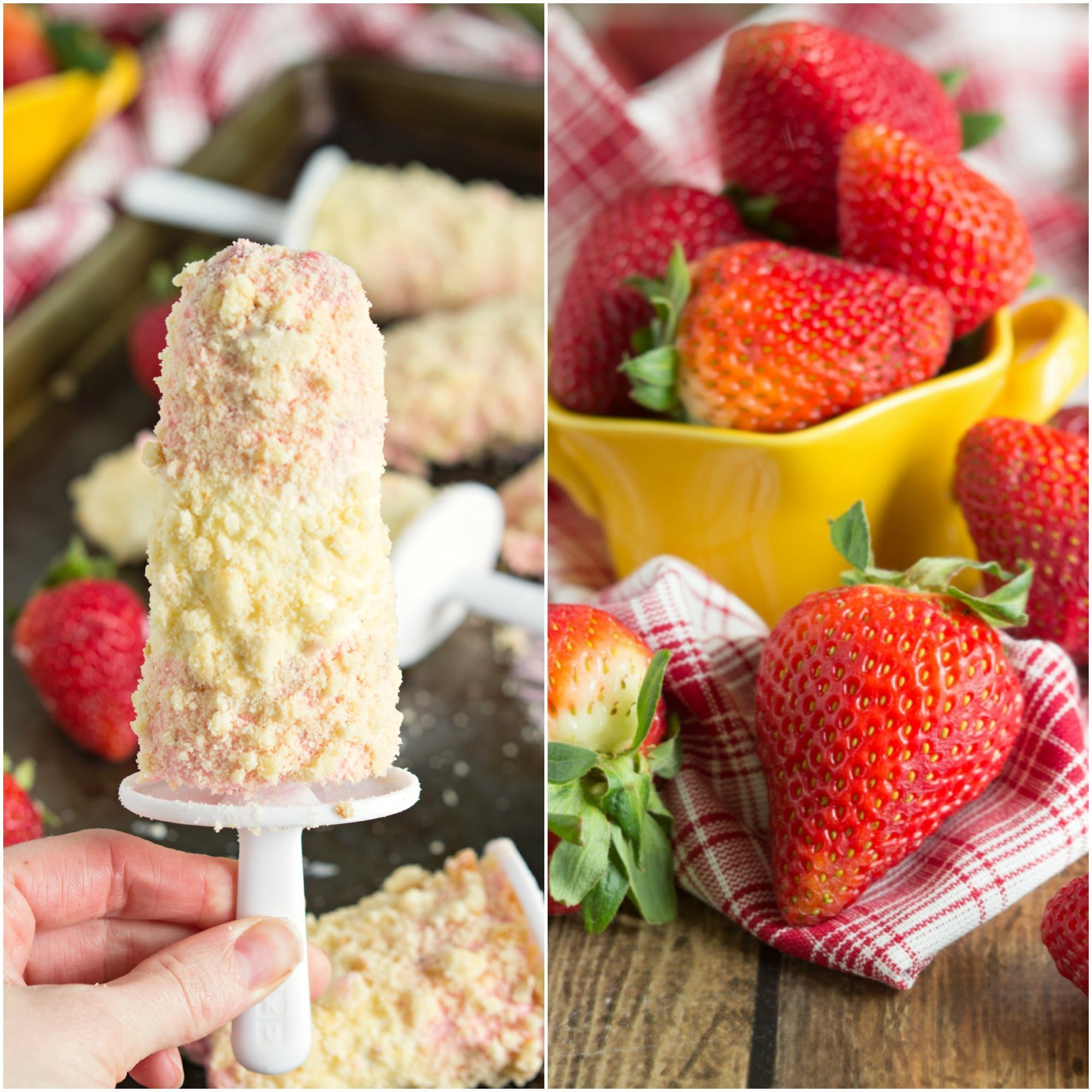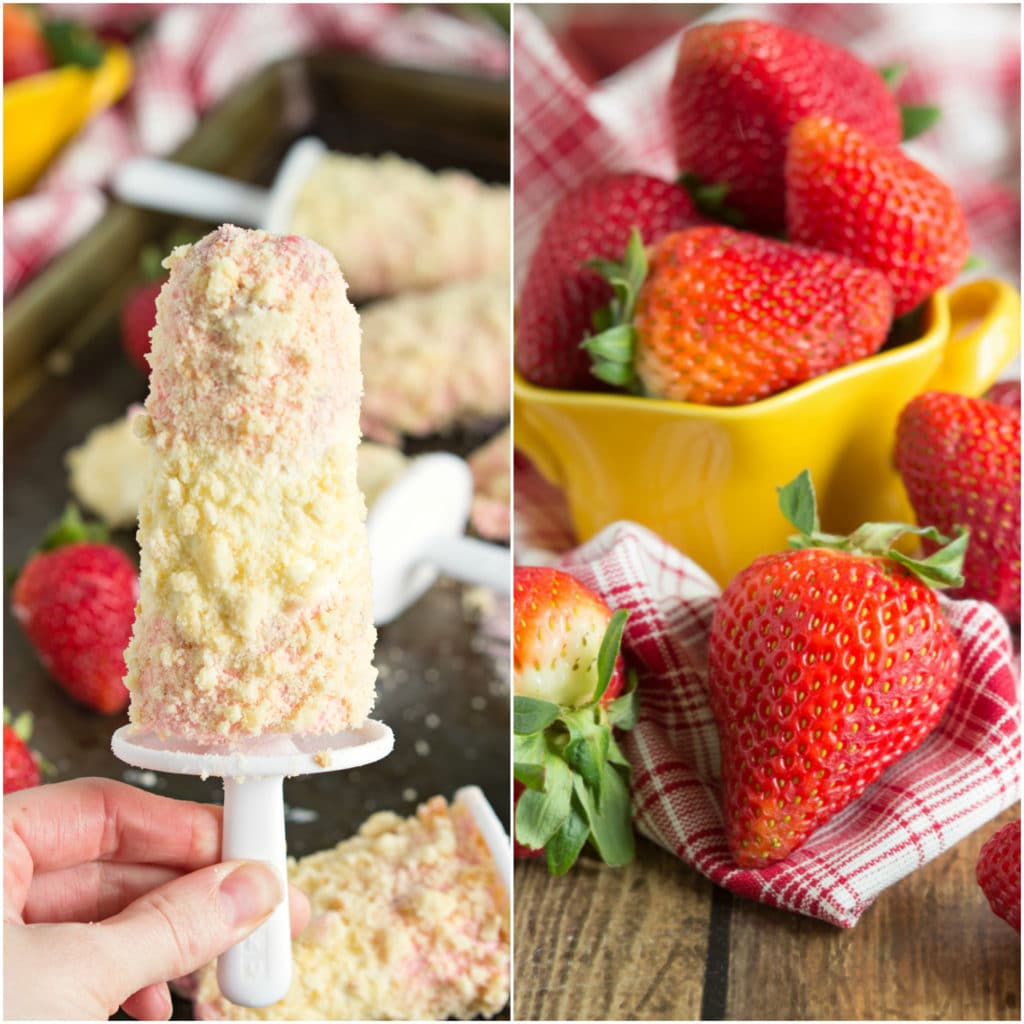 I wasn't joking about how easy these are! To get the stripes and different colors in the popsicles, some of the white mixture gets removed. The removed portion gets the strawberries and strawberry jell-o mixed in to make the strawberry layers. The remaining mixture will be the "vanilla" part of the popsicle.
Making the shortcake cookies are just as easy as these popsicles. Plus they only have 5 ingredients. Can't beat that! Once the shortcake cookies are baked, they get crumbled into small crumbs. And the completely frozen popsicles get a generous coating of shortcake crumbs.
And now you are ready to celebrate National Strawberry Shortcake Day! You are going to love these popiscles!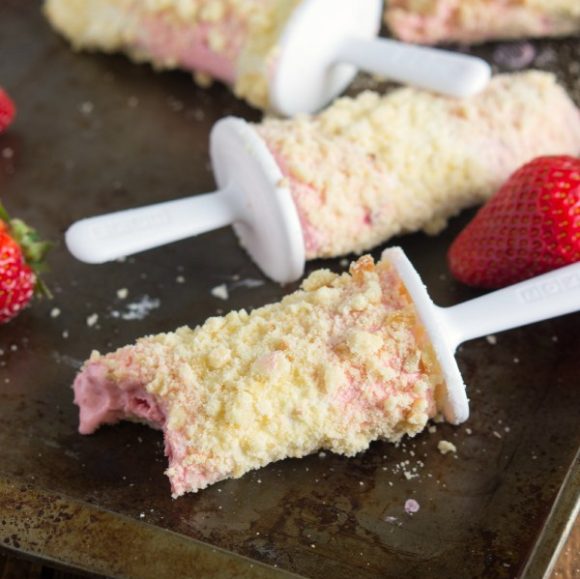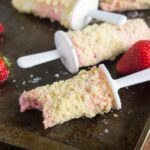 Strawberry shortcake Popsicles
Ingredients
Strawberry Popsicles
1

pint

fresh strawberries

or 3/4 a pound

1

teaspoon

fresh lemon juice

1/4

cup

white sugar

1

package (8 ounces)

cream cheese

softened

1

can (14 ounces)

sweetened condensed milk

1

teaspoon

vanilla extract

1

(8 ounces) container

frozen whipped topping

completely thawed*

2

tablespoons

strawberry jell-o mix

dry
Shortcake Cookies
3/4

cup

butter

at room temperature

1/2

cup

white sugar + extra sugar for sprinkling

1/2

teaspoon

vanilla extract

1/2

teaspoon

cornstarch

optional

1 and 3/4

cups

all-purpose flour

Pinch of salt
Instructions
Strawberry Popsicles
Wash and remove the strawberry stems. Chop up the strawberries into very small pieces. Once the strawberries are finely chopped, they should measure to be 1 and 1/2 cups. If you have too many or too few, adjust but chopping a few strawberries (or eating a small handful!) In a medium sized bowl, toss the strawberries with the lemon juice and sugar. Allow to sit while preparing the "ice cream."

In a large bowl, beat the cream cheese until smooth, about 3-4 minutes. Slowly add in the sweetened condensed milk while continuing to beat the ingredients together. Beat in the vanilla extract.

Once the mixture is completely smooth and creamy, fold in the whipped topping using a spatula until completely combined.

Remove two cups of the mixture into another bowl.

Drain any liquid in the strawberry mixture and gently fold the chopped strawberries and strawberry jell-o mix into the removed two cups.

Pour the strawberry mixture and the white mixture into popsicle molds alternating colors.

Allow to freeze overnight or at least 10 hours.

When the popsicles are almost done freezing, you can prepare the shortcake cookies.
Shortcake Cookies
Preheat the oven to 350 degrees F.

In a large bowl, beat together the butter and white sugar until just combined. Stir in the vanilla extract. In another bowl, combine the cornstarch, flour, and salt. Stir to combine.

Combine the wet and dry ingredients. The mixture should appear crumbly. Knead the mixture together with your hands until a large ball of dough forms.

On a floured surface, dump out the mixture and knead the dough into a large ball.

Pinch off small pieces of the dough to form cookies. The cookies should be small (about a 1/4 inch thick) and pretty flat. Place the cookies on an ungreased baking sheet and sprinkle with sugar.

Cook for 9-11 minutes or until lightly golden on the sides. Remove and transfer to a wire cooling rack to cool completely.

Once the cookies are cooled, crumble them into small pieces and place on a large plate.

Roll the frozen popsicles (that have been thawed 2-3 minutes) onto the shortcake cookie crumbs.

Enjoy immediately.
Recipe Notes
*If desired, you can substitute heavy whipping cream that has been whipped to form soft peaks and then measured to 3 cups.
Here are some more strawberry recipes: