Lower calorie cobblers (berry and peach) each made with only THREE ingredients! A delicious and lighter summer treat!
And only 3 ingredients. Yup. Super easy to get your sugar fix.
But without so much sugar and fat. It's a skinnier dessert. Since you know, it's going to be Spring one of these days. Which allllso means swimsuit season is coming up.
AKA I need to stop eating the thousands of mini ice cream bundt cakes, peanut butter caramel cookie bars, and frozen thin mint cheesecake slices lying around.
Yeah, that's going to take some work. But luckily I have this dessert. This dessert and 10 calorie soda. Namely the four ten-calorie DPSG products: 7UP, Sunkist, A&W and Canada Dry. They only have 10 calories per serving. 10 calories of awesome flavor bliss – all the taste with slashed calorie amount.
I love adding soda to desserts to cut the calories and make them a "skinnier" option. Swapping the loads of butter, oils, eggs, shortening, etc. with 10-calorie soda does the trick. And it's going to be my weapon in getting ready for swimsuit time. I can still enjoy dessert, but in a lighter way.
Speaking of Spring, I'm so excited for it to be getting warm outside. The babe loves being outside and going on walks. When he was born last August, I took him out just about every single day. We have some gorgeous trails and parks here, so we would go for long walks. He loved it and it's one of my favorite things to do.
Well, running if I had the choice, but until I have a jogging stroller…walking is great.
And now this time around he'll actually be able to sit up and see the scenery a bit better. Can't wait!
I'm also going to be posting some more salad recipes. I've been experimenting lots and can't wait to share some of the salads I've come up with. So you can eat a big salad and then have this skinnier dessert. Win, win!
So let's talk this cobbler. It's incredibly simple. Just three easy ingredients – 10 calorie 7up, 1 yellow cake mix, and loads of frozen peaches. I used 10-calorie 7Up in this recipe, but there are lots of other great 10 calorie soda flavors to chose from to lighten up your desserts.
I made this dessert a peach cobbler, but the peaches could be swapped out for a different fruit or berries – just make sure you have the same amount that the recipe calls for.
This cobbler was done in a large 12-inch cast iron skillet. You can use a 9 x 13 pan if you'd rather. Both work, I just like the richness of flavor a skillet brings. The fruit fills up the bottom of the pan or skillet. In another bowl the 10 calorie 7Up and (dry) cake mix get stirred together. The cake mix and soda mixture get poured on top of the frozen peaches and cover them completely. Then it's ready to go into the oven!
First the skillet gets covered with foil and then baked for about 20 minutes. Then the foil gets removed and 30-35 minutes later (or until a fork inserted in the cake comes out clean) the cobbler is ready to be removed. Let it cool for a few minutes and solidify and then it's ready to be served!
Mmmmmmmm. Mmmmm. Good!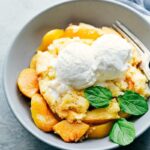 Skinny Peach Cobbler
Ingredients
1

(12 ounces) can

10-calorie 7-Up

1

package (15.25 ounces)

yellow cake mix

3

bags (12 ounces EACH)

frozen peaches
Instructions
Preheat the oven to 350 degrees F. Spray a 12-inch cast iron skillet.

Fill the skillet with the frozen peaches spreading them evenly.

In a large bowl, combine the soda with the yellow cake mix.

Stir well and then pour and smooth over the peaches.

Cover the skillet with foil and bake for 20 minutes.

Remove the foil and continue to bake for 30-35 minutes or until the a toothpick inserted to the cake comes out clean.