A simple 6-ingredient Mexican salsa chicken served over a quick cilantro-lime couscous.

This is quite possibly one of the EASIEST dinners to throw together. Ever. I'm talking SIX ingredients for the chicken portion! Just chicken, taco seasoning, salsa, corn, black beans, and cheese.
The great news is not only is it super easy, the taste is incredible. Like no one would know it only took an easy six ingredients to get that flavor. Tender chicken with a little bit of a kick and tons of cheesy goodness. Of course, the "kick" part can totally be adapted to your preference – you pick the level of salsa and you can always make your own taco seasoning to give it more or less spice.
While the chicken is cooking, I've also included a super easy cilantro-lime couscous that whips up in about 8 minutes flat. You don't have to have the couscous with it, but its quite the combo! (Quinoa or rice would also be great with this chicken dish.)
All you do is boil chicken broth and then pour in the couscous with a few other ingredients. The couscous cooks up in about 4 minutes and then it's ready for some cilantro + lime to get mixed in. When you pair the tender and tasty chicken with a flavorful cilantro-lime couscous, it's just a match made in heaven.
As far as substitutions go, the black beans could be left out entirely or you could try a different bean in it's place. Different vegetables could also be added in as long as they cook pretty quickly so they aren't under-cooked when the chicken is done cooking.
I preferred a mild taco seasoning with a medium-spiced salsa, but choose what heat you like best. If you are wanting more heat you could add some chopped jalapeno's in with the corn and black beans.
And pretty much whatever you like to top your Mexican dishes with – sour cream, a chopped avocado, a chopped tomato, cilantro, a squeeze of lime — all delicious toppings for this chicken dish!
Simple Salsa Chicken over Cilantro-Lime Couscous
Keyword:
peach salsa chicken
Ingredients
Simple Salsa Chicken
4

skinless boneless chicken breast halves

pounded to even thickness (1 pound, 3-5 ounces)

1

packet

taco seasoning

1 and 1/2

cups

medium (or mild) chunky salsa

1

cup

4 Cheese Mexican cheese

1

can (15 ounces)

corn

I use Southwest Corn (has poblano and red peppers mixed in)

1

can (15 ounces)

black beans
Cilantro-Lime Couscous
1

cup

couscous

1

teaspoon

minced garlic

1

teaspoon

olive oil

1

teaspoon

salt

2

cups

chicken broth or stock

1

lime

juiced and zested

1/2

cup

chopped cilantro

Optional additions: avocado, sour cream, additional cilantro
Instructions
Preheat the oven to 375 degrees F. Lightly grease a 9 x 13 pan and set aside.

Massage the packet of the taco seasoning into the chicken breast halves and place in the pan. Add in the drained and rinsed corn and black beans around the chicken. Pour the salsa on top.

Bake for 22-32 minutes or until the chicken is cooked most of the way through (internal temperature around 150 degrees F). Sprinkle the cheese evenly over the chicken and bake for another 3-5 minutes or until cheese is melted. and chicken is at 160 degrees F. (Carry over heat will bring it to 165 degrees F)

While the chicken is cooking, prepare the couscous.

Bring the chicken broth to a boil. Stir in the couscous, minced garlic, olive oil, and salt. Turn off the heat. Place the lid on the pan and let the couscous absorb into the broth for about 5-6 minutes. Lightly fluff with a fork. Add in lime zest, lime juice and chopped cilantro.

Place the cooked chicken over the prepared couscous and add additional cilantro, sour cream, avocado or any other toppings desired!
More chicken dishes: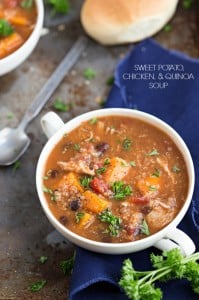 Slow Cooker Sweet Potato, Quinoa, and Chicken Soup
Easy Baked Teriyaki Chicken with a 3-ingredient Sriracha Cream Sauce