A delicious and easy one-dish broccoli quinoa with toasted pine nuts. This makes a perfect side dish or a great main course with some added protein.
How was your weekend? Did you all have a wonderful Valentine's Day? I love when holidays end up on the weekend because it tends to turn the whole weekend into a holiday – or at least that's how we like to do things. 🙂
We had a pretty low-key Valentine's day which is my favorite way to do it. In the morning, we went to the beach and did lots of swimming. Or, actually, we probably spent more time on the actual beach because the little guy had a sudden and intense desire to collect all the sea shells. Like all of them. And he refused to have help holding them which meant every time he tried to grab another one, all of the other shells were dropped. Haha – cute little guy.
Later on in the day we were able to participate in a huge Perth city arts festival celebration. There were two HUGE wooden "Giants" (that's what they are called) that paraded all over the city. One was a scuba diver and the other a young girl.
The "Giants" is a three-day event in Perth that tells a story to commemorate the 100th anniversary of Anzac. The Giants walked through the street and the crowds were insane! There were so many people and it truly was a magical festival. The Giants are gorgeously and intricately designed – they could blink, turn their heads, move their limbs, etc. all so true to real life. We were never able to get SUPER close to either Giant, but we did get several rows back.
Definitely check out these pictures – it's pretty amazing to see!
After that it was a dinner at home (the hubby cooked it!) and a movie, which was the perfect ending to a great day. To me, there's nothing like a good meal in the comfort of home (and in sweats of course!)
But it's time to talk about this totally simple and flavor-packed quinoa dish. It's all made in one-pot and done in under 30 minutes. The other great thing about this dish is it can easily be either a side dish or a main course. The way the recipe is written will make a great side dish, but adding a bit more protein such as tofu, chicken, or another meat will make this dish a complete lunch or dinner meal. Although the quinoa does have a lot of protein, it doesn't have the best staying power without the extra protein.

My favorite part of this recipe is actually the pine nuts. I adore pine nuts, and when they are toasted I can't stop eating them. I'm a little weird because I actually like them a little over-done. I think I brown them more than most people because they are just short of burned and that's my favorite.
However I'm getting a little off-topic. Basically, toast the pine nuts because they are divine. It's incredibly easy to toast them and doesn't require any oil because the pine nuts actually have enough natural oils in them that they toast well without additions. As long as they are stirred often they will be done in just a few minutes and definitely add a flavor punch to this dish.
Plus parsley and lemon? <3. You guys are going to love this one!
Pine Nut Broccoli Quinoa
Servings
:
4
-6 as a side dish
Ingredients
2

tablespoons

olive oil

1

teaspoon

minced garlic

1/4

cup

yellow onion

1

cup

quinoa

2

cups

chicken broth

1 and 1/2

cups

broccoli,

chopped

1/4

cup

parsley,

finely chopped

1/3

cup

pine nuts

1

teaspoon

lemon zest

3

teaspoons

fresh lemon juice

Salt and pepper
Instructions
In a pot over medium low heat, add olive oil, the minced garlic, and the onion. Stir constantly until the onion is tender and garlic is fragrant.

Rinse the quinoa in a fine mesh strainer. (This removes the quinoa's natural coating called saponin which can make it taste bitter.)

Add in the quinoa and chicken broth. Stir and bring to a boil.

Reduce the heat to low, cover, and turn to low. Allow to cook for about 7 minutes and then stir again.

Spread the finely chopped broccoli (Remove all of the stems and chop into very small pieces like picture shown above.) evenly on top of the cooking quinoa and chicken broth.

Don't stir in the broccoli but leaving it on top will lightly steam it. Return the cover and cook until the quinoa has absorbed all of the broth and the broccoli has been steamed.

Stir everything together and remove from the heat.

Add in the finely chopped parsley, the fresh lemon zest, the fresh lemon juice, and salt and pepper to taste.

Stir in the pine nuts. If desired (highly recommended) lightly toast the pine nuts by placing them in the bottom of the pan you used to cook the quinoa (quickly rinse and dry) over medium heat. No oil is needed. Leave in one layer on the bottom of the pan and stir frequently watching until the pine nuts become lightly browned. Watch these carefully as they burn easily.
More quinoa recipes:
Sweet Potato, Chicken, & Quinoa Soup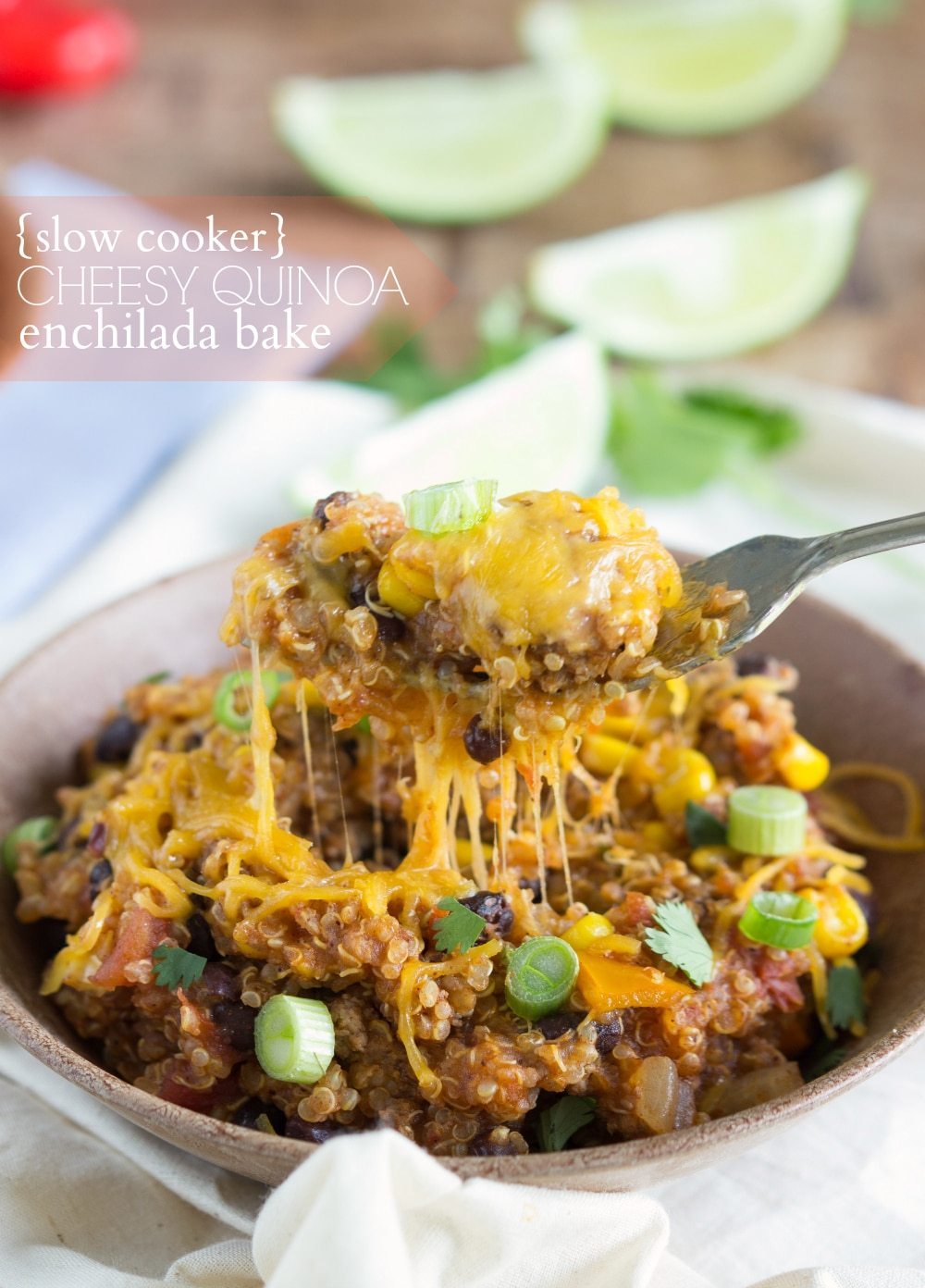 Slow Cooker Cheesy Quinoa Enchilada Bake