A three-cheese tortellini mixed with bowtie pasta and combined with an assortment of vegetables and tossed in a zesty basil-pesto dressing.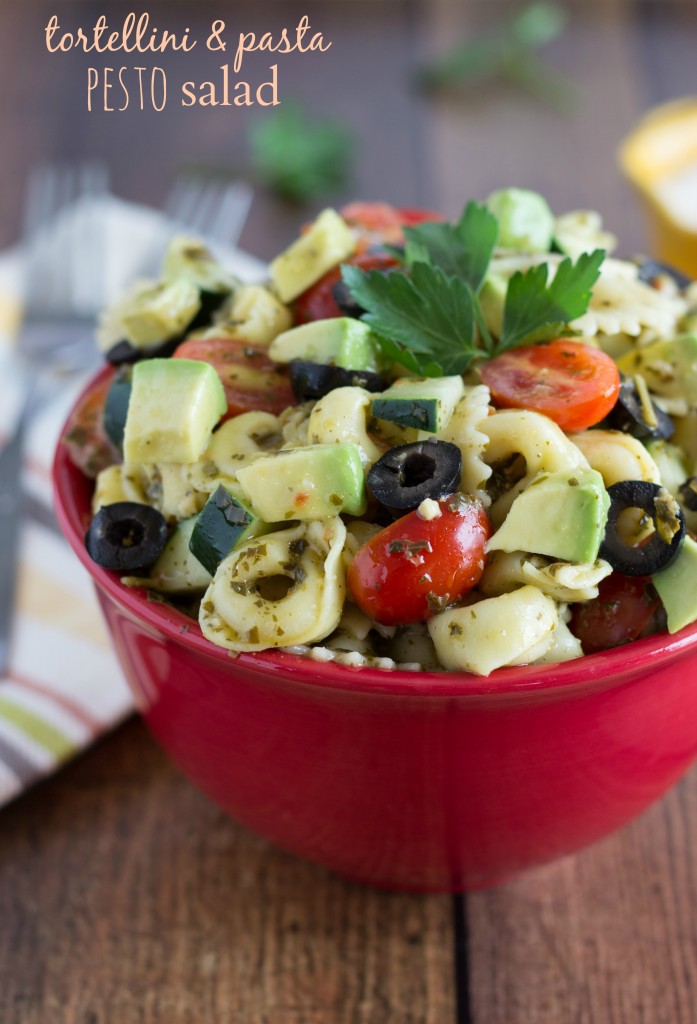 So originally this salad was supposed to be supppper green. For St. Paddy's Day in case you wanted something healthy. And green.
Because pinching food is weird.
Super weird.
But if it isn't green. What has to be done, has to be done.
And I did not make the rules of St. Patrick's Day. I just follow them. Perhaps too precisely…
And while this pasta isn't overpowering green, it is pretty covered in basil-pesto (and said basil-pesto is pretty greenish) this salad is pinch proof.
But, it's a lot more than that.
It's delicious. Nutritious. And all-around-awesome.
Sorry that last word didn't rhyme. But how many other words rhyme with delicious and nutritious?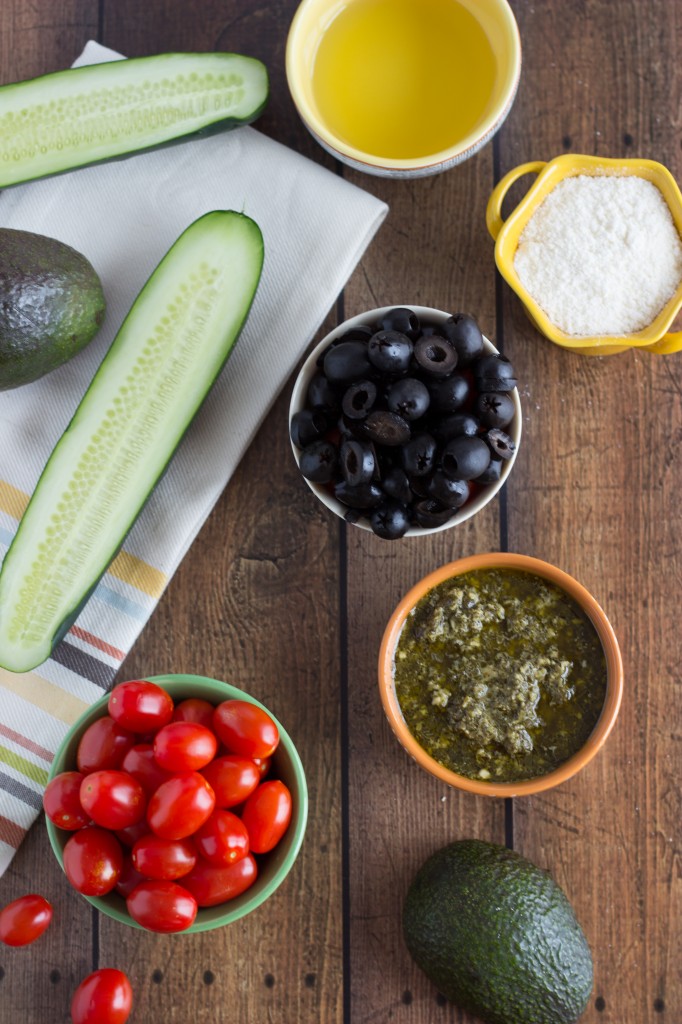 Plus it comes together pretty quick. The cutting of the veggies isn't too tedious and can be done while the pasta and tortellini's are boiling.
The dressing is a simple couple of ingredients. Namely a jar of basil-pesto, some Zesty Italian dressing, S&P, olive oil, and a lil bit of garlic.
Everything kind of just gets tossed together. It's really easy, I promise.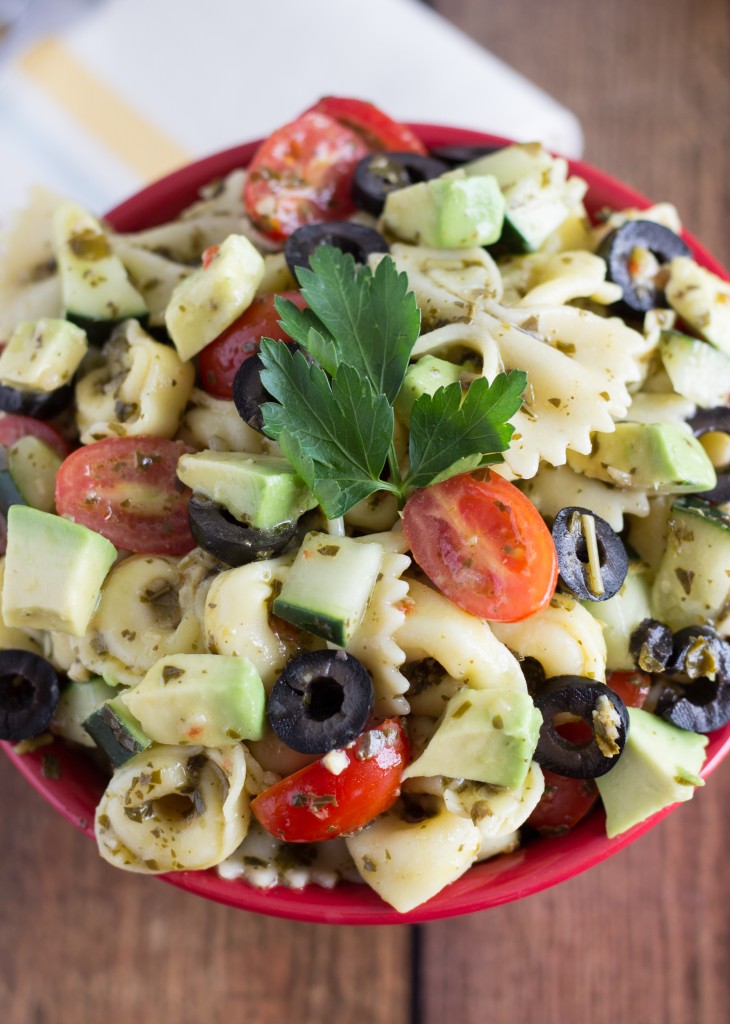 The pasta boils first. For about 3 minutes before adding in the tortellini. And then they both get boiled together for about 10-12 minutes or until tender.
Meanwhile, cherry tomatoes get halved, olives get sliced, avocados are cut, and a cucumber is chopped.
And then dressing time. Which, there is no mixing or beating or blending, just stir it with the rest of the ingredients.
Finally, optionally top with Parmesan cheese. Oh, and a little bit of parsley is purdy too.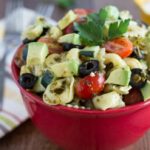 Pesto Pasta & Tortellini Salad
Ingredients
2

cups

bowtie pasta

1

package (12 ounces)

three-cheese tortellini

(dehydrated kind, not frozen)

1 and 1/2

cups

cherry tomatoes

10 ounces

1

medium-sized avocado

ripe

1

cup (~2)

medium-sized cucumber

1 and 1/2

cups

black olives
Dressing
1

container (8.1 ounces)

traditional basil pesto sauce and spread

I recommend Classico

2/3

cup

Zesty Italian dressing

2

tablespoons

olive oil

1

teaspoon

minced garlic

1/8

teaspoon

pepper

1/2

teaspoon

salt

Optional: freshly grated Parmesan cheese
Instructions
Bring a large pot of water to boiling.

Once water is boiling, put in the bowtie pasta and lightly stir.

After the pasta has been in for 3 minutes add the tortellini and lightly stir.

Let the pasta and tortellini boil for 10-12 more minutes or until tender.

Drain and run cold water over the pasta and tortellini.

Meanwhile, halve the cherry tomatoes, slice the olives (or halve them), remove the skins and pit of an avocado and chop it.

Chop the cucumber (you can choose to remove the skins and deseed if desired - I left the skin and seeds in mine)

Once the pasta and tortellini has cooled, toss it together with the vegetables.

In a separate bowl, combine the basil pesto sauce, Zesty Italian dressing, olive oil, garlic, pepper, and salt.

Pour the dressing over the salad and toss until it is all covered.

Add more salt and pepper if desired.

Allow to chill in the fridge tightly covered for at least 30 minutes.

Optionally cover with Parmesan cheese before serving.
Want some more salads?