A delicious and healthier one skillet southwest cheesy ranch chicken with tons of veggies and protein. A thirty minute dinner recipe.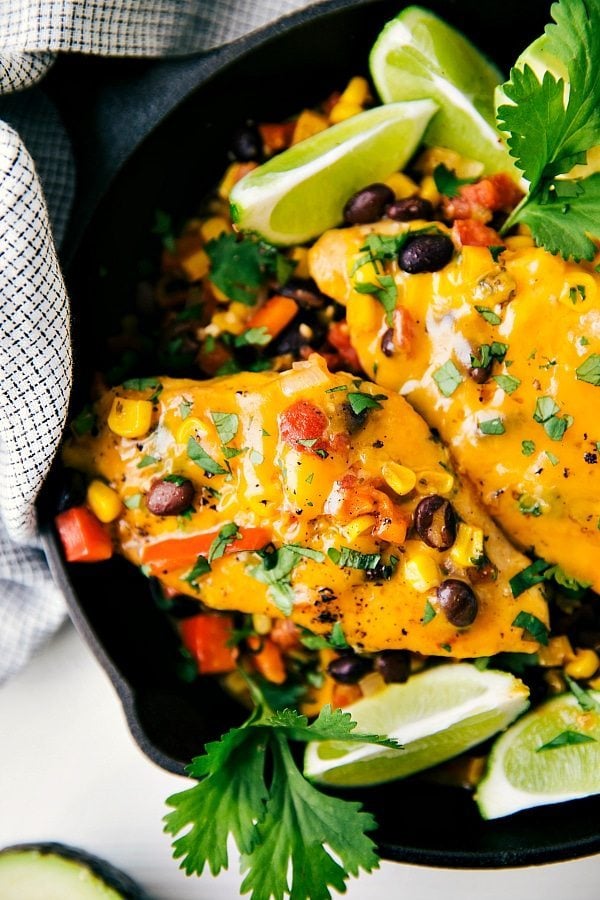 And we're back with the easy ONE skillet chicken dinners. And this one is especially easy. This chicken dinner requires extremely little prep time and can be ready start to finish in 30 minutes. ? Those are important Monday-type details for this particular Monday.
I'm coming back from an amazing week spent in Minneapolis at a photography workshop which was equal parts inspirational and informative BUT it also makes this Monday even harder. Mondays are always hardest after a vacation!
I took about five hundred and three pictures and can't wait to get them all up and edited in a little recap for you all.
The important things to note…I won a giveaway at the workshop. ?? Which, guys, I never win things so that was pretty exciting. And the less exciting thing? My camera broke. Like in theee very middle of the first day of the workshop while we were taking pictures of smoothie bowls. So, bad luck or good luck? Because I did win a photography background, but I also no longer have a camera to take pictures on said photography background. And in other good news, I did get to eat (drink?) my *cold* smoothie bowl before it had completely melted from the heat of natural light and the time it takes to get that one perfect shot.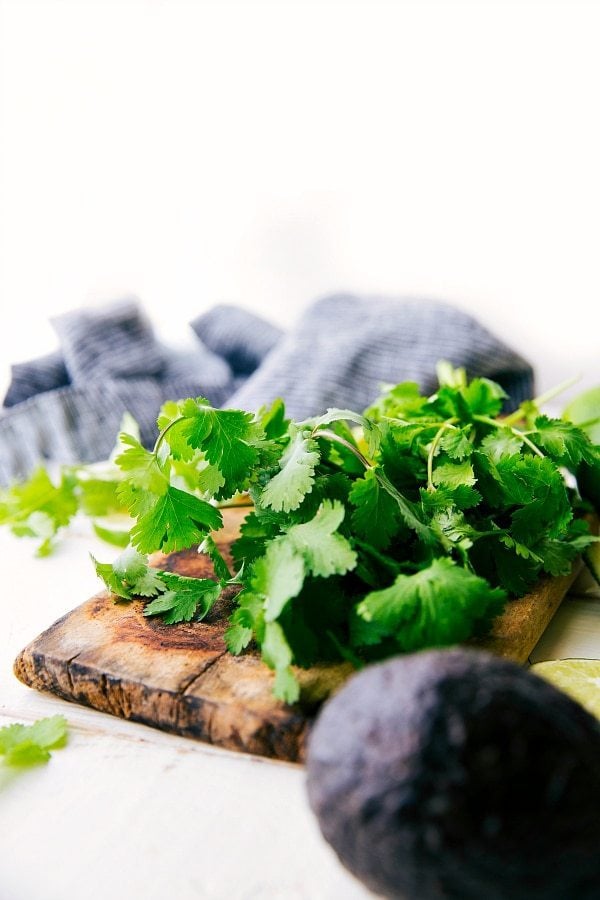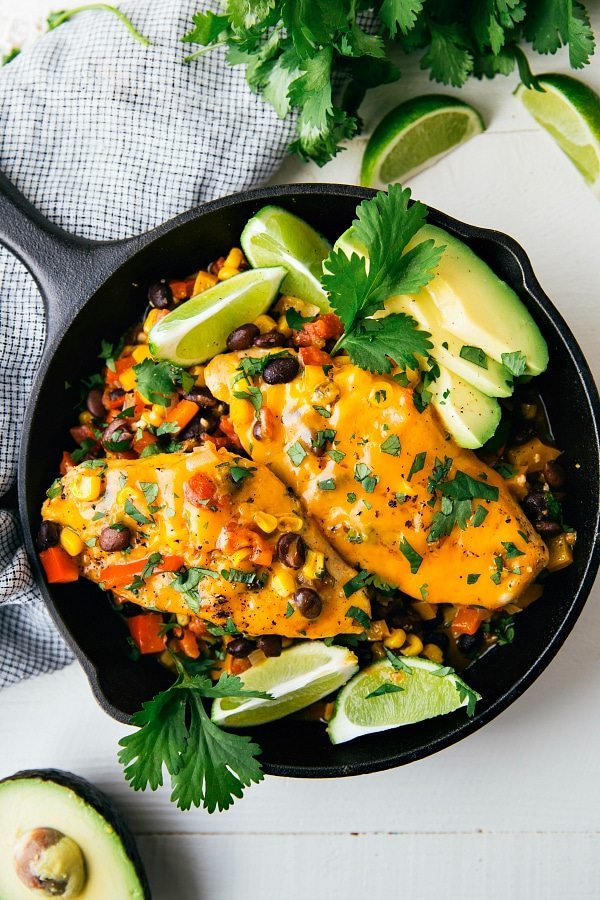 So, there may have been a tear or two (okay, fine, more than two tears) shed for my camera, but I'll be shipping it out tomorrow to Canon and fingers crossed that they'll be able to fix it!
However, in the meantime, I'll be filling my camera-free/no photo-taking days with ALL the southwest chicken. Because now I have time to make it for breakfast, lunch, and dinner. ?? Except that's a little weird, so how about just for lunch and dinner?!
This dinner is ultra filling and low on carbs — no pasta or grains needed. The protein from the beans and chicken makes it super filling while also pretty healthy! It's so well-seasoned with the spicy ranch seasoning mix, cilantro, and lime that you could even leave off the cheese and still enjoy this dinner. That said, if you aren't watching calories or dairy, the cheese makes for a delicious finishing touch. Other cheeses also work great in this dish: we loved pepper-jack and I bet even a sprinkle of queso fresco would be amazing.
I would rate this dinner at a *very* mild spicy. The lime and cilantro really balance out the seasoning mix well making it overall mild. If you are looking to up the heat, add in a diced jalapeno or some additional diced green chiles. A teaspoon or so of chile powder will also intensify the spice a bit. And that's about all the notes I have for this one. ??
Basically your Monday needs this no-fuss dinner. Stat.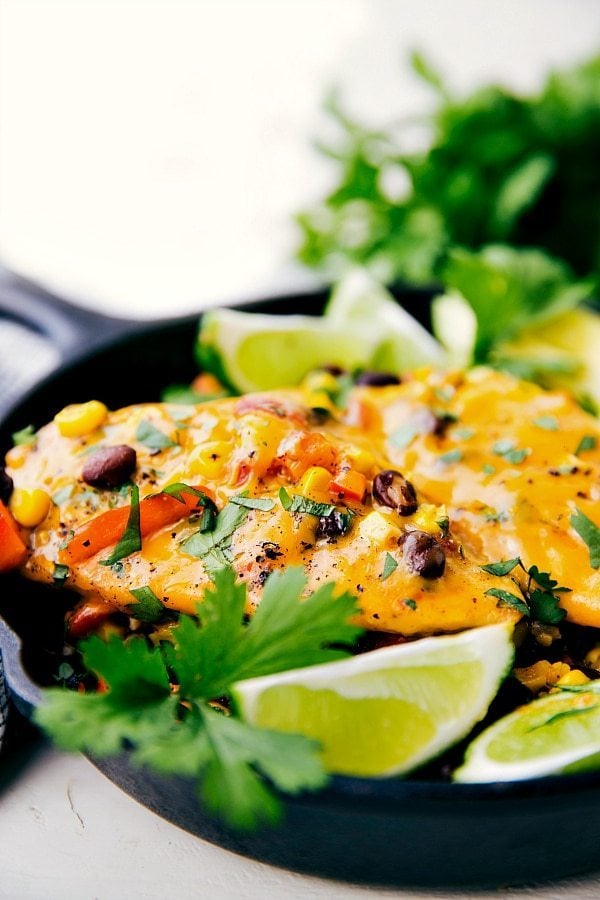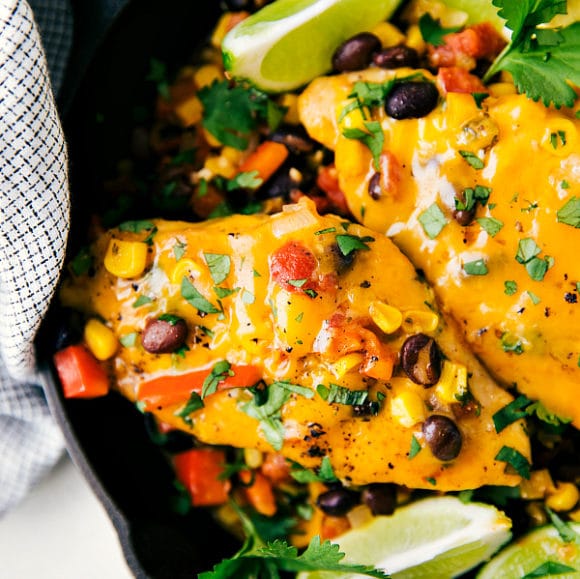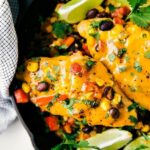 One Skillet Southwest Ranch Chicken
Ingredients
1

pound

boneless skinless chicken breasts

4

tablespoons

flour

3

tablespoons

olive oil

1

tablespoon

chicken seasoning

I use Mrs. Dash chicken blends

1/2

yellow onion

2

sweet bell peppers

1

tablespoon

minced garlic

1

teaspoon

ground cumin

1

can

diced tomatoes and green chiles

1

can

black beans

1

can

corn

1

packet (1 ounce)

spicy ranch seasoning mix

dry, (salad and dressing mix)

3/4

cup

freshly grated cheddar cheese

Optional: fresh cilantro, fresh limes
Instructions
Remove any fat from the chicken breasts and slice through the breasts in half into thin, even pieces. If you have small breasts, pound them to even pieces. (See video above recipe)

In a small bowl, add the flour and toss in some salt + pepper (about 1/2 tsp, of each). Dredge the cut breasts in the mixture making sure they are well covered in the flour.

Meanwhile in a large skillet over medium heat, add the olive oil.

Place the breasts in the skillet and sprinkle generously with chicken seasoning. Cook for 4 minutes, flip, season with more chicken seasoning, and then cook for another 3-4 minutes or until breasts are completely cooked through (165 degrees F with a food thermometer). This time will vary based on thickness of breasts.

Remove the chicken to a plate.

Add the chopped onion, diced peppers, minced garlic, and cumin to the skillet.

Stir over medium high heat until veggies are completely tender and then add in the drained diced tomatoes and green chiles, drained and rinsed black beans, drained corn, and spicy ranch seasoning mix. Add some cilantro and lime juice if desired.

Stir and cook for 2-3 minutes.

Place the chicken breasts back on top and top with freshly grated cheddar cheese.

Cover the skillet and heat over medium heat for 1-2 more minutes or until the cheese is completely melted.

Top with another squeeze of fresh lime and a handful of coarsely chopped fresh cilantro if desired.

Enjoy immediately.
More easy chicken dinners: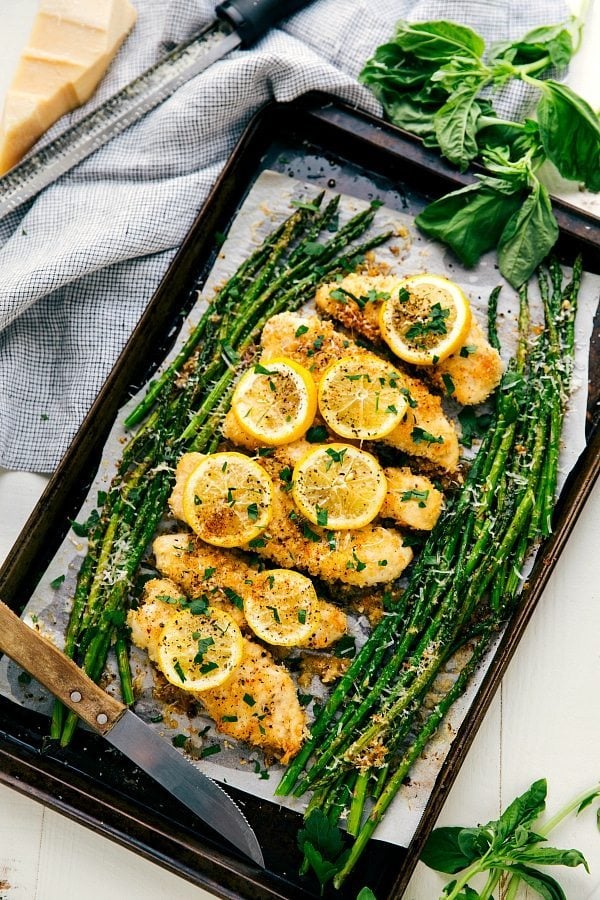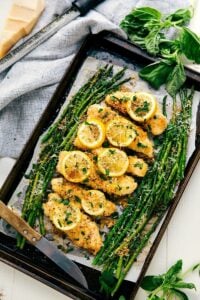 ONE PAN Lemon Parmesan Chicken and Asparagus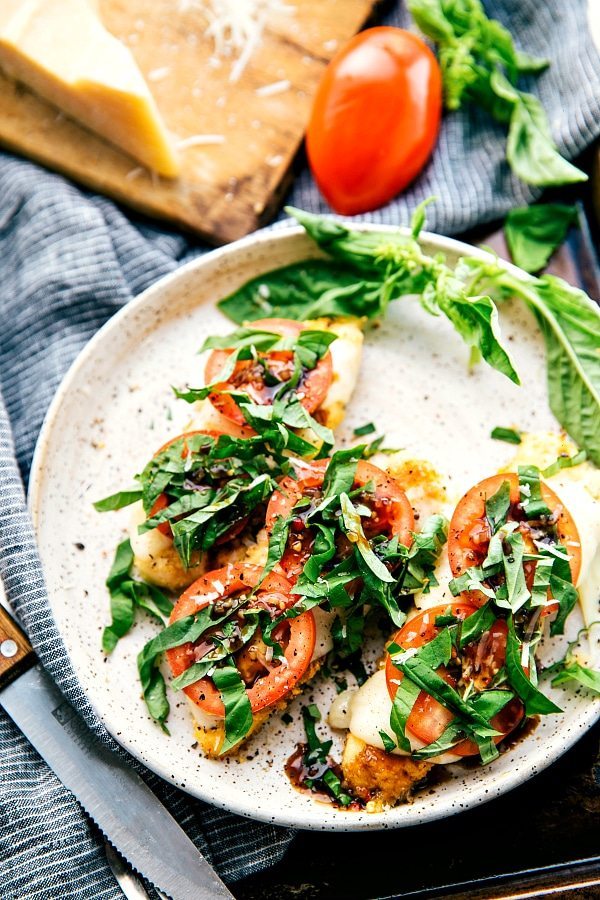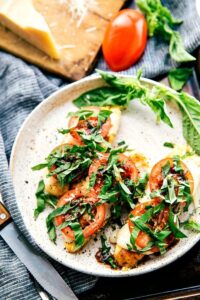 ONE PAN Balsamic Caprese Chicken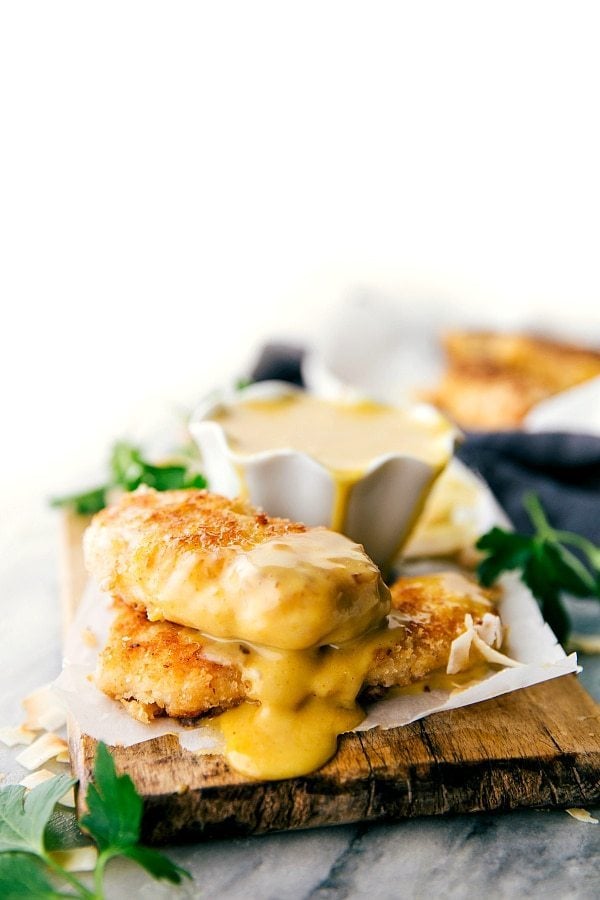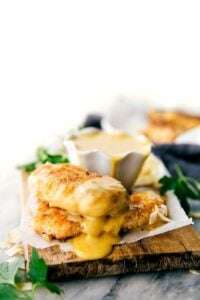 The BEST Baked Coconut Chicken