This post may contain affiliate links. Please read my disclosure policy.
Delicious Italian-seasoned veggies and sausage all made in one pan. A healthy meal prep option!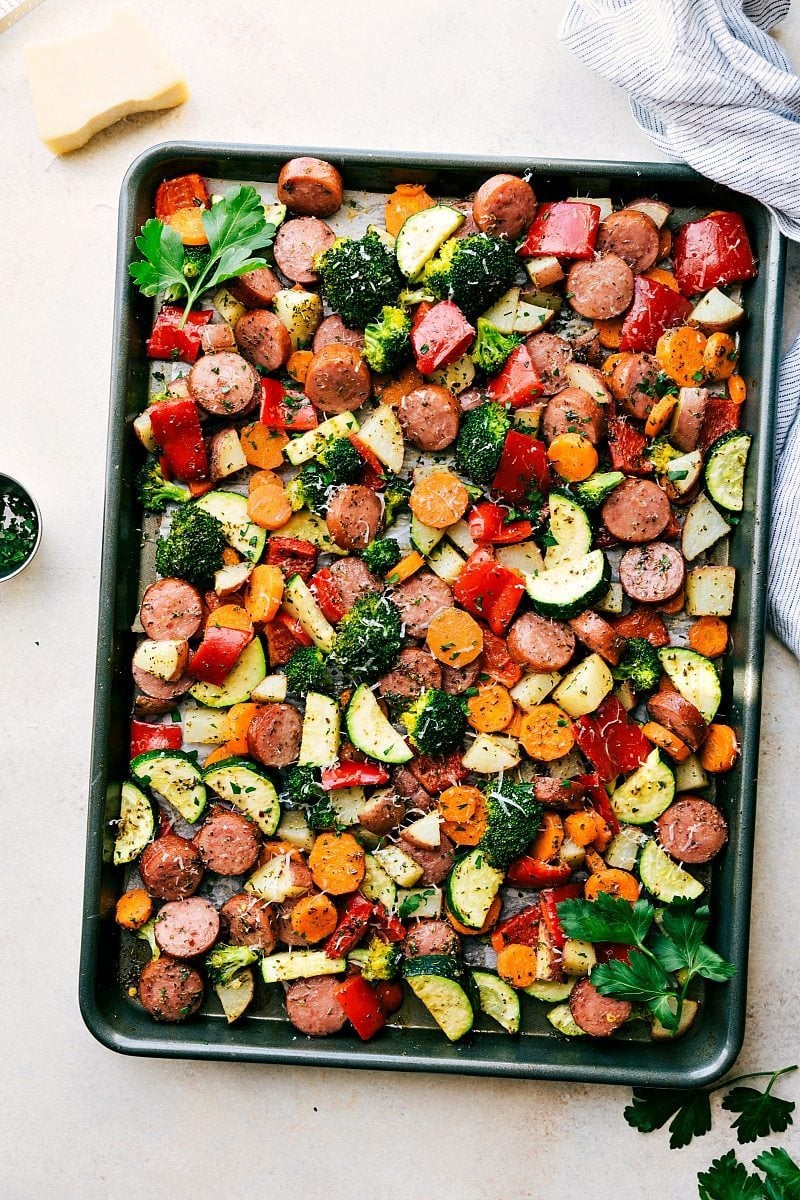 My toddler goes to preschool two times a week and when he comes home he's super chatty about what they did that day.
He talks a ton about his friends and one girly friend in particular. He tells me she's "so much nice" and that he "loves playing trains with her." She's added into discussions about our family and yes, my toddler even prays about her sometimes.
A couple of weeks ago I finally got to meet this "famous" friend's mother. Obviously excited, I walked over to her and said hi! I quickly followed my hi with "My son talks about your daughter ALL the time. He loves her!"
She immediately responded, "Oh!! You must be Lucas's mom!"
After I told her that, No, I'm Greyson's mom, I watched the slow nod of an obvious lack of knowledge of a boy named Greyson.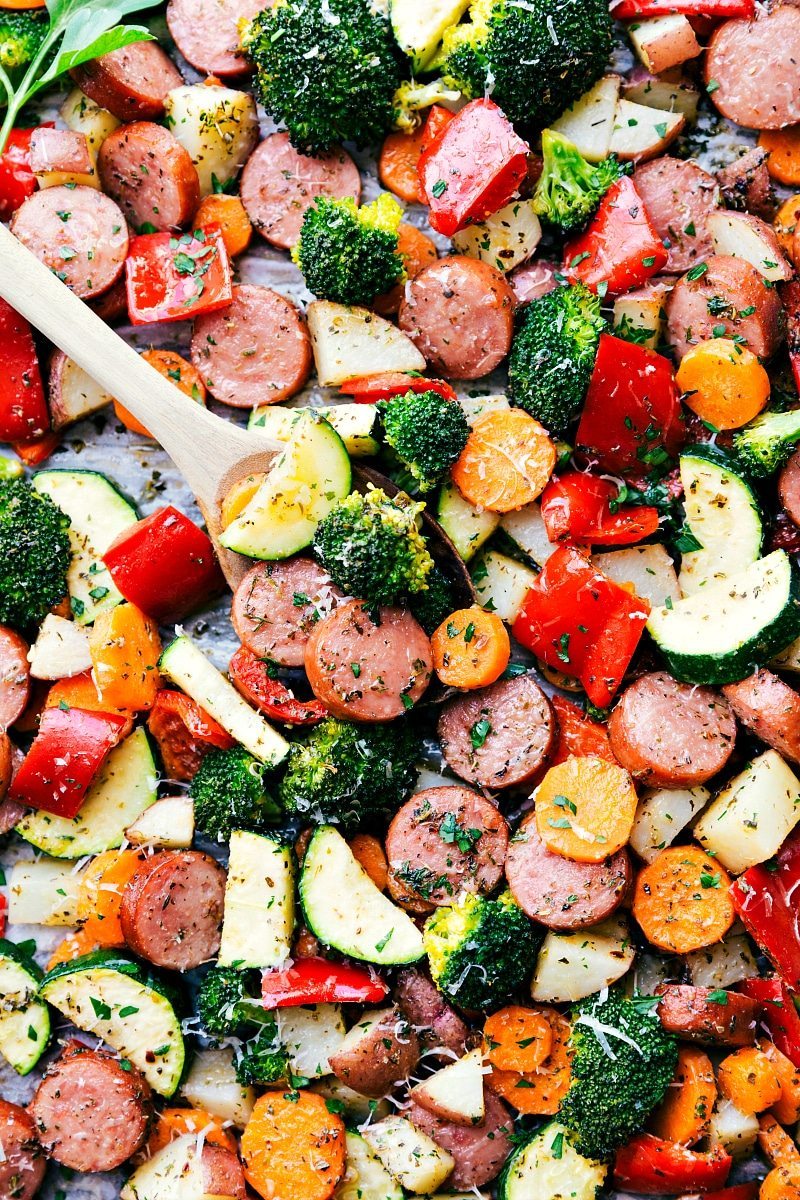 And so, although he didn't know it, this meal was made specifically for him to combat his first real heart break. ? (Yes, I am 100% kidding here).
All of his favorite veggies and his very favorite meat — sausage. He loves turkey sausage — in fact it's really the only meat I can get him to eat. And he literally steals the broccoli from my plate he loves it so much.
This dish is so quick and easy to make and the veggie prep is fast! You can easily customize this dish by adding in your favorite veggies. You can also use whatever sausage you like best. We've made this with Italian Chicken sausage and love that. If you can't find an Italian flavored sausage, regular turkey sausage is still amazing with all the seasonings.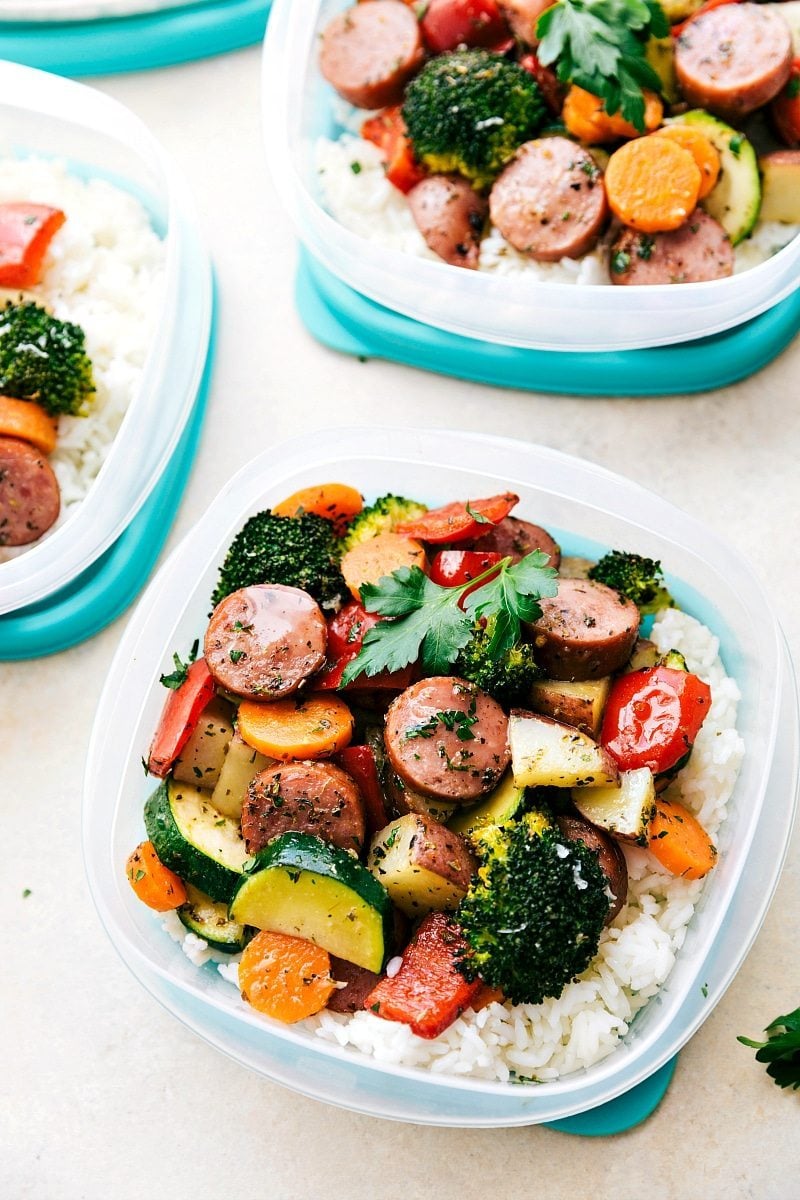 My top tip for roasting veggies
Use a LARGE sheet pan: the more space the vegetables have (aka the less crowded they are) the better they roast. When vegetables are overlapping or jammed into a sheet pan, they end up steaming instead of roasting which greatly affects the end taste/texture. I've started using this 15×21 inch sheet pan – which is practically the width of my oven. I can't recommend the large sheet pan enough!
More Easy One Pan Dinners: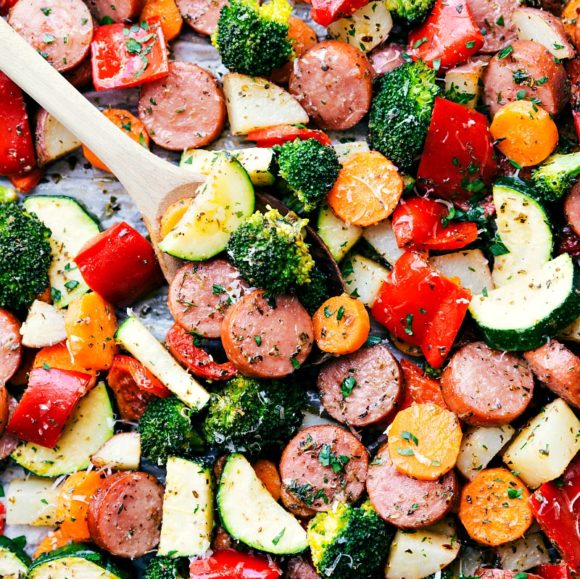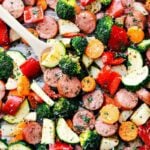 One Pan Italian Sausage and Veggies
Delicious Italian-seasoned veggies and sausage all made in one pan. A great and healthy meal prep idea!
Keyword:
one pan italian sausage and veggies
Servings
:
6
when served with rice or quinoa
Ingredients
2

large

carrots

~2 cups

2

red potatoes

~2 cups

1

small-medium

zucchini

~2 and 1/3 cups

2

red peppers

~2 cups

1

head

broccoli

~1 and 1/2 cups

16

ounces

Smoked Italian Turkey or Chicken Sausage
Seasonings
1/2

tablespoon

EACH: dried basil, dried oregano, dried parsley, garlic powder

1/2

teaspoon

EACH: onion powder, dried thyme

1/8

teaspoon

red pepper flakes

optional

1/3

cup

Parmesan cheese

freshly grated, optional

4 and 1/2

tablespoons

olive oil

Optional: fresh parsley, salt and pepper
Instructions
Preheat the oven to 400 degrees F. Line a large sheet pan with parchment paper or foil (easy clean-up) and set aside.

Prep the veggies: *It is important to prep the veggies according to directions to ensure they all cook at the same time*

Peel and very thinly slice the carrots. Wash and (if desired peel, we love the peel on) chop the red potatoes. You want the pieces quite small here. (I halve the potatoes and then cut each half into 10-12 pieces)

Halve the zucchini and then cut *thick* coins of zucchini. Coarsely chop the broccoli. Remove the stems and seeds from the peppers and chop into medium-sized pieces. Chop the sausage into thick coins.

In a small bowl combine all of the seasonings and salt and pepper if desired (I use about 1/8 teaspoon pepper and 1/2 teaspoon salt) with the olive oil. Stir to combine.

Pour the seasoning & oil mixture on top of the veggies and sausage and thoroughly toss to coat.

Place in the heated oven for 15 minutes. Remove and toss around the veggies + sausage and return to the oven for another 10-20 minutes or until veggies are crisp tender.

Remove and top, if desired, with freshly grated Parmesan cheese and fresh parsley.

Serve on top of rice or quinoa if desired. (Also great plain!)
Recipe Video