Miniature Red Velvet cheesecakes with an oreo crust, coated with a thick dark chocolate ganache, and topped with crushed oreos.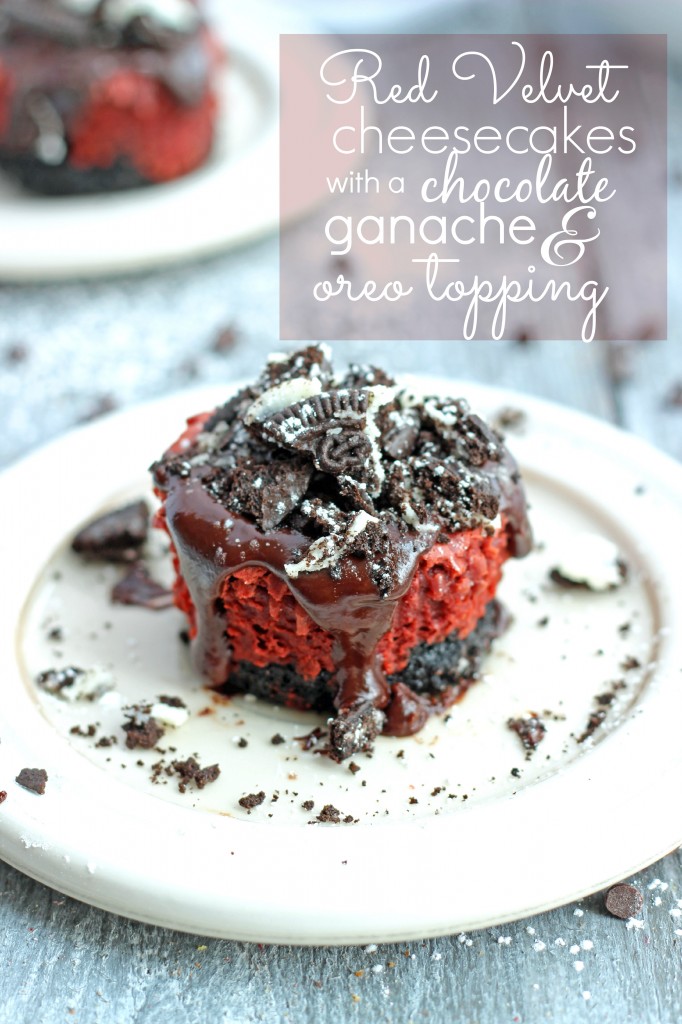 And on to day 4 of Chelsea's Messy Apron + Griffanie Valentine's Day Series.
In case you've missed what's going on, we have 14 days of  Valentine's Day treats + tags. Oh and there is a giveaway to win all of the Valentine's tags going on right now.  So far we've had lovebirds in a nest, a white chocolate snack mix, and a heart filled pound cake.
And today, is a completely decadent treat. Like, wowza. It's rich. Red velvet cheesecakes with a dark chocolate ganache (that's really thick) and plenty of oreos to top it all off.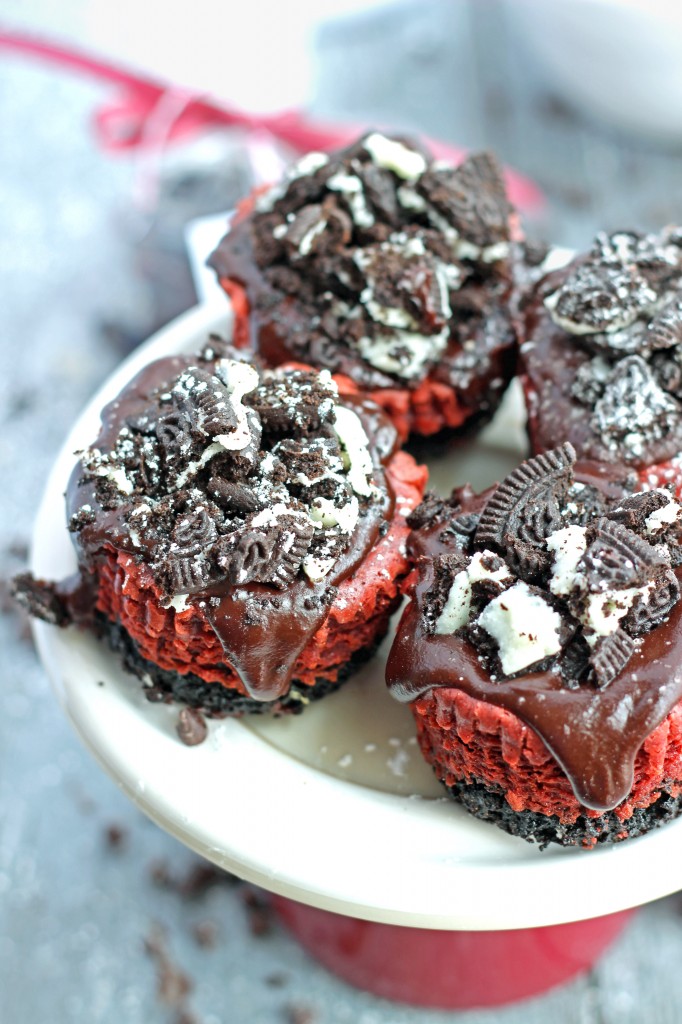 I have a feeling (if you like red velvet and cheesecake) that this recipe is going to make you very happy! Because not only are these delicious, they are SO easy! The crust is just oreo crumbs with some butter pressed in the bottom of a muffin tin (that has been lined). Easy enough!
The filling is just a matter of beating ingredients together. But let's talk about the room temperature cream cheese first. For this recipe, you'll want to make sure you leave your cream cheese out until it has reached room temperature. Do not microwave the cream cheese because it melts it too quickly and won't bake as well. If you forget to leave out your cream cheese, you can cut it into small segments and place them on a plate. Fill up a large ceramic bowl (large enough to cover the cream cheese) with very hot tap water. Once the bowl has heated up for a couple minutes, dump out the water, and dry out the bowl. Quickly invert the warm bowl over the cream cheese and it will bring the cream cheese to room temperature in a matter of minutes!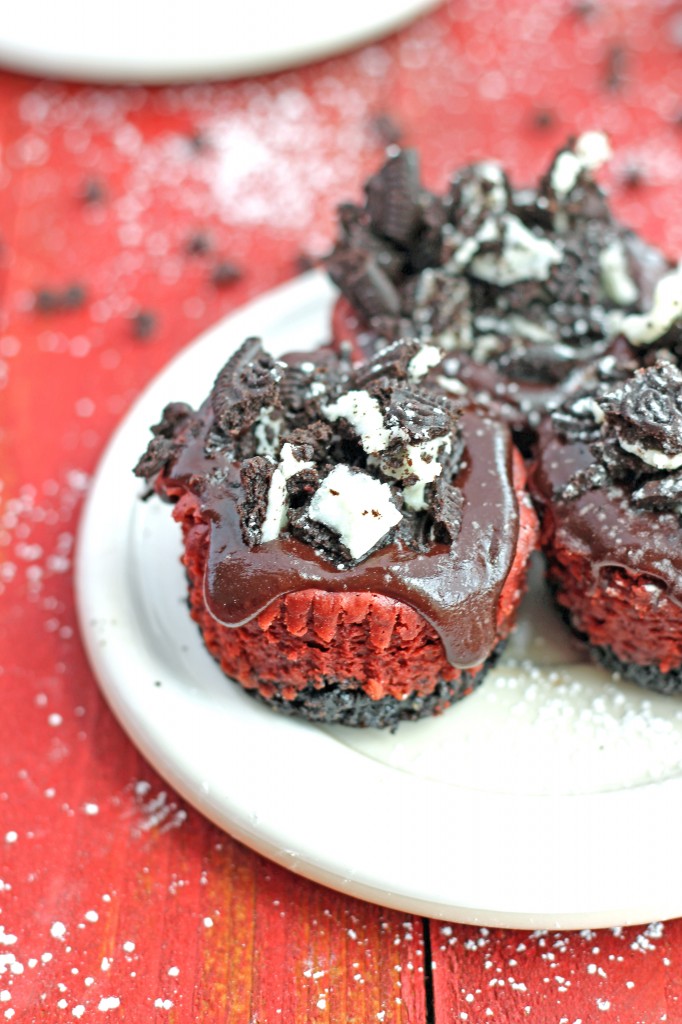 Once you've got your room temperature cream cheese, combine it with the white and brown sugar. You'll want to beat these ingredients until there are no brown sugar chunks, and everything is smooth, fluffy, and creamy. Around 2-3 minutes should do the trick.
Add in the sour cream and vanilla and beat. Be careful when you add in the cocoa powder that you stir it in first before immediately beating it in. This will keep the cooca powder from flying up and getting your kitchen all sorts of messy! Oh yes, and don't forget the food coloring to get that deep rich red velvet color!
Finally, the egg gets added in. Lightly beat your egg with a fork before mixing it in. Then mix your ingredients until just combined. And the cheesecake filling is ready to go in. I used a cookie scoop to scoop the filling into the muffin tin and on top of the crust. One large scoop in each of the 9 lined holes used up all of the filling. The other 3 empty muffin tin holes get filled up with water so that the cheesecakes are baked evenly.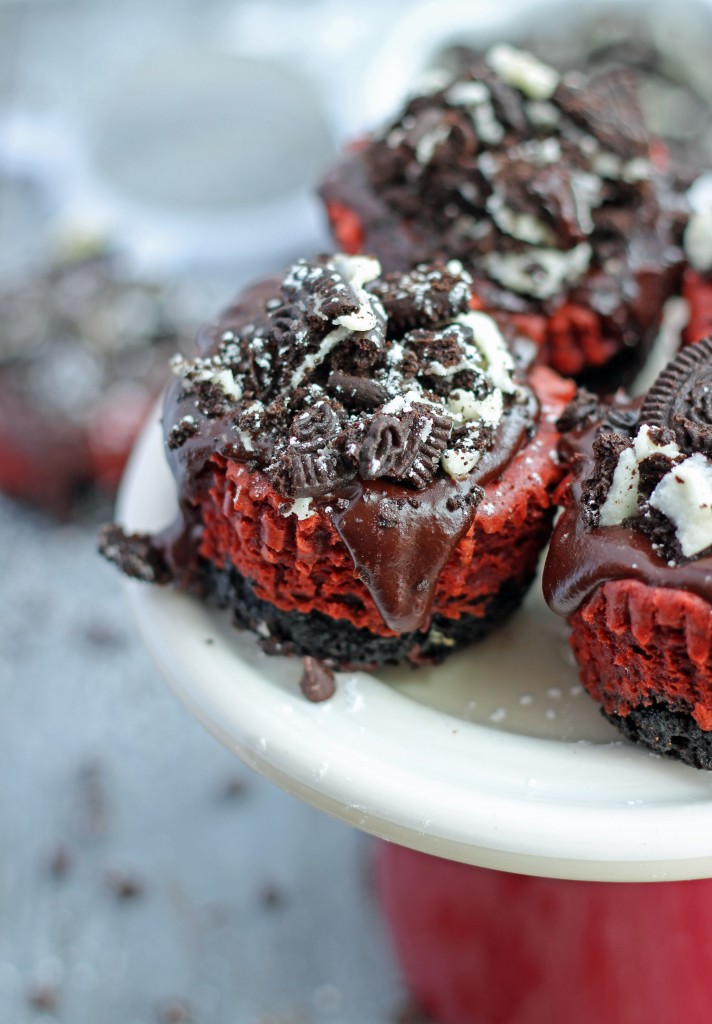 And once the cheesecakes come out of the oven, the hardest part is waiting for them to cool! One hour at room temperature and two hours in the fridge. When they are about finished cooling, you can make the chocolate ganache. If you aren't a fan of dark chocolate, you can substitute milk chocolate or stick with all semi-sweet chocolate chips. Feel free to adjust the amount of heavy cream to get the consistency of chocolate ganache that you like.
Once the cheesecakes are smothered with chocolate ganache goodness, you are ready for the final touch. Crush up some oreo cookies (with your hands, so they don't become crumbs) and top the cheesecakes. If you want, you can sprinkle a little bit of powdered sugar for the finishing touch.
Mini Red Velvet Cheesecakes with a Chocolate Ganache and Oreos
Ingredients
Crust
13

oreos

1 and 1/2

tablespoon

unsalted butter

melted
Filling
1/2

cup

white sugar

1

package (8 ounces)

cream cheese

at room temperature*

1/2

tbsp

sour cream

1

tsp

vanilla extract

2

tbsp

unsweetened cocoa powder

1/2

tsp

red food coloring

1

large

egg

lightly beaten and at room temperature
Topping
4

ounces

semi-sweet baking bar

coarsely choppe

1/2

cup

heavy whipping cream

12-13

oreos

crushed coarsely

Optional: powdered sugar
Instructions
Crust
Preheat the oven to 350 degrees F. Line a muffin tin with 9 liners and fill up half of the other empty spaces with water. This ensures even baking.

In a food processor, pulse the oreos to crumbs. Stir in melted butter until completely mixed together. Press an even amount of oreo crust into the bottom of each muffin liner.

Press down the crust with a milk cap or the backside of a tablespoon measuring spoon and set aside.

Filling:

In a medium sized bowl, combine the white sugar and softened cream cheese. Beat until smooth and creamy. Add in the sour cream, vanilla extract, cocoa powder, and red food coloring. Beat until combined. Add in the egg and mix until just combined.

Spoon the cheesecake filling evenly between the 9 cups and bake for 20-22 minutes. The centers will still jiggle a little bit, but the edges should be a very light brown.

Remove from the oven and let cool at room temperature on a wire cooling rack for 1 hour. Then transfer to the fridge and let cool for at least 2 hours.

The cheesecakes may have risen in the oven and will deflate quite a bit while cooling.

Topping:

Once the cheesecakes have been cooled for 2 hours in the fridge, place the coarsely chopped chocolate in a bowl.

Bring the heavy cream to near boil and then pour it over the chopped chocolate. Stir gently and constantly until the chocolate is completely melted. Allow to stand for about 20 minutes at room temperature.

Spoon the ganache evenly among the nine cheesecakes.

With your hands, crush up about 12 oreos (you don't want fine oreo crumbs). Top each cheesecake with oreo chunks and sprinkle on powdered sugar if desired.
Recipe Notes
*Check the post for a quick way to get the cream cheese to room temperature
Check out these other fun Valentine's treats: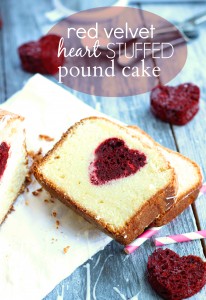 Stuffed Pound Cake