A milk chocolate fudge cookie filled with milk chocolate chips that melts in your mouth.
Guys. This cookie. Oh my gosh.
I know. They look interesting right? But don't pass them up because they are thin and crinkly. Because, guys, these are some of the most different and delicious cookies I've ever tried.
I am all about thick and cakey cookies. Like my hot chocolate cookies with the peppermint glaze. Those were full of thick and delicious goodness I'm telling you! But these cookies aren't thick at all. And YET I'm still obsessed with them!
As soon as you place one of these cookies in your mouth, it literally melts right then and there. It's amazing. And then you are reaching for another one. And another one. And just one more. And soon they are all gone.
So, let me talk about these cookies for a minute. And how you reach the consistency so they can literally melt in your mouth.
It's all about beating the eggs, sugar, and vanilla. You may think it's a little overkill but you have to beat these ingredients for at least 15 minutes and better at about 17 minutes. Blah right. But it's worth it. And if you have a cuisinart or kitchenaid, you can throw in your ingredients and set the timer, let them beat, and then be done.
If not…that's where the patience is totally worth it! And after that, the rest of the cookies come together in a snap. Easy peasy.
After the eggs, sugar, and vanilla have been beat together for a while, you add in the last few ingredients, let them sit for about 5 minutes and then bake them.
While the eggs and vanilla are beating, you can make up the fudge that gets added to these cookies. Mix milk chocolate chips (I recommend Guittard or Ghirardelli.) with the butter in the microwave. Place in the microwave for 30 seconds, stir for 30 seconds, and then place in the microwave for another 30 seconds and stir for 30 seconds. The more stirring you do in between microwaving keeps the chocolate from burning. Also using nice chocolate keeps them from burning and ruining the chocolate.
So mix in the fudge, 4 tablespoons of flour, and 1/4 teaspoon of baking powder. Beat for 1-2 more minutes and then stir in the chocolate chips. Let the dough sit for about 5 minutes and bake the cookies. Told you it was easy after all that beating!
You bake the cookies for about 6-8 minutes or until the tops crinkle. You have to be careful to not overbake these cookies or they get gross in a hurry.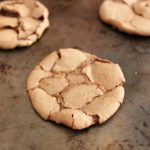 Milk Chocolate Meltaway Cookies
Ingredients
2

large

eggs

at room temperature

2/3rds

cup

white sugar

1 and 1/2

teaspoons

vanilla extract

4

tablespoons

white flour

1/4

teaspoon

baking powder

1

bag (12 ounces)

Ghirardelli or Guittard milk chocolate chips

MUST use high quality chocolate chips in these cookies

3

tablespoons

salted butter

no substitutes
Instructions
Combine the eggs, white sugar, and vanilla in a bowl. Using hand mixers beat for 15-17 minutes, or place in a stand mixer and set the timer to 17 minutes at the highest speed.

Near the end of the eggs, sugar, and vanilla being beat, preheat the oven to 350 degrees F.

Then combine 1 and 1/4 cup of milk chocolate chips with 3 tablespoons of butter in a microwave safe bowl.

Microwave for 30 seconds, stir for 30 seconds, microwave for another 30 seconds, and then stir. They should be melted by now.

Stir in the chocolate chip and butter mixture, the flour, and the baking powder. Beat for 1-2 more minutes, stir in the remaining chocolate chips, and then let the mixture sit for about 5 minutes.

Line your tray with parchment paper or a cookie sheet liner -- this is essential.

Place small balls of the mixture onto the baking sheet and cook for 6-8 minutes or until the tops seem to crinkle. They may not look done, but pull them out when the tops crinkle and let sit on the tray for about 3-4 minutes before removing to a cooling rack.