Special thanks to Genova for sponsoring this post. As always, all opinions are my own!
An amazing Mexican Tuna Salad with tons of fresh veggies, tuna fish, and a creamy cilantro dressing.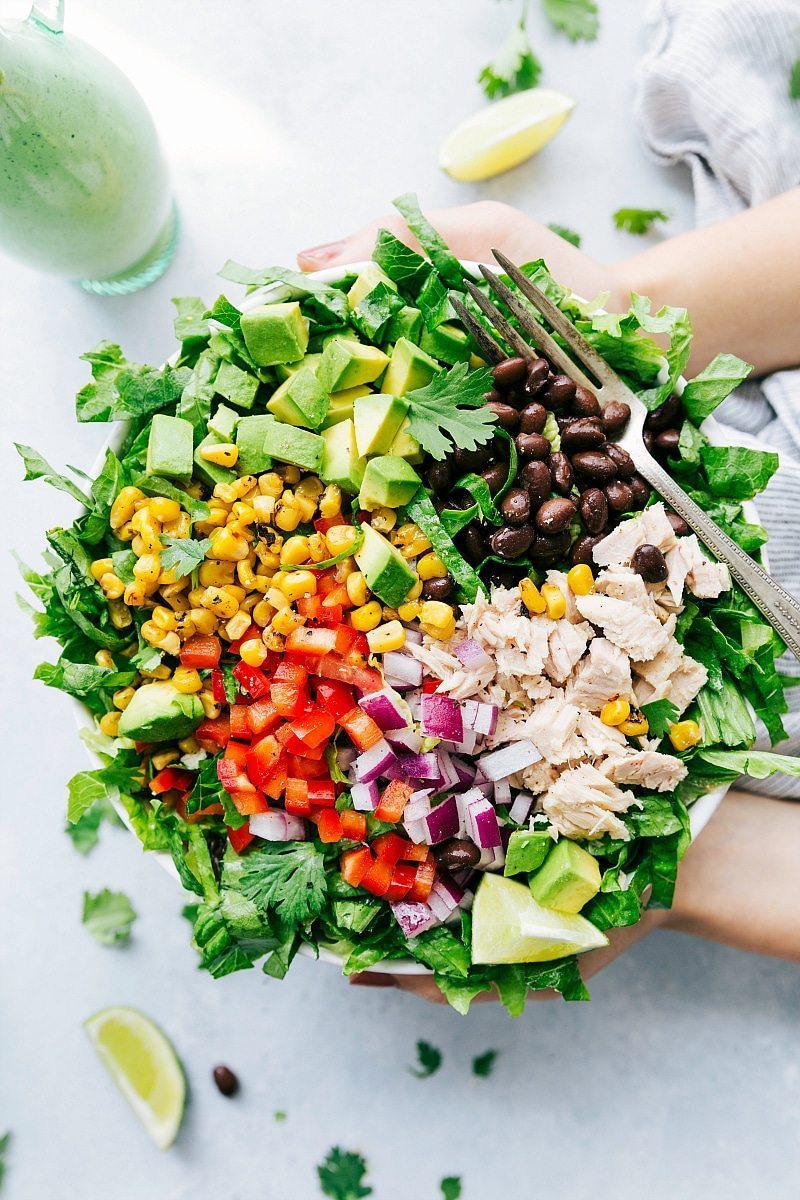 My two boys could not be more different from each other in just about every way possible. As far as water and getting wet — Bentley can never get enough. He loves being drenched in water, loves playing with water, and loves his baths. On the other hand, Grey hates water. Baths are a major fight (or at least washing his hair is) and he hates getting wet. If he so much as gets a drop of noticeable water on him, he runs to his room and changes outfits entirely. (Side-note: between how often Grey changes clothes and how messy Bent is….doing laundry in my house is super fun.)
They used to take baths together, but Bentley is so wild with his splashing that we now stagger baths to keep the peace.
Apparently Bentley is greatly lacking in having enough water interaction because the other day I found him in his bathroom completely soaked. He'd pushed a large box right up to the sink and, using the toothbrush cup holder, had filled it with water and had been dumping these massive cup-fulls right on top of his head.
The meltdown that ensued after I removed him only furthers my theory that we need to take him swimming more. Because apparently our local splash-pad isn't quite doing it for him….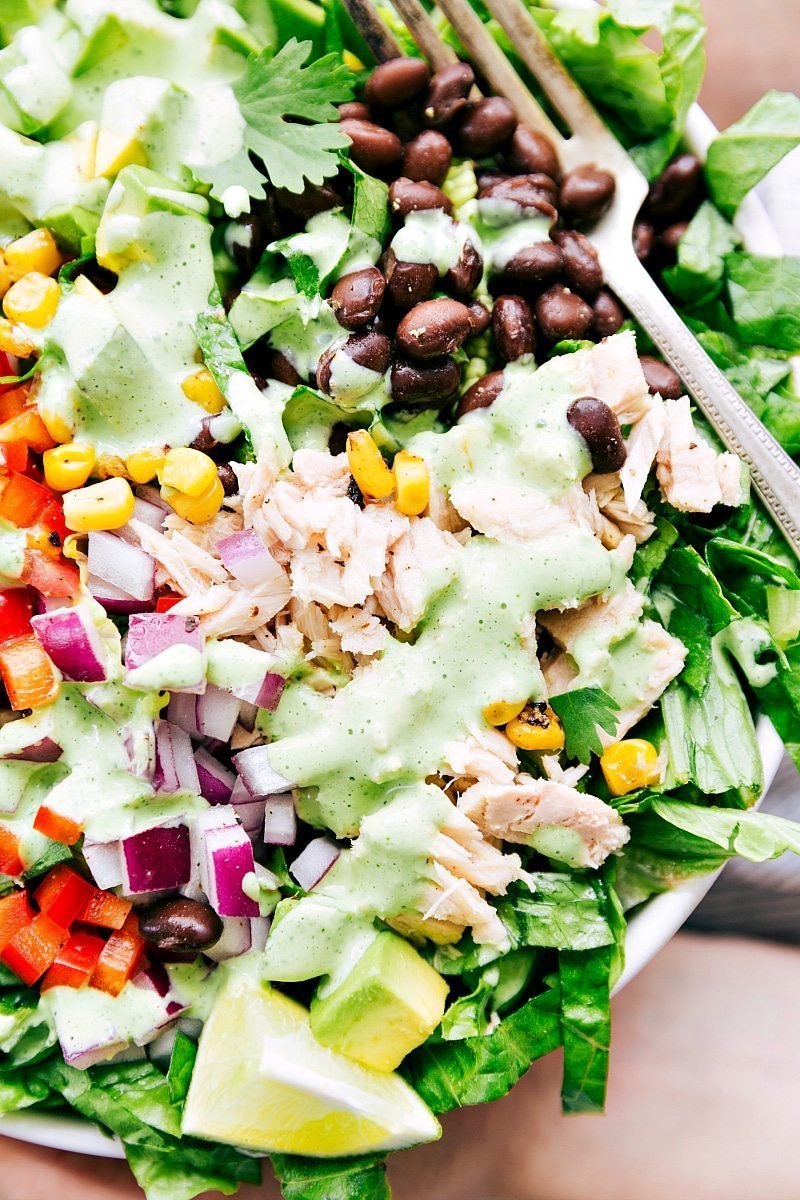 So, this salad! I made this chopped chicken salad a few months back and it has been made on repeat a lot this summer. Besides just us, so many of you have loved it and so I thought it would be fun to put a spin on it — change out some of the veggies and add tuna. At first I thought the differences would be subtle, but it's actually quite different! The tuna really changes this salad and we're totally obsessed with it. Mexican tuna salad for the win!
For a couple of years now I've been using Genova's Albacore Tuna in Olive Oil and we can't get enough of it. It really is the best canned tuna I've ever have and I love the rich flavor of it. Genova's tuna is packed in olive oil which really does make a huge difference to the overall taste.
The tuna is also packaged in easy open cans making it a time-saver, and honestly the very fastest "protein" you could add to a salad! No time spent cooking meat, just flip open the can and add it in!
Genova also makes a Yellowfin Tuna that we love and works great in this dish too — whichever you like best.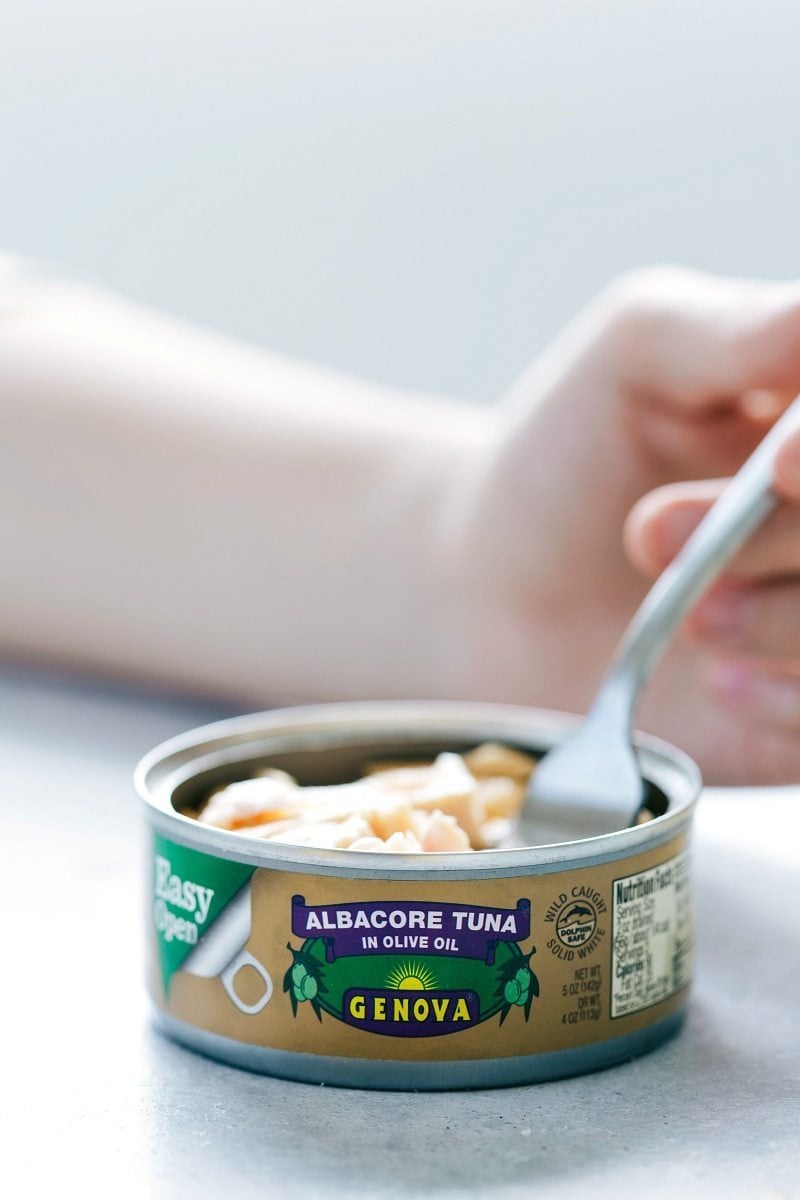 And finally, the dressing — the dressing has a few ingredients but it's very easy to make. If you have a high powered blender or food processor that will do most of the work and get you a delicious dressing in no time. It's also pretty easy to customize and adapt to your personal preferences. Depending on how much you love cilantro (I can't get enough of it!) you can always scale up or down that addition.
You can also scale up or down the garlic, jalapeno, and seasonings. If you're worried about spice, add the jalapeno slowly and give it frequent taste tests so you don't add in too much. And if you're on the flip side, you can always add in more jalapeno or throw in the seeds for some extra heat! Enjoy!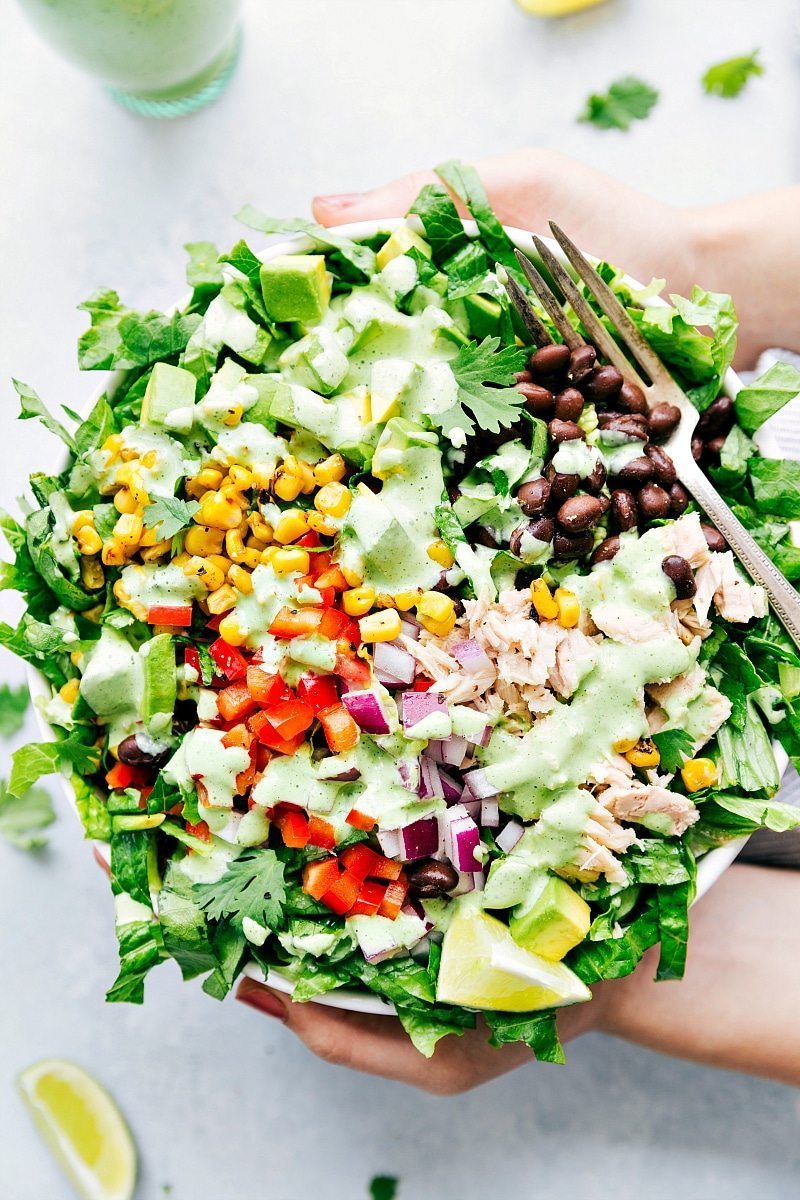 More Amazing Salad Recipes: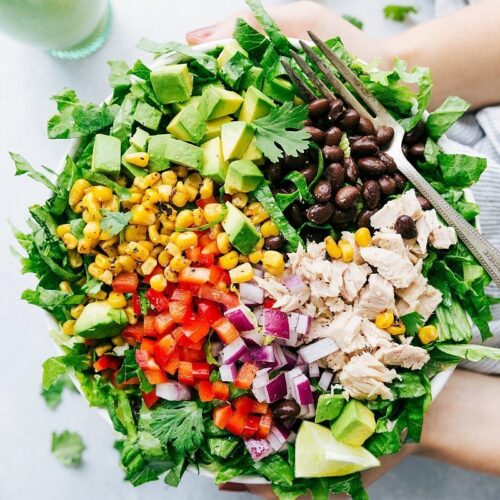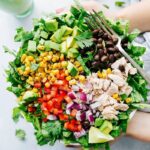 Mexican Tuna Salad
An amazing Mexican-flavor inspired tuna salad with tons of fresh veggies, tuna fish, and a creamy cilantro dressing.
Keyword:
Mexican Tuna Salad
Ingredients
Salad
2 1/2

cups

finely chopped romaine lettuce

(1 large heart)

2

(5 ounces EACH)

Genova Albacore Tuna in Olive Oil in Easy Open Cans,

drained

1

can (15 ounces)

black beans,

rinsed and well drained

1

can (15 ounces)

fire-roasted corn,

drained (or use fresh corn and grill it -- yum!)

2

ripe avocados,

diced

1

red bell pepper,

diced

1/3

cup

red onion,

diced

1/3

cup

cilantro,

coarsely chopped (loosely measured)

Fresh lime
Dressing
1

large

lime

(2 tbsp juice, 1/2 tsp zest)

2

tablespoons

traditional ranch seasoning mix,

not prepared

1/2 - 1

teaspoon

minced garlic

1

tomatillo,

husk removed and coarsely chopped

1/3

of a bunch fresh cilantro

1/2

jalapeno

1/2

cup

regular full-fat mayo

1/2

cup

buttermilk

Salt and pepper
Instructions
Salad
Wash and then very thoroughly dry the lettuce (you don't want it wet at all). Chop it into very small pieces -- you'll want smaller pieces of lettuce than a typical salad. Add the chopped lettuce to a large bowl.

Add in the drained tuna, drained and rinsed black beans, drained corn, diced avocados, diced red bell pepper, diced red onion, and coarsely chopped cilantro. Toss to combine.
For the Dressing
Zest and juice the lime. Add the juice (you should have about 2-3 tablespoons juice) and zest (about 1/2 teaspoon zest) to the blender along with the prepared ranch seasoning mix, minced garlic, chopped tomatillo, and cilantro (Just cut off the large stems, but the rest is fine).

Add 1/2 a jalapeno* (a full one for more kick), the mayo, and the buttermilk. Add some salt and pepper to taste (I use 1/4 to 1/2 teaspoon of salt and 1/8 teaspoon pepper).

Blend until completely smooth. Taste and adjust to personal preference (more lime, more cilantro, more garlic, salt/pepper)

Dress the salad right before enjoying (do not dress in advance; do not dress anything you want to have leftover), toss the salad together with the dressing.

Season with salt and pepper if needed and then add in any fresh cilantro or lime juice to taste. Enjoy immediately after being dressed.
Recipe Notes
* Reduce heat by eliminating the seeds; keep the seeds in for more heat.