Adorable sugar cookies decorated to look like the melted wicked witch! The perfect Halloween dessert.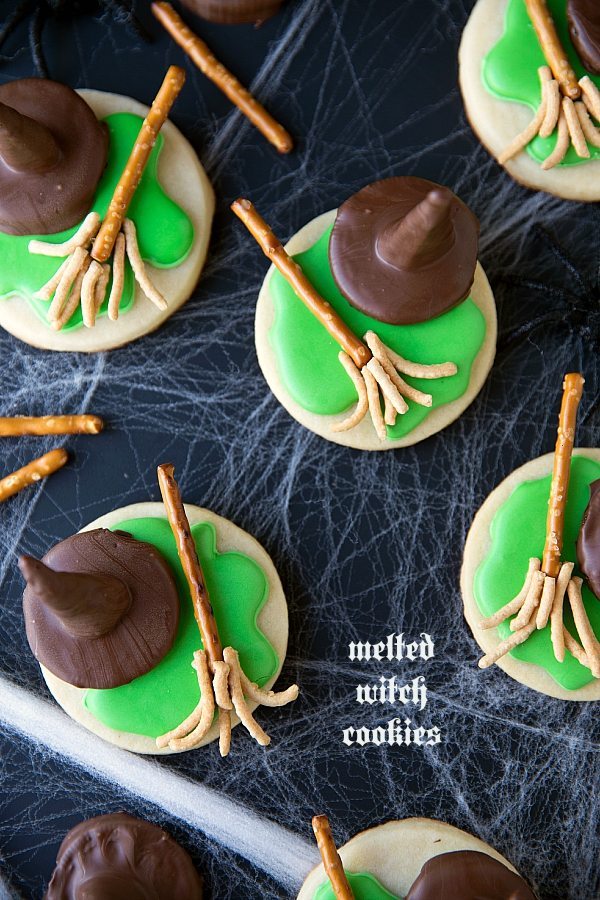 Once a very long time ago I had dreams of being a famous actress. And when I say a very long time ago this was when I was a little girl and it lasted for about three months before I wanted to be something else. BUT in this stage when I wanted to be this famous actress, I tried out for a part in an elementary school play — the Wizard of Oz. The try-outs were quite mild being just an elementary school play, but I took them extremely seriously. I was determined to get the part of Dorothy and have my career just take off from there. 🙂
So I tried out for Dorothy. An important note here: the play was a musical and I do have a singing voice that is maybe a step up from that of a frog. If you think I'm exaggerating here, you should ask my husband. My husband tells me I'm good at everything whether it's true or not. But singing? He's not afraid to tell me that is not even close to being one of my talents.
Anyways, we were able to try out for as many parts as we wanted, but I only tried out for Dorothy. And guess what? I didn't get the part. But wait. Even better than that, I got a part that I didn't even try out for — the wicked witch. Conveniently the ONLY part that didn't require any sort of singing for a play that had to include everyone. Haha. So the acting gig didn't quite work out, but I did learn that I'm quite obsessed with everything "witch." Although I couldn't wear sparkly red shoes, I loved painting my face green and wearing the witch costume. I loved the cackle, the broom, and most especially, I loved the scene where I was "melted" by Dorothy's pail of water.

So, for the inspiration of these cookies! Sometime last year around Christmas time, I saw some of the cutest sugar cookies. They are melted snowman cookies…perhaps you've seen them?
Sometime after seeing them I had Halloween on my mind and, with my total love for witches, I thought – how fun would it be to have a melted wicked witch cookie?! I thought the idea was pure genius and got so excited about it. I wrote it on my plans to do and have anxiously awaited Halloween now for months 🙂 But sometime between the time I thought of the idea and actually executed it, I saw another version of melted witch cookies online. I was sad to learn my idea was not 100% original. Turns out people have been more creative than me for a while since there are quite a few versions of these cookies 🙂 But I couldn't NOT post these after being so excited…so here is my take on melted witch cookies!
I used my favorite sugar-cookie base for this recipe and then opted to do some royal icing. I've tried dozens of royal icing recipes and this one is the one I've had the most success with. Just add a little green food dye and it's ready to decorate. I also use the royal icing to attach the "broom" (pretzel sicks and chow mein noodles) and the witch hat (bugle + oreo cookie). The chow mein noodles can usually be found in the Asian food section of your grocery store. Another easy alternative would be to use shredded wheat cereal — break a piece of the cereal in half and you've got a pretty authentic looking base to a broom 🙂
If royal icing intimidates you, these will be just fine with green-dyed frosting. If you smooth it over the cookie to look like a puddle, it will work out great! It also works to use frosting to attach the hat and witch broom.
And one other fun idea — if you don't have time to make these cookies, you could always just make the witch hat as its own dessert! The witch hat is just few ingredients — Bugles + Oreos + chocolate and vegetable oil. They are pretty quick to make and taste delicious. I'm convinced that just about every food tastes good when coated in some chocolate. 🙂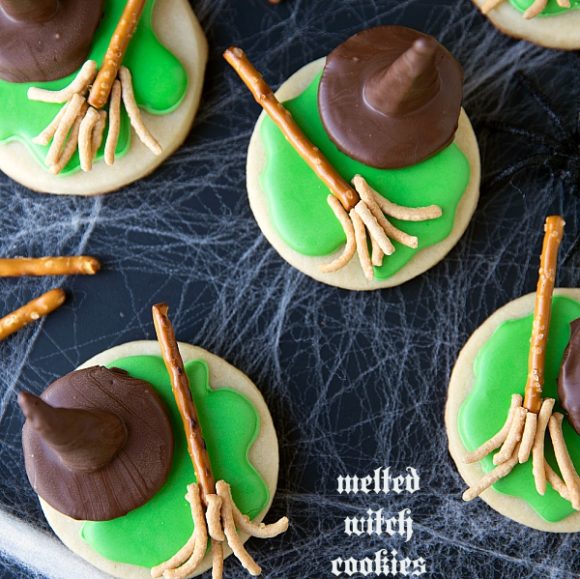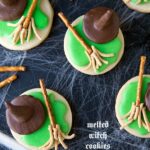 Melted Witch Cookies
Servings
:
24
witch cookies
Ingredients
Cookies
1

cup

salted butter

2 sticks

1

cup

+ 2 tablespoons white sugar

1

large egg

1

teaspoon

and 1/2 Mexican vanilla extract

3/4

teaspoon

almond extract

1/2

teaspoon

orange extract

1

teaspoon

cornstarch

2

teaspoons

baking powder

2

cup

and 3/4 all-purpose white flour
Frosting
1

recipe of Royal Icing or your favorite frosting recipe

Green Food Coloring
Decorations
24

Bugles

12

Oreo sandwich cookies

1

cup

milk or dark chocolate chips

2

teaspoons

vegetable oil

Crispy Chow Mein Noodles

24

Pretzel Sticks
Instructions
Preheat the oven to 350 degrees F.

Cut the VERY cold (right out of fridge) butter with a knife into 1-inch cubes. Place in the stand mixer with the sugar. Beat until completely creamy and "light + fluffy".

Add in the egg, Mexican vanilla extract, almond extract, and orange extract. Beat until completely combined.

Add in the cornstarch, baking powder, and 1 cup of flour. Beat until completely combined scraping the edges as needed. Add in the next cup and beat until a dough forms. Add in the final 3/4 cup adding an additional 1/4 cup as needed for a dough that is firm enough to be cut out into shapes (or a circle).

If the dough looks crumbly, keep beating until a dough does form (it will form even though it looks like straight crumbles!!) and if needed knead it with your hands. Just be careful to not overwork the dough as that leads to tough cookies.

In between two sheets of plastic wrap or wax paper, roll out the dough to about 1/2" thickness. Cut out the cookies and place on a parchment or silicone lined tray.

Bake for 12-14 minutes watching carefully for when they slightly brown at the edges/bottom. Be careful to not overbake - the center should still look soft and not be brown at all. Under-baking slightly is huge for the flavor and texture of these cookies.

Allow to cool on a cooling rack for about 2 minutes. Then place the cookies in a single layer (or separated with wax paper) in a large re-sealable bag. Seal the bag to keep the moisture in and the cookies ultra soft. Remove when cooled and ready to frost.
To decorate
Follow directions to make royal icing or make your favorite frosting and dye it green. (I use an icing bag fitted with a #2 tip to pipe the outline of the puddle and to attach the broom + witch hat. Then I use a small bottle to flood the inside of my puddle outline. If you've never used royal icing, here's a

tutorial I love

.)

Either pipe and flood (using royal icing) or frost (using regular frosting) a "puddle" shape onto each cookie and let it dry completely.

Using leftover royal icing or frosting, attach a pretzel stick to one side of the cookie. Carefully piece each chow mein noodle to the bottom end of the pretzel to look like the base of the broom. Again, use the royal icing to attach the chow mein noodles.

While waiting for the puddle on the cookies to dry (if you did royal icing), make the witch hats.

In a small microwave safe bowl, combine the chocolate chips and the vegetable oil. Microwave in bursts of 15 seconds stirring for 15 seconds in between each burst until the chocolate is melted.

Using dipping tools or a fork to help you, dip the bugle in the chocolate and shake off the excess chocolate. Separate an oreo cookie and remove the frosting. Dip one of the cookie sides in the chocolate and attach the chocolate-covered bugle to the now chocolate covered cookie.

Set on a cookie sheet lined with parchment paper to allow to set up. Attach using leftover frosting or royal icing.
More fun Halloween treats: