Special thanks to Premier Protein for partnering with me this year to bring you delicious recipes like these french toast cups!
Miniature french toast cups made with better-for-you ingredients!

One of my family's favorite things to eat is French Toast. This recipe is my boy's favorite and they will beg for it just about every time I ask them what they want to eat for breakfast, lunch, OR dinner. We have breakfast for dinner often and occasionally french toast will make the menu. I'm the "best mom ever" whenever it does. 🙂
As much as I love serving it to my boys, it's not the healthiest of meals (more like a dessert if we're being honest) so I've been working on a french toast recipe with better ingredients that they'll love just as much. And since these are served in individual muffin sized servings, there is so much to love about them.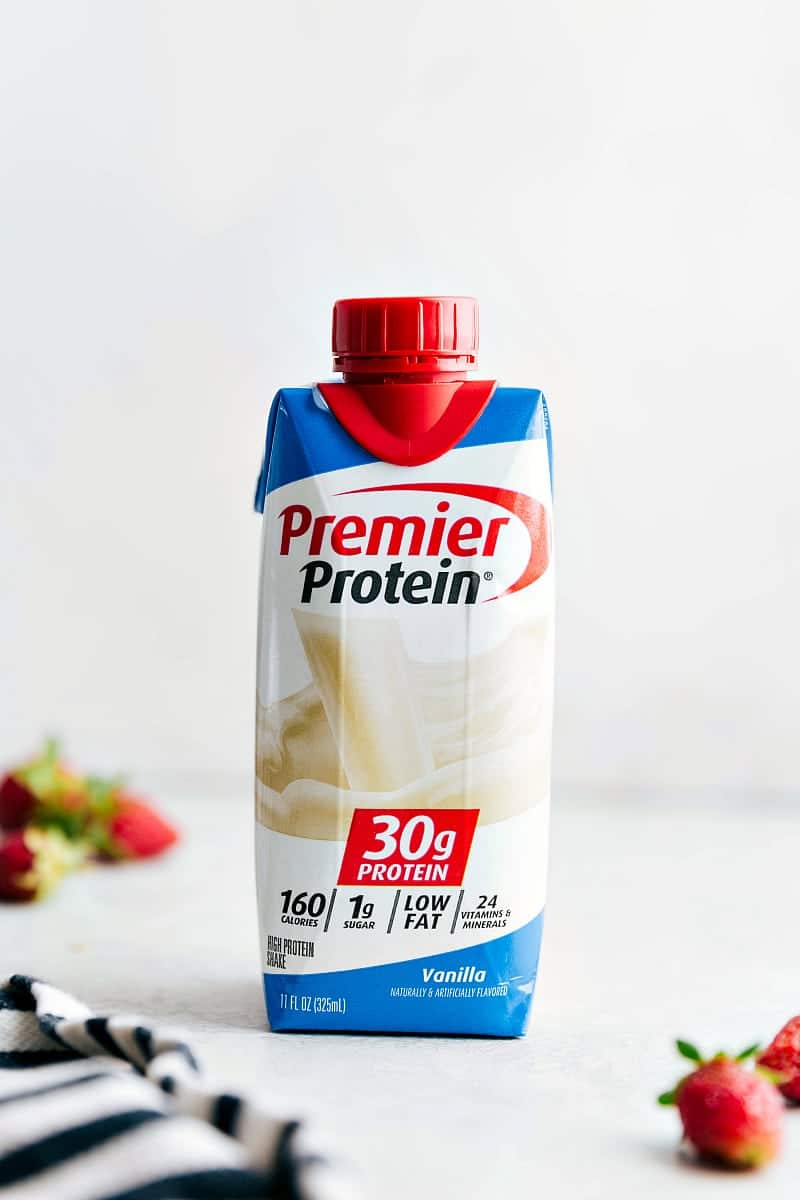 So to make these healthier, I'm using Premier Protein's Vanilla shake along with eggs to make up the base "liquid" mixture. Premier Protein's vanilla shakes are flavorful and packed with protein, low on sugar, low fat, and filled with vitamins and minerals. It's the perfect ingredient to add tons of flavor without lots of added sugar!
The only problem is setting aside a few shakes from the box before the boys drink them all. 🙂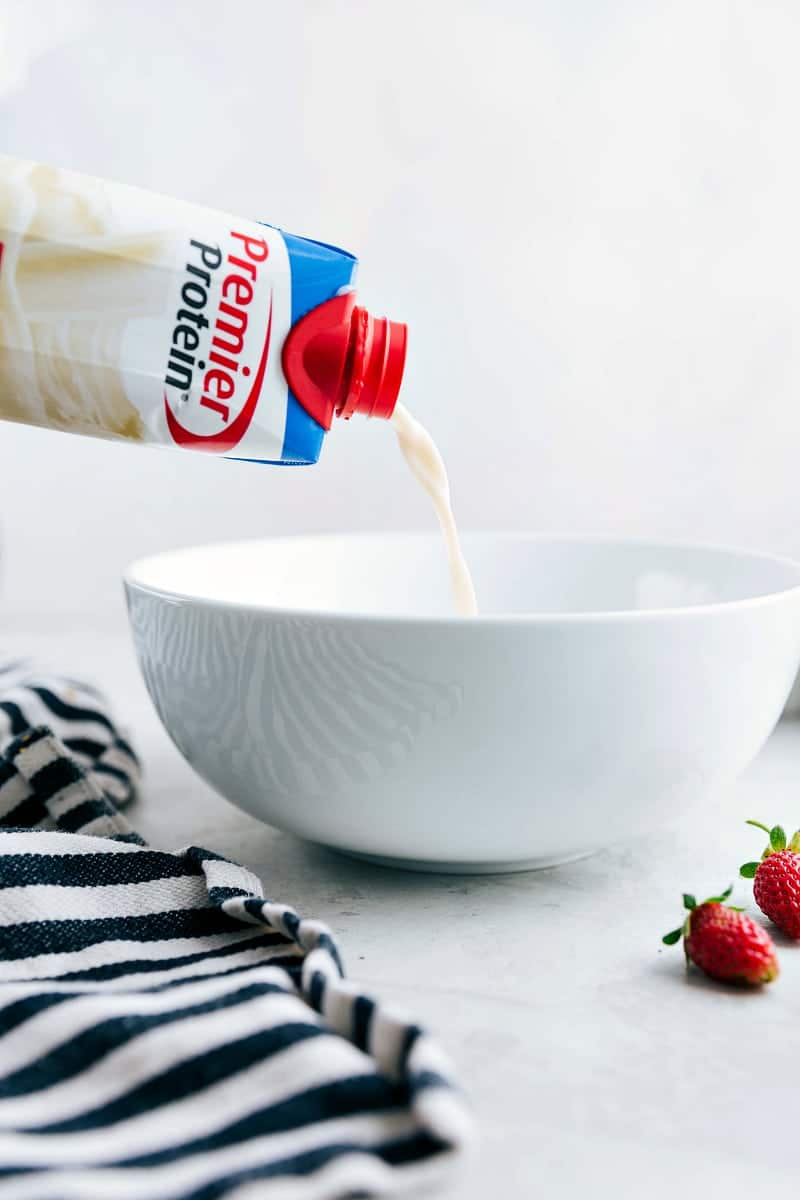 After the eggs and protein shake have been whisked together, you'll add in a few more ingredients — cinnamon, nutmeg, vanilla extract, coconut sugar, and a pinch of salt. Whisk it all once more and it's time to toss in the bread cubes.
And once the bread is well coated, you'll chill the mixture in the fridge for a bit (to allow the flavors to meld and the bread to absorb all those delicious ingredients). After a quick chill everything is ready to be assembled and baked.
We love eating these french toast cups with some fresh fruit, maple syrup, and every once and a while a little bit of fresh whipped cream! Enjoy 🙂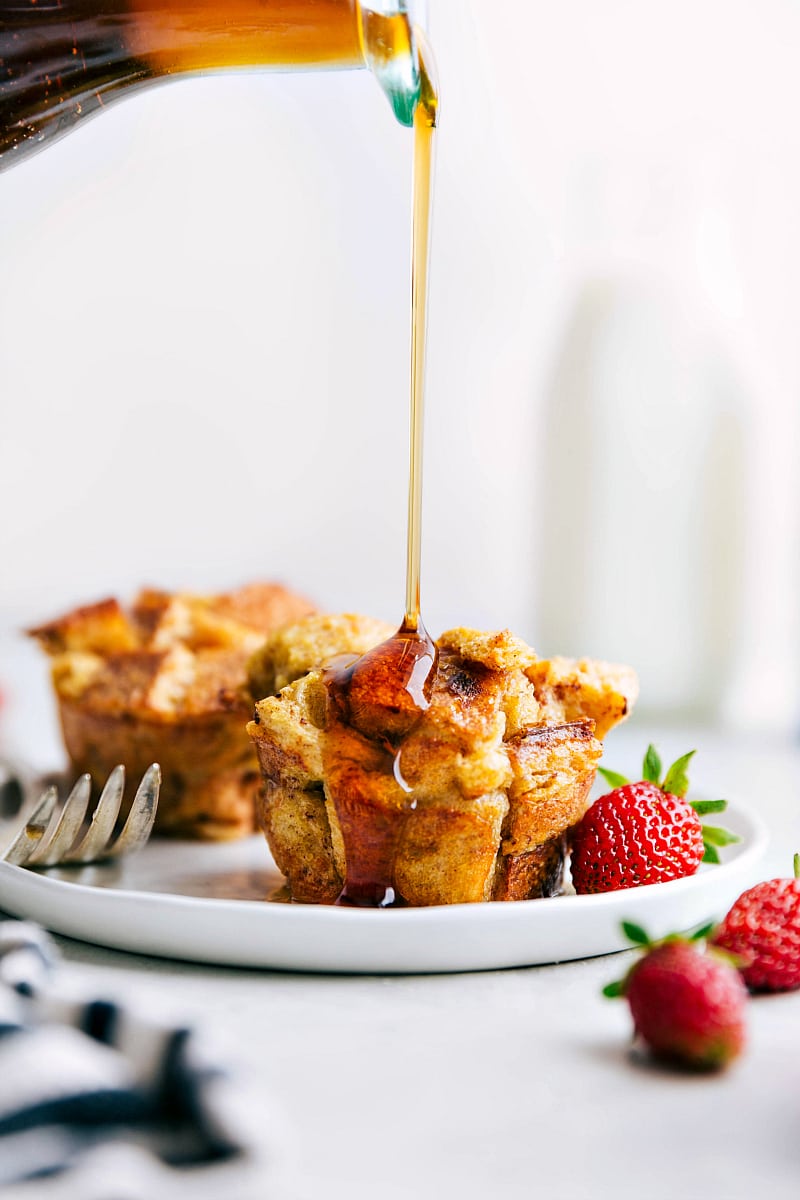 More Breakfast Recipes: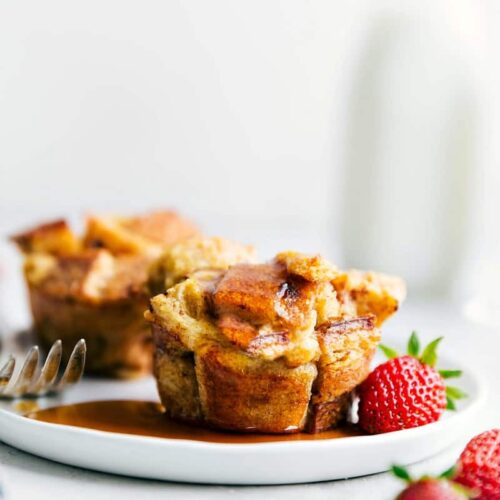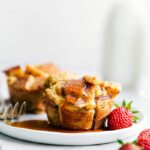 French Toast Cups
Miniature french toast cups made with better-for-you ingredients!
Keyword:
French Toast Cups
Servings
:
12
french toast cups
Ingredients
6

large eggs

1

(11 ounces)

Premier Protein Vanilla Shake

2-3

tablespoons

lowfat milk

1/3

cup

coconut sugar (light brown sugar can be used)

2

teaspoons

pure vanilla extract

1

tablespoon

ground cinnamon

1/4

teaspoon

ground nutmeg

1/2

teaspoon

fine sea salt salt

14-15

cups

bread cubes

Pure maple syrup,

for serving

Fresh fruit,

for serving, optional
Instructions
Preheat the oven to 350 degrees F. In a large bowl, whisk all the eggs together. Once mixed, measure the vanilla protein shake to get 1 and 1/2 cups liquid. The protein shake fills most of that amount, but top off the remaining amount of liquid with milk to ensure you have 1 and 1/2 cups. Add to the eggs.

Add the coconut sugar, vanilla, cinnamon, nutmeg, and salt. Stir until combined and smooth. Cut the bread into 1/2 inch cubes and measure to get around 14-15 cups. Gently toss the cubes with the egg mixture and then cover and refrigerate for 15 minutes. Remove, toss again gently, and return to the fridge for another 15 minutes.

Generously grease a 12-cup muffin pan with cooking spray. Add the bread mixture evenly into each cavity pressing down on each one as needed to fit into the cavities. The mixture should be the perfect amount for the 12 cavities.

Bake for 20-27 minutes, or until the tops are golden brown and slightly crispy. Remove and allow to cool for a few minutes. Gently coax (using a butter knife as needed) out of the muffin tin and onto plates. Serve with pure maple syrup and fresh fruit as desired.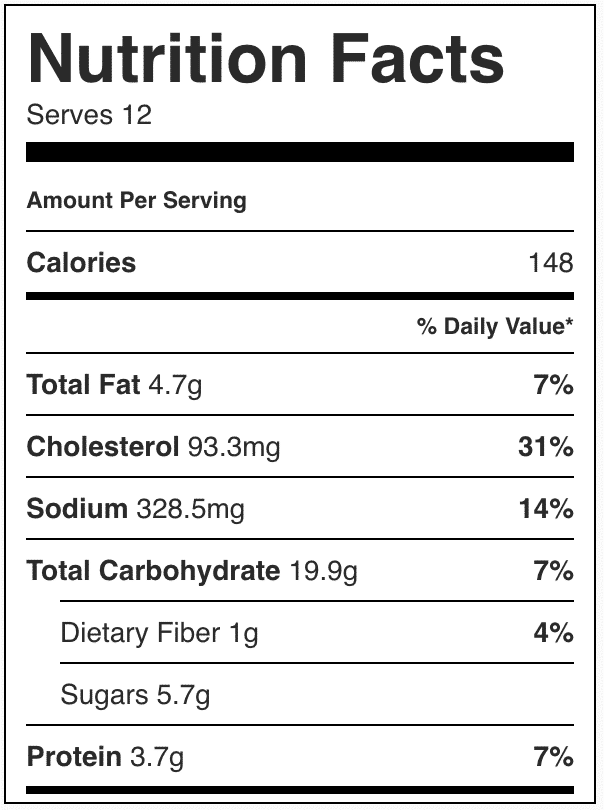 For more delicious recipes, follow along on Pinterest, Instagram, Facebook, and YouTube