Last night was seriously exciting. For the first time ever, we got trick-or-treaters! The past two years we've lived in an apartment and gotten zero trick-or-treaters. But now that we are in a home in a neighborhood, we finally got some princesses, super heroes, and monsters coming by.
There were eight trick-or-treaters that came by last night.  Not as much as I was hoping we'd have, but I won't complain. Eight is much better than zero!
We didn't really know what to expect (as far as knowing how many kids would come by), so we have a huuuuge bowl of candy left over, but the husband seems to be pretty excited about that. It kind of feels like we got the reward of trick-or-treating without any of the work. Score!
I hope you all had a wonderful Halloween! And ate lots of candy and treats. I know we did.
And if you are having a bit of a candy hangover, I've got just the solution for you…A healthy, detoxifying, vegetable-filled, Fall flavored casserole!
This tortellini bake is the perfect medley of Fall flavors featuring sweet potato, mushrooms, sweet bell peppers, and sweet peas. Plus this dish is highly customizable. And who doesn't like a meal that can taste just like they want it to?!
So how about a little Q & A sesh? I'll give you both the Q's and the A's…
I don't like sweet potatoes? How about subbing some butternut squash or yams? Those would work perfectly.
I hate mushrooms. Leave em out! Or try half of a yellow onion.
Sweet peas? Eckkk! Do you like regular peas? That would work. Or substitute for a green bell pepper. Or broccoli.
Is corn a fall vegetable? No, you are right. I just loooove corn. I feel like it adds an extra crunch and a bright color. But feel free to leave the corn out and add in some more sweet bell peppers.
Chicken? If you want to leave it out, you can substitute it with another kind of meat or just increase the amounts of the other vegetables in the dish.
Cream of chicken soup? Substitute cream of mushroom soup, or another cup of milk.
If there's anything else you don't like, chances are you can substitute it with another vegetable that you do like and it will turn out great. The sauce is pretty mild and tortellini seems to go with everything.
Happy detoxing off all that Halloween candy!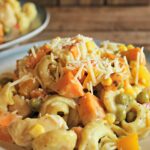 Fall Tortellini Bake
Ingredients
2

tablespoons

olive oil

separated

2

cups

boneless skinless chicken breast

cubed into bite sized pieces, ~2 large

1

cup

mushrooms

chopped

1

red bell pepper

diced

1

yellow bell pepper

diced

2

cups

sweet potatoes

diced, ~3 small

1/3

cup

chicken broth

2

teaspoons

all purpose flour

3/4

teaspoon

garlic salt

1/2

teaspoon

pepper

1

cup

milk

I used 2%

1

can (10.5 ounces)

98% fat-free cream of chicken soup

1

can (15 ounces)

corn

drained and rinsed

1

can (15 ounces)

sweet peas

drained and rinsed

2

(16 ounces each)

bags frozen tortellini stuffed with cheese

Optional: Parmesan cheese for topping
Instructions
Preheat the oven to 350 degrees F.

In a large skillet over medium heat, combine 1 tbsp. olive oil with chopped chicken and mushrooms. Cook for about 8 minutes or until the chicken is cooked through and no longer pink inside. In the same skillet, add another tbsp. of olive oil and cook the sweet potato and sweet peppers over medium-high heat for about 8 minutes or until the potato is pretty tender.

Meanwhile, put a large pot of water on to boil. Follow package directions to cook the tortellini and then drain.

Combine tortellini, cooked chicken and mushrooms, chopped sweet peppers, sweet peas, sweet potatoes, and corn in a large bowl. Set aside.

Rinse out the skillet that cooked the chicken and sweet potato and combine chicken broth, garlic salt, pepper, and milk over medium heat. Mix together and slowly add in the flour whisking constantly as you add the flour. Continue to stir until mixture thickens and then add the cream of chicken (or mushroom) soup.

Pour the milk and soup mixture over the tortellini and vegetables. Toss until coated and pour into a large 9 x 13 pan.

Cover with foil and cook for 25-30 minutes. Remove from the oven and top with Parmesan cheese if desired.