Delicious slow-cooked and tender steak fajitas with sweet bell peppers. Tons of flavor all the ease in preparation!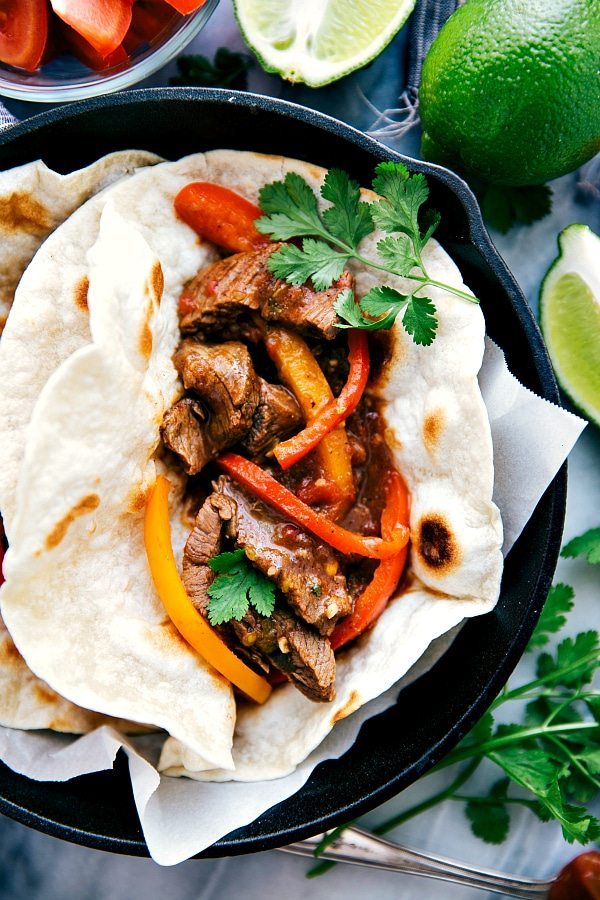 Fajitas have been and always will be one of my very favorite foods. My favorite type of fajitas have always been chicken fajitas (recipe coming for those soon-ish!), but several months ago I had some steak fajitas at a restaurant and have been dying to re-create them just like they were at the restaurant for the blog. And now they are here in all their delicious, flavorful glory!
Plus they are easy to make, thanks to the good ole crockpot! ??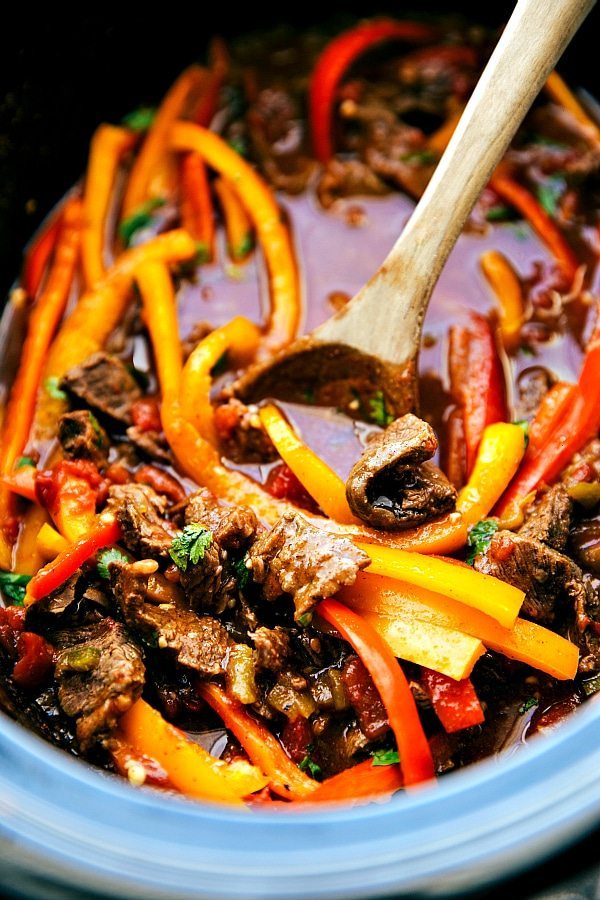 Even though they use the crockpot, they aren't completely foolproof because I have messed these up one of the times I've made them! They were a delicious mess that got eaten by us and our dinner company (remind me to not experiment on recipes when we have people over! ?) but they weren't truly fajitas. I cooked them low and slow for nearly 8 hours and the meat did not stay in strips, it shred into teeny little pieces making more of a strange Mexican beef stew. ?
When placed on a tortilla with all the toppings though they were still amazing and well-flavored. They just were not really fajitas.
I decided not to share this recipe until I had tried them a few more times. I found that 8 hours was simply way too long for my crockpot and likely most other crockpots. Unfortunately I can't test these in every single crockpot so the best advice for this is a recipe is to keep an eye on the meat and be careful to not overcook it at all. Aim to check the meat around 3 and 1/2 to 5 hours with a taste test. This is to avoid the meat getting too tender and shredding instead of staying in strips.
What works best in my crockpot is cooking these for 2-3 hours on low and then about 2 more hours on low after the peppers have been added (we like the peppers to be crisp tender not totally soft). (And that is for top sirloin meat.) The length of crockpot cooking for these fajitas will also vary on the type of meat you use. If you use a top sirloin meat, I've found it cooks quicker than a flank steak. The flank steak takes longer to get tender in the crockpot.
If you want a truly set it and forget it meal, you can place the steak in the crockpot WHOLE without slicing it into strips and cut or shred it after it's done cooking.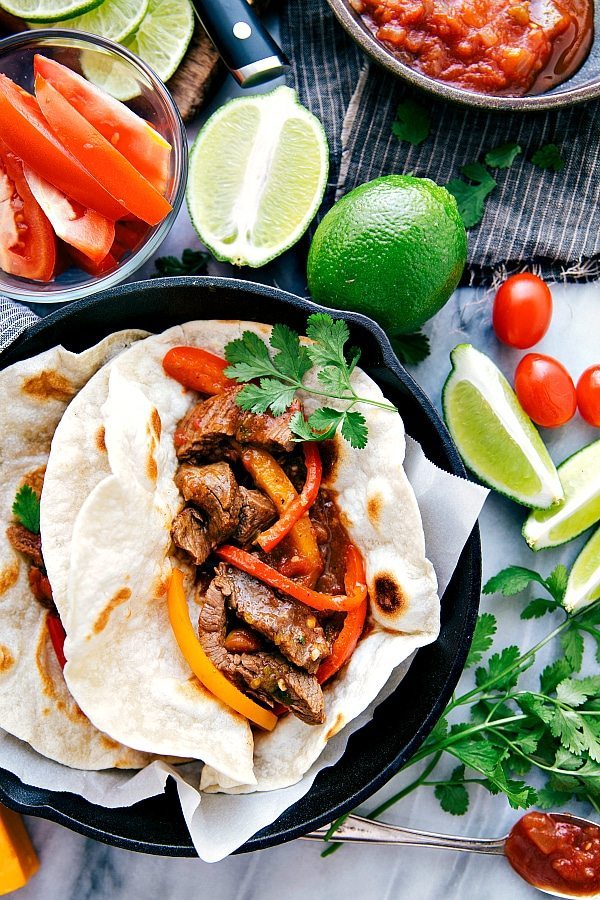 To have the most customized flavor (to the spices you prefer), combine your own seasonings to make a quick homemade fajita seasoning and then adjust for seasonings you prefer. If you are in a hurry though, a packet or mix you have will work just fine. Just make sure to give it a quick taste test at the end and increase any individual seasonings to your preference.
You can also add an onion right into the crockpot cut into thin strips. Since my husband hates onions and strips of onions aren't easily added covertly to a dish, I've left them out when making this meal for my family.
And finally the toppings. Because a good fajita is only as good as the toppings, right?! Or maybe I'm just a little crazy because my husband always asks if I want some fajita mixture with my toppings ? I'm all about loading up on shredded cheese, lots of sour cream (I always use fat free and can't even tell the difference when it's mixed with everything!), some fresh lime, and a super tender sliced avocado.
Add whatever toppings you like best and enjoy these fajitas!

Homemade Fajita Seasoning (adapted from here):
1 tablespoon cornstarch
2 teaspoons chili powder
1 teaspoon seasoned salt
1 teaspoon paprika
2 teaspoons white sugar
1/2 teaspoon onion powder
1/2 teaspoon garlic powder
1/4 teaspoon cayenne pepper
1/2 teaspoon ground cumin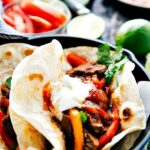 Crockpot Steak Fajitas
Ingredients
1 and 1/2

pounds

flank or top sirloin steak
Marinade:
4

tablespoons

orange juice

4

tablespoons

white vinegar

2

tablespoons

soy sauce

2

teaspoons

minced garlic

1

teaspoon

seasoned or plain salt

1/4

teaspoon

ground cayenne pepper

1

teaspoon

ground cumin
Crockpot
1 can

(14.5 ounces)

diced tomatoes

1 can

(4 ounces)

fire-roasted diced green chiles

1

teaspoon

minced garlic

1/2 - 1 full

jalapeno

I use 1/2 and seeds out

1

tablespoon

chopped cilantro

2-3

large sweet bell peppers

Optional: 1 yellow onion

Serve with: flour or corn tortillas, fresh squeeze of lime, cheese, sour cream, salsa, guac/avocado
Instructions
Cut the steak into thin strips* and add to a large plastic bag.

Pour the orange juice, white vinegar, soy sauce, minced garlic, 1 teaspoon seasoned or regular salt, cayenne pepper, and cumin over the steak.

Massage into the steak and seal the bag tightly. Place in the fridge overnight or for at least 1 hour.
In the crockpot
Place the diced tomatoes (undrained), fire roasted diced green chiles, minced garlic, diced jalapeno, and chopped cilantro in a large crockpot. I use a 6-quart crockpot.

Place the marinated meat (discard marinade) on top.

Mix together the fajita seasonings (above recipe) or use your own homemade fajita seasoning mix. Stir everything together.

If desired add a sliced onion too (my husband hates onions so we omit)

Cover and cook on low for 3-4 hours. Then add in the sliced sweet bell peppers and cook on low for another 2-3 hours for a total of 5-7 hours on low*

Remove from the crockpot and serve on flour or corn tortillas with a few squeeze of fresh lime, grated cheese, sour cream, salsa, guac or avocado, or whatever fajita fixings you like best!
Recipe Notes
* It may even take 4 hours depending on how hot your crockpot is and what type of meat you use. (Sirloin is faster than Flank Steak) Watch the meat carefully since all crockpots cook differently. If you cook too long the meat will shred and not stay in strips. If you want a truly set it and forget it meal, you can place the steak in the crockpot WHOLE without slicing it into strips and cut or shred it after it's done cooking.
More delicious crockpot meals:
Crockpot Creamy Enchilada Soup
Easy Crockpot Sweet Potato Stew
Crockpot BBQ Ranch Chicken Tacos