A delicious slow cooker chili with bacon, plenty of spice, and lots of flavor! Recipe video above the printable recipe.
Because bacon makes everything better. Right?! Yesssss. Especially chili — it's delicious with bacon!! Not in the way that you can taste bacon in it necessarily, but in the way that the bacon really enhances all the flavors and makes this chili's flavor spot on ???
But before we talk too much chili and before you watch that video, DISCLAIMER time. This chili is not "made easier" by being made in the crockpot (like most crockpot recipes and most of the crockpot recipes you see on my blog), it is made BETTER by being slow cooked.
Because you will need to do some cooking over the stove (although all in one pot ?) and there is some veggie chopping. So yes, there is a good amount of prep time on this chili, but it is SO worth it. And slow cooking is what makes all those yummy flavors meld, the bacon to fully soften, and the actual chili to have a "melt-in-your-mouth" type of quality. What I mean by that is this is not a chewy chili. The beans become delicate, the meat gets ultra tender, and the veggies completely softened.

So please do not be overwhelmed by that ingredient list because there is A LOT of ingredients. If you have a spice rack, you'll probably have over half the list of ingredients already!
Also random side-note on ingredients, I totally forgot to chop up the serrano peppers for the video. (Don't worry it made it in the final dish ☺️) SO if you are confused why that's listed and not in the video, that's my bad. In real life don't leave it out because it adds that awesome chili "kick." (I find serrano peppers by jalapeno peppers in the grocery store)
Which brings me to the heat rating of this chili. I'd say this is a medium-chili. It honestly becomes quite mild if you add in lots of sour cream and cheddar cheese. Mild enough that my 2-year old enjoyed quite a few bowls. However, my sister tried this and said it was a hot chili. SO it's kind of hard to rate these things. ? If you are worried about too much heat, I'd recommend using all mild chili beans and leaving out the serrano pepper(s). If you like the heat and A LOT of heat, you may want to add a few more things to the chili such as jalapeno or habanero peppers.
My NUMBER 1 chili-making tip: Cook it the day before. Then put it in the fridge overnight and warm it up in the slow cooker to serve the next day. It's unreal what happens to a chili after sitting overnight (or even a few days for that matter! We eat this chili all week long!) Also these pictures are after the chili sat overnight — it gets suppppper thick and becomes chili perfection. ?
Crockpot Bacon Chili
Ingredients
5

slices

hardwood smoked bacon

1

red bell pepper

1

green bell pepper

1/2

cup (~4 stalks)

celery

chopped

1

cup (~1 small)

yellow onion

chopped

1-2

serrano peppers

2 cans

(15 ounces EACH)

chili beans in medium sauce

or spicy

1 can

(15 ounces)

chili beans in mild sauce

2 cans

(28 ounces EACH)

petite diced tomatoes

undrained

1 can

(6 ounces)

tomato paste

2

pounds (32 ounces)

ground beef chuck

1

pound (16 ounces)

Italian sausage
Seasonings
4

tablespoons

chili powder

1

tablespoon

dried oregano

2

teaspoons

cumin

1

teaspoon

dried basil

1

teaspoon

seasoned salt

& 1/2 teaspoon pepper

1

teaspoon

cayenne pepper

1

teaspoon

paprika

1

tablespoon

white sugar

1

tablespoon

Worcestershire sauce

1

tablespoon

minced garlic

3

regular sized beef bouillon cubes

Optional: fresh cilantro, sour cream, freshly grated sharp cheddar cheese
Instructions
In a skillet over medium heat, cook the bacon until crisp. Remove on to a paper towel lined plate and dab off the excess grease. Set aside.

Reserve the bacon grease in the skillet.

Remove the stem and seeds from the red pepper. Chop. Remove the stem and seeds from the green pepper and chop.

Chop the celery. Remove the peel of the onion and chop. (My husband HATES onions and could not detect them in the chili -- chop super fine as they add a lot of flavor!)

Chop the serrano pepper and remove the seeds if desired -- leave them in for extra heat.

Add the chopped red pepper, green pepper, celery, onion, and serrano pepper to the skillet with the reserved bacon grease. Saute the veggies over medium heat until tender. Transfer to the crockpot.

Add in the three cans of chili beans (undrained and do not rinse), petite diced tomatoes, and tomato paste to the crockpot.

In the same skillet used to cook the bacon and veggies, cook the ground beef chuck (better flavor and texture than regular ground beef) and Italian sausage until no longer pink over medium heat. Stir that into the slow cooker.

Add all the seasonings to the crockpot. Crumble up the bacon (or chop) into very small pieces and stir that in the crockpot.

Cover and cook on low for 6-8 hours.

Enjoy with fresh cilantro, sour cream and cheddar cheese.
Recipe Notes
I use a 6-quart crockpot and this chili fills it to the top! It makes a lot which we love to eat throughout a whole week, take to a chili cook-off, or freeze in batches 🙂
Adapted from Boilermaker Tailgate Chili
Here are some more delicious crockpot soup recipes: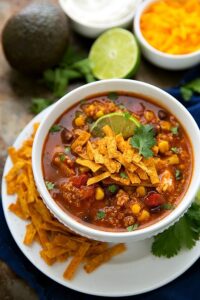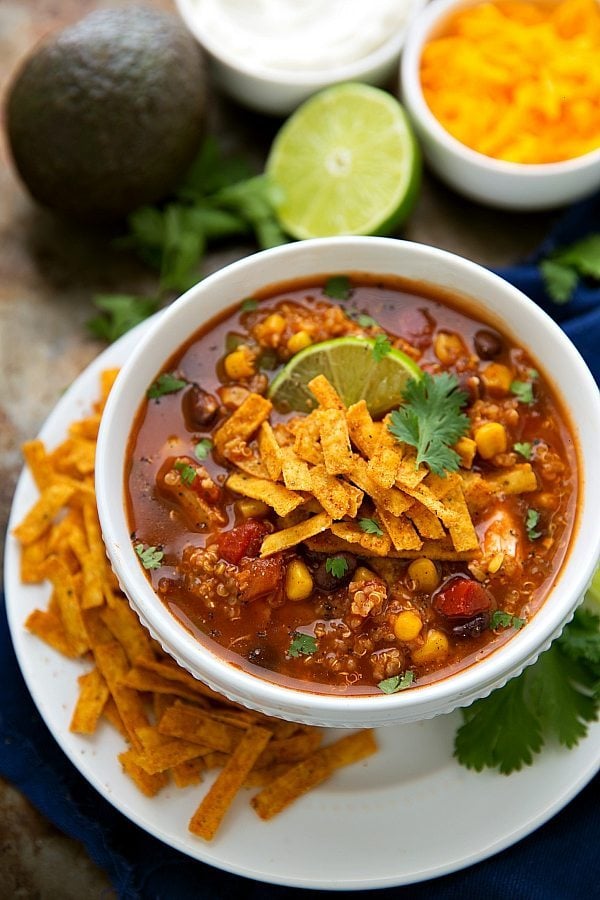 Easy Slow Cooker Mexican Tortilla Quinoa Soup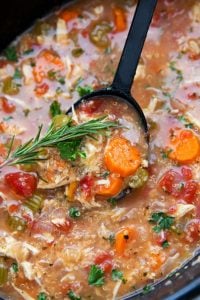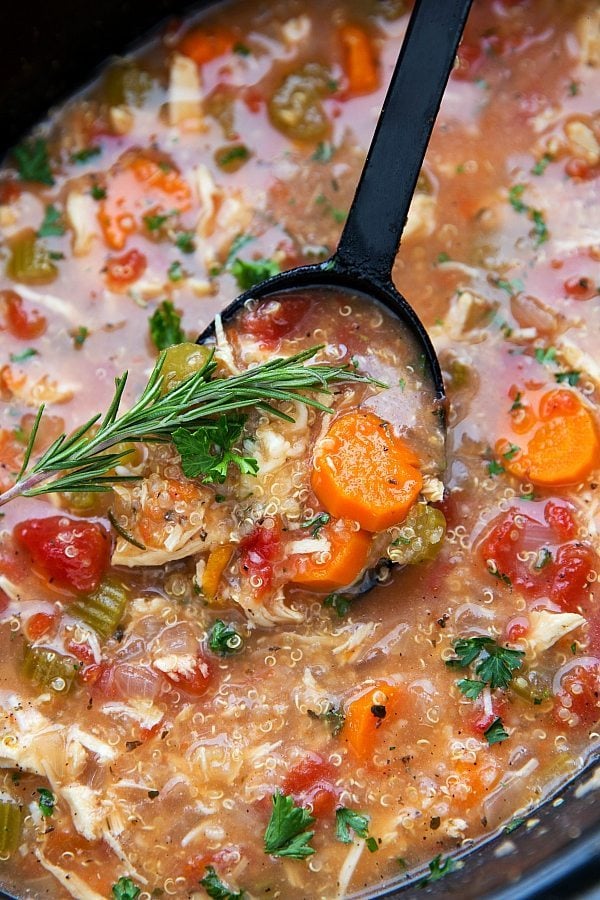 Easy Crockpot Italian Chicken and Quinoa Soup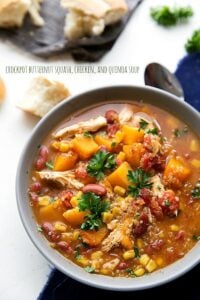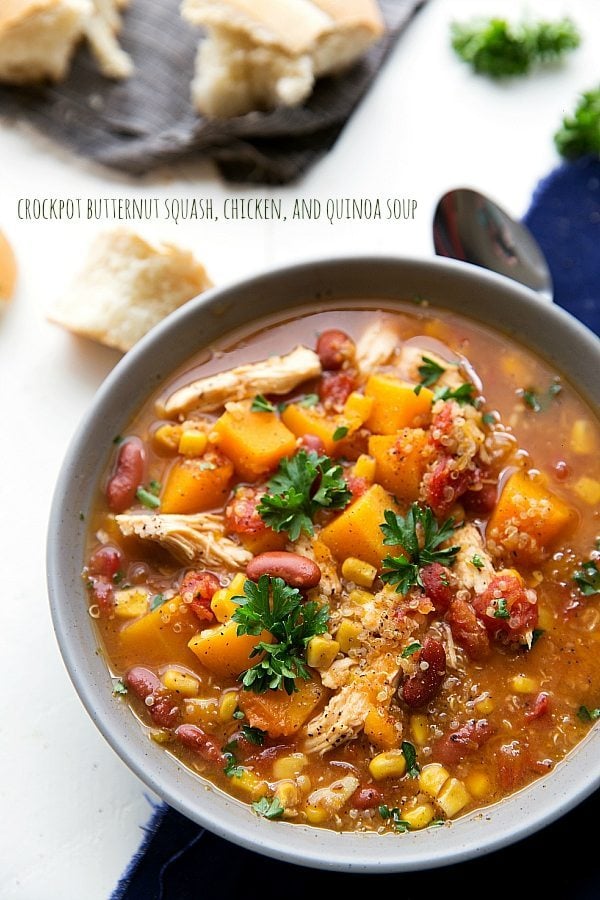 Crockpot healthy chicken, butternut squash, and quinoa soup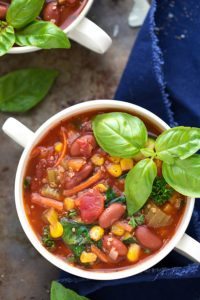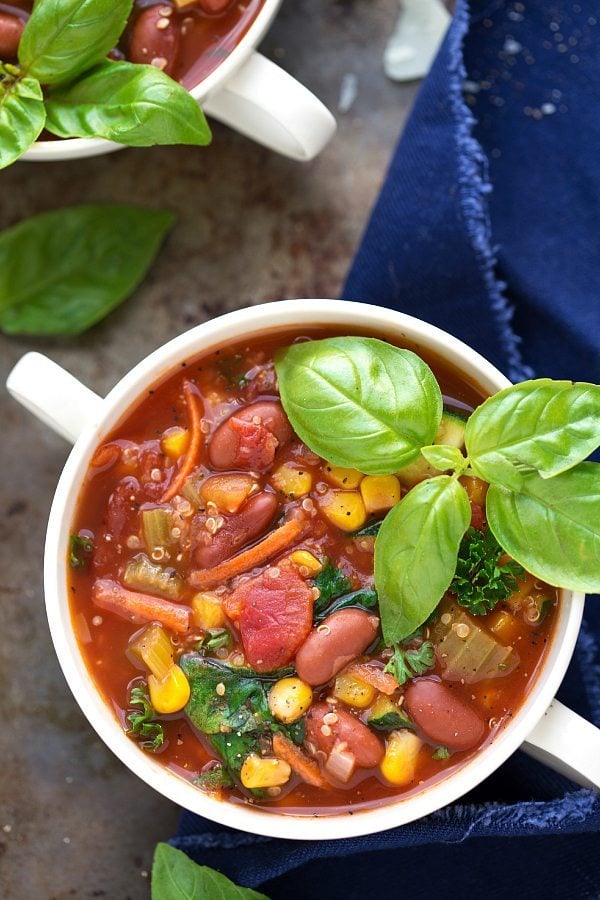 Crockpot healthy quinoa minestrone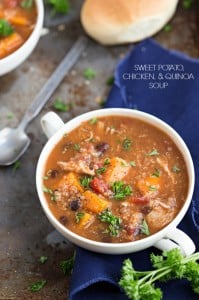 Slow Cooker Sweet Potato, Quinoa, and Chicken Soup
Crockpot Kale, White Bean, and Quinoa Soup