These delicious, moist, and spice-filled muffins are filled with a cinnamon cheesecake swirl and topped with a sweet cinnamon glaze. 
Okay have you all seen that eCard or picture or whatever that says — "Once you lick the frosting off a cupcake it becomes a muffin, and muffins are healthy. Your Welcome!"?
For some reason it totally cracks me up. And it's kind of true for a lot of muffins – they are pretty sugary. Okay not most of the ones I have on this site – in fact, making healthy and flourless muffins are one of my favorite things to make. But these muffins – they are pretty far from healthy. Essentially they are pretty close to cupcakes without the mile high glob of frosting. But there is a glaze which is almost the same thing. Gosh the glaze is good. It's a very simple glaze and pretty much all sugar, but it hardens quickly and is very similar to a doughnut glaze.
And if these muffins weren't good enough, I went and filled them with a cinnamon cheesecake swirl. It's so-so-so good.
The great thing about these muffins is that they can completely stand alone. If you don't want the cheesecake filling or the glaze OR you don't want both – no problem. These are delicious muffins all by themselves! They are also great pre-glazed which is how the babe got to eat these. 🙂
These muffins are pretty standard and simple to make, but here are a few notes: make sure you don't overstir them. The more stirring – the more dense they become. Also make sure you adjust the seasonings how you like by slightly increasing or decreasing the amounts. The first few times I made these I played around with the spices and liked this combination the best of all. (By the way, in case you are wondering — for the ginger, I call out a scant 1/2 teaspoon which is essentially a not-all-the-way-to-the-top measurement. Or just a heaping 1/4 teaspoon whichever is easiest for you to measure.)
And before making the cheesecake swirl, make sure the cream cheese is at room temperature. I'll usually just pull it out an hour or so before making muffins, but there are other ways to get it to room temperature quicker. One way is to cut it into cubes and set the cubes on a plate. Fill a bowl with super hot tap water, dump it out, dry out the bowl, and then invert the warm bowl over the cream cheese. This brings it to room temperature in a jiffy!
Finally, don't be intimated by that mile long ingredient list! A lot of the ingredients (cinnamon, I'm talking to you) are used in each part of the recipe. For ease of reading the recipe, I separated them into the three parts (muffins, filling, glaze), but a lot of ingredients overlap.
Happy Holiday baking time!! (<–I'm not even pretending anymore that it's not all Christmas in my kitchen lately, because it totally is.)
Cinnamon Cheesecake Swirled Gingerbread Muffins
Ingredients
Gingerbread Muffins
1/2

cup

butter

softened

1/3

cup

dark brown sugar

1/3

cup

molasses

1 and 1/2

teaspoons

vanilla extract

1

large

egg

1

teaspoon

baking soda

1/2

teaspoon

ground cloves

1/2

teaspoon

cinnamon

scant 1/2

teaspoon

ground ginger

1/8

teaspoon

salt

1 and 1/4

cup

white flour

1/3

cup

whole milk
Cinnamon Cheesecake Swirl
5

ounces

cream cheese

at room temperature

1

large

egg yolk

1

teaspoon

vanilla extract

2

tablespoons

sugar

1/4

teaspoon

cinnamon
Sweet Cinnamon Glaze
1

cup

powdered sugar

1-2

tablespoons

whole milk

1/2

teaspoon

vanilla

Pinch of cinnamon
Instructions
Preheat the oven to 350 degree F. Generously grease 9 cavities in a muffin tin and set aside.

Cream together the softened butter and brown sugar until creamy. Beat in the molasses, vanilla, and large egg.

In another bowl stir together the baking soda, ground cloves, cinnamon, ground ginger, salt and flour.

Slowly add the dry to the wet beating until just combined. Do not overbeat or overstir as it makes your muffins more dense.

Warm up the milk in the microwave for 30 seconds and then beat it into the muffins until just combined.

Fill up 9-10 muffin cavities about 1/3 the way full.

In another bowl, beat together all of the cheesecake swirl ingredients. Spoon the filling on top of all of the slightly filled muffin cavities.

Cover the cheesecake mixture with the remaining muffin mixture.

Bake for 20-25 minutes or until a fork when inserted into the center comes out clean.

Allow to slightly cool in the muffin tin and then remove to a cooling rack to finish the cooling.

Meanwhile prepare the glaze by whisking together the powdered sugar, 1 tablespoons milk, vanilla, and cinnamon. Keep stirring and a glaze will come together even though it seems dry. If it is still too dry, very slowly add in the remaining tablespoon of milk briskly stirring in between additions.

Pour the glaze over the mostly cooled muffins.
Recipe Notes
Feel free to increase or decrease the amount of ground cloves and ginger to your personal preference.
 Try these muffins next: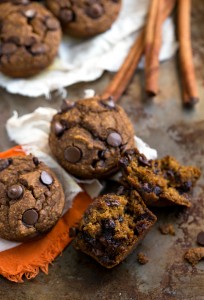 Healthy + Flourless Pumpkin Chocolate Chip Muffins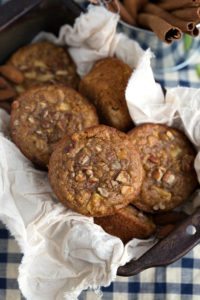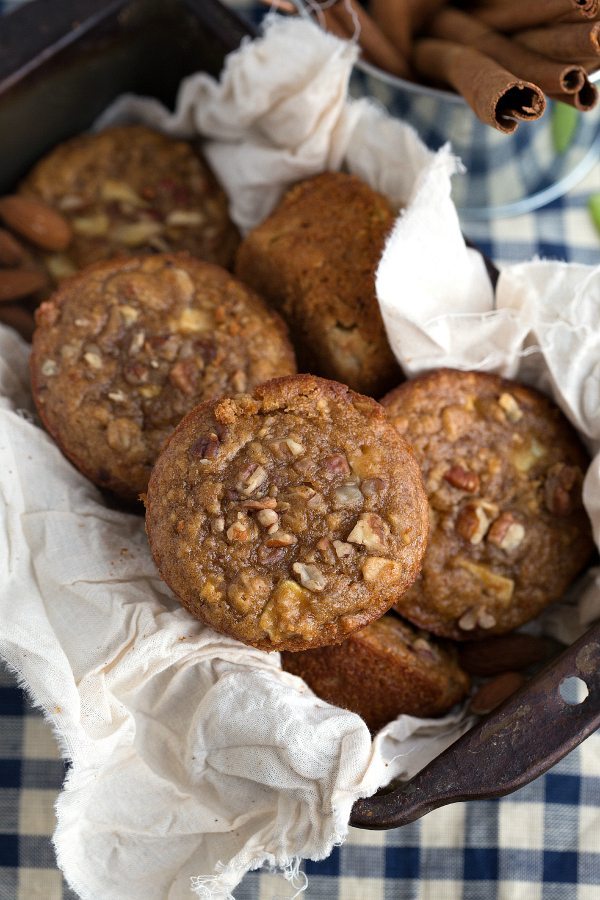 Almond butter, apple, and pecan muffins