A cinnamon graham cracker crust with a layer of delicious churro ice cream and topped with miniature churros covered in an optional chocolate ganache.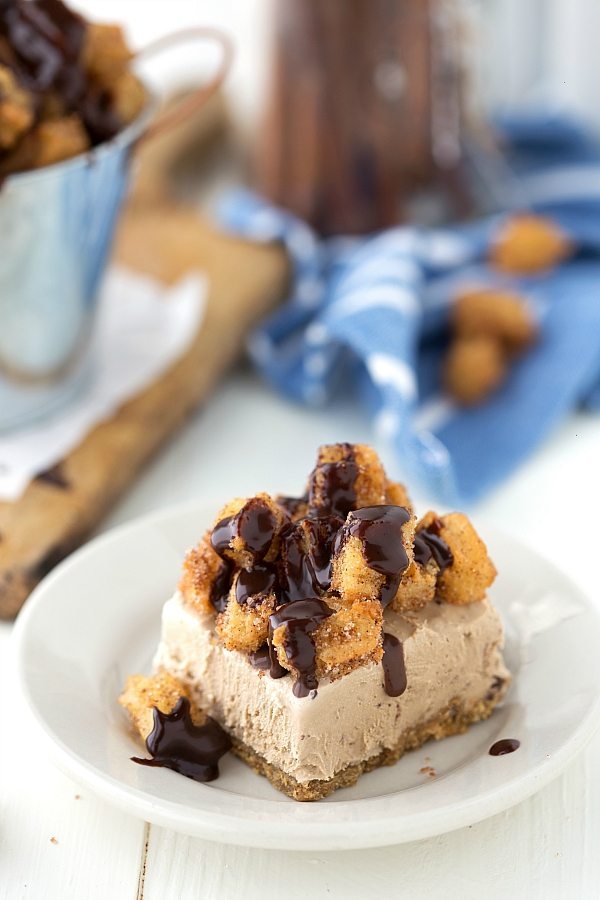 Churro fans anyone? Because these ice cream bars are fully loaded with cinnamon-sugar goodness. With a cinnamon-sugar crust, churro ice cream with ACTUAL churros mixed in it, and miniature churro bites on top, this dessert has got it all. Did I mention the chocolate ganache?…
I have to say, the original inspiration for this dessert idea is all thanks to my friend Cate of Chez Catey Lou. She emailed me a few weeks ago to see if I wanted to team up and do a giveaway where we give one of our lucky readers a whole bunch (6 pints!) of some of the tastiest ice cream ever by McConnell's. (Enter for your chance to win at the end of this post!)
As I was reading over the list of ice cream flavors available, the one that caught my eye the quickest: "Churros Con Leche." Churro ice cream? Am I dreaming?! I'd never even heard of such a thing!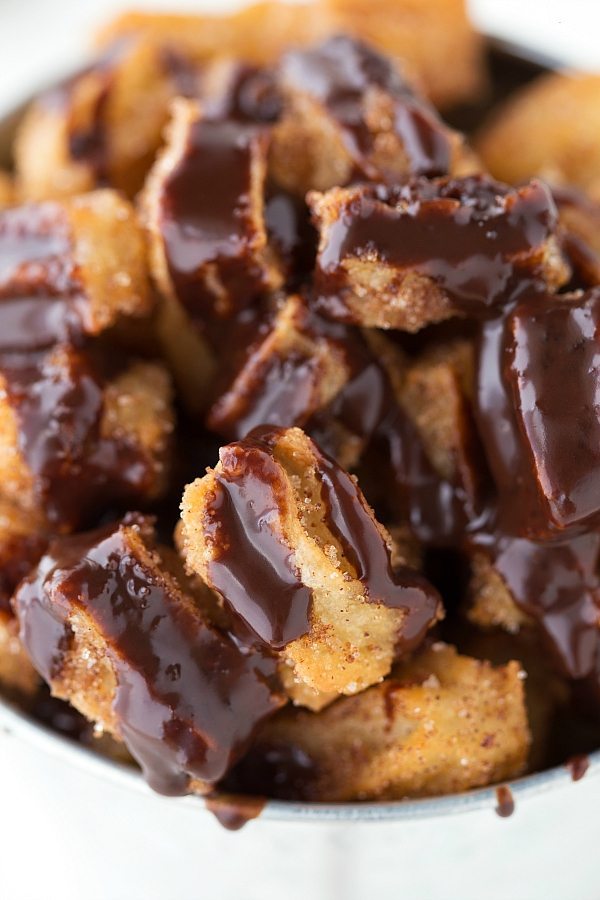 The minute I saw that ice cream flavor, I knew I wanted to do churro ice cream bars or sandwiches of some sort. The rest of the inspiration from these bars come from Cooking Classy. As a huge churro fan, I'd seen her cute miniature churros and had always wanted to try them. So why not cover some ice cream bars WITH said miniature churros?
And let me tell you, this is a dessert you NEED to make before this summer is over. Ice cream and churros were meant to go together. Especially when the churros are tiny and bite-sized. The churros right out of the fryer on the ice cream makes one of the most unique and delicious combinations I've ever had.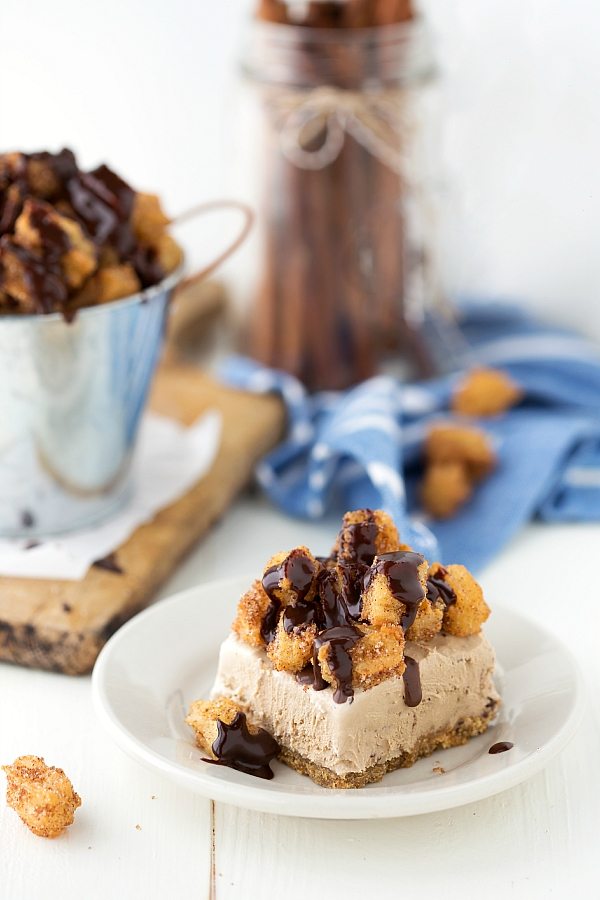 I will say, as excited as I was to smother these bars in a chocolate ganache, I actually preferred them without the ganache. I know, CRAZY right? I never thought I'd say I prefer something without chocolate, but it's true. If you love churros dipped in chocolate you'll probably like it, but both the husband and I preferred the pure cinnamon-sugar flavor to stand out.
These may seem like a lot of work, but they are actually pretty easy. The graham cracker crust is a cinch to make and then the ice cream is just smoothed ice cream in a pan over that crust. I used the Mcconnell's Churros Con Leche and the Salted Caramel Chip ice cream in these bars. Both were honestly fantastic and good compliments of the crust + hot churros. Lots of different ice cream flavors will work well in these bars so don't stress if you can't find a churro ice cream.
When you are ready to eat these ice cream bars, you deep fry the miniature churros, coat them in cinnamon-sugar, and put the hot bites right on top of that ice cream. Ganache if you want and then hurry and eat them before those hot churros melt the ice cream!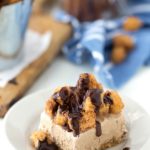 Churro Ice Cream Bars
Servings
:
9
bars, depending on how you cut them
Ingredients
Cinnamon-Sugar Crust
1

cups

and 1/2 cinnamon graham cracker crumbs

1/4

cup

white sugar

1

tablespoon

brown sugar

6

tablespoons

butter

melted
Ice Cream Layer
Churros Con Leche ice cream

or whatever you can find (caramel/vanilla flavors recommended)
Miniature Churros
1/2

cup

whole milk

1/2

cup

water

Pinch of salt

1

tablespoon

white sugar

1/4

cup

butter

4 tablespoons

1

teaspoon

Mexican vanilla

1

cup

white flour

2

tablespoons

white sugar

2

tablespoons

brown sugar

1

teaspoon

cinnamon
Chocolate Ganache
1/4

cup

heavy whipping cream

1/4

cup

dark chocolate chips
Instructions
Line an 8 x 8 pan with foil.

In a bowl, mix together the cinnamon graham cracker crumbs, white sugar, brown sugar, and melted butter until a thick "dough" forms. Press evenly in the bottom of the 8 x x pan.

Spread the ice cream to desired thickness (I used 3 pints total, but you determine the thickness you want for the bars) in an even layer on top of the crust. The ice cream needs to be slightly soft to get it to spread evenly, but you don't want it too soft or it will get icy upon being re-frozen.

Cover the ice cream bars tightly and freeze until very firm -- about 8 hours or overnight is best.

When ready to eat the ice cream bars, make the churros!

In a saucepan over medium-hot heat, combine the milk, water, salt, sugar, and butter. Mix until the butter is melted and bring the mixture to a boil.

As soon as the mixture boils, remove from the heat and stir in the vanilla.

Stir in the flour and, using a rubber spatula, continue to mix (and press out any lumps) until the dough is completely smooth.

Transfer the mixture to a large piping bag fitted with an open star tip.

Onto a sheet of parchment paper, pipe long strips of the dough. Allow to rest for 15-20 minutes.

In the meantime, preheat a deep fryer (or heavy bottomed pot over medium heat) to 360 degrees F.

With sharp kitchen shears cut the long pieces of dough into small "bites."

Place an even amount of miniature churros (too many and it will overcrowd and cause the oil temperature to decrease too much) in the deep fryer or pan .

Allow the churros to fry until they are golden brown flipping about halfway through the cooking time. (In a deep fryer it took about 3-4 minutes total for me)

Remove the churro bites onto a plate lined with paper towels. If you have a deep fryer, you can just dump from the wire mesh and if you are using a pot, use a wire skimmer.

In a small bowl, stir together the 2 tablespoons white sugar, 2 tablespoons brown sugar, and cinnamon.

Place the hot churros in the mixture and coat evenly with the cinnamon sugar mixture.

Top cut ice cream bars with the hot churros and enjoy immediately.

It's best that the churros are very hot and fresh over the ice cream bars otherwise they do not taste as great. (Only make as many bars up as you are going to eat as these don't store at all with the churros. The churros will get too hard being stored)

If desired, pour a chocolate ganache over the hot churros on the ice cream bar.

To make the chocolate ganache, microwave the heavy whipping cream in a microwave-safe bowl fro 45 seconds to a minute or until very hot. Pour in the dark chocolate chips and stir until smooth and creamy.

If you aren't going to enjoy all of the bars at once, only make as many churros as you want for your bars. Save the dough in a ziploc bag in the fridge and make more churros when you want another bar!
Recipe Notes
**Don't feel like the chocolate ganache is a MUST. I actually preferred the bars without them, but for those of you who love chocolate + churros you'll probably love the combo. Dulce de leche could also be substituted for the chocolate ganache.
Miniature churros inspired (and recipe adapted) from Cooking Classy