This cheddar ranch chicken quinoa bake is loaded with good-for-you ingredients plus lots of veggies. A simple casserole where the chicken and quinoa get baked in the same dish!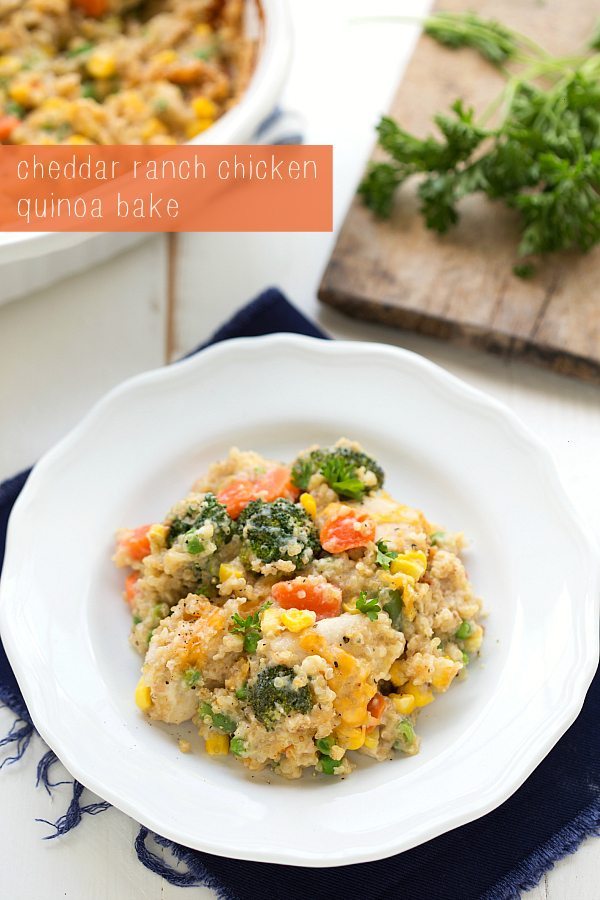 Okay so you know how creamy foods are usually loaded with butter or high fat milk or heavy cream? Well, welcome to a whole lot healthier with this creamy dish. I'm talking chicken broth, low-fat milk, and a little bit of flour. And the cheddar ranch part? Well of course there is cheddar cheese, but I used reduced-fat (and couldn't even tell a difference!), then GREEK YOGURT, and Greek yogurt ranch mix.
It's kind of crazy all of the healthier swaps I made in this recipe when it doesn't even taste lower fat or calorie. It tastes like the real-deal, ultra-creamy, delicious comfort food. I'm trying to convince myself it is not in fact magical, because it kinda sorta does seem magical.
Are you freaking out yet about this recipe? Clearly I am.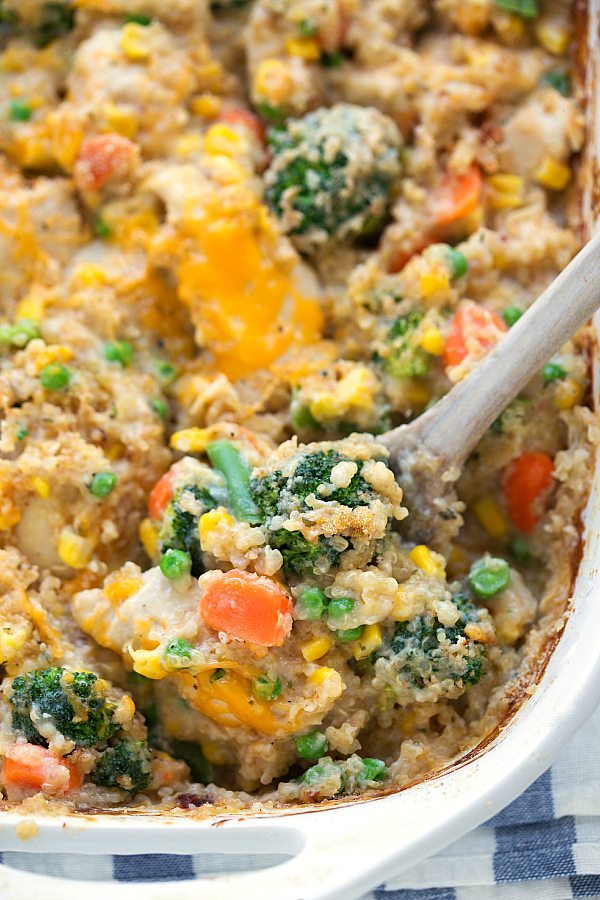 So here's the deal. The quinoa gets cooked in the casserole dish – the same one that the chicken gets cooked in. You'll need the stovetop, but only to make that creamy sauce which takes about 5 seconds because there is no melting butter or waiting for heavy creams to thicken for ridiculous amounts of time.
I'm telling you — magical. Once that easy peasy cream sauce is made, you toss in some more chicken broth + quinoa and put it in the bottom of your casserole dish.
P.S. exciting news: I tried this recipe in a 9 x 13 pan AND an 8 x 8 pan and I am proud to announce that it halves perfectly. If you exactly halve all of the ingredients, it works out fantastically well. I know it would seem like most recipes halve really well, but in my experience they don't always, so of course I'm excited to tell you all this one does!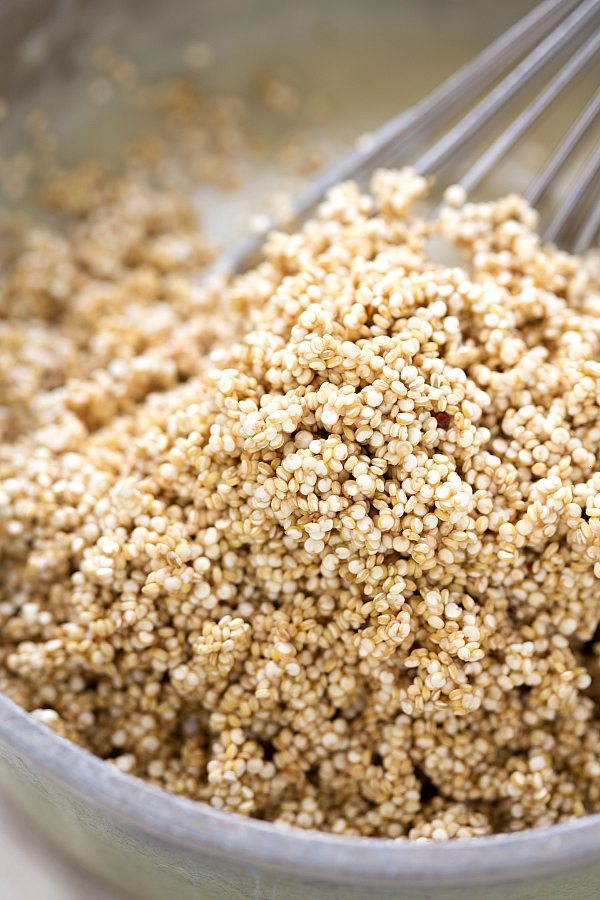 While that quinoa starts cooking and getting delicious it's time to prep the chicken. Cut the chicken into smaller pieces that are even. It's important the chicken pieces are all about the same size because you don't want some of the chicken getting over-baked or under-baked while the other chicken pieces are done.
And here's the exciting cheddar ranch part…the raw chicken pieces get mixed with plain Greek yogurt (I used 0% fat), 1 Greek yogurt Salad Dressing mix, and some reduced-fat (you can use full fat) cheddar cheese.
After the quinoa and chicken is all baked up, pull it out of the oven (it's steaming hot at this point), and mix in a bag of frozen veggies. Mix it all together, top it with some more cheese and breadcrumbs (if you want), and broil it for a few minutes.
Then this casserole is ready to impress all those "healthy eating haters." And the healthy eating lovers? Well, just you wait. 🙂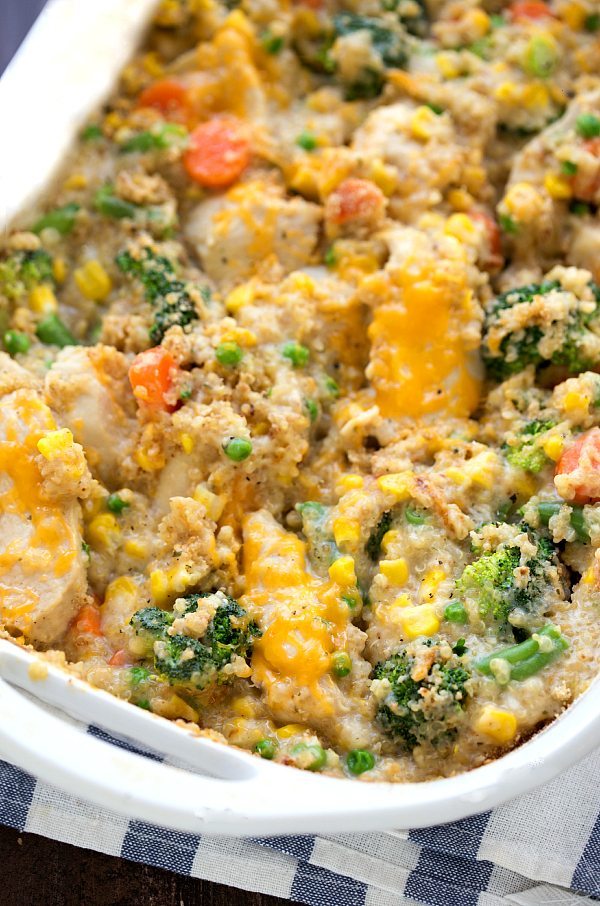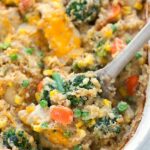 Cheddar Ranch Chicken Quinoa Bake
Ingredients
3

cups

chicken broth

separated

1

cup

1% milk

separated

1/3

cup

+ 3 tablespoons white flour

1

teaspoon

chicken seasoning blend*

1

cup

quinoa

1

pound

boneless skinless chicken breasts

1/2

cup

plain Greek yogurt

1

packet Greek yogurt Salad Dressing mix

dry

3/4

cup

shredded cheddar cheese

separated

1

pound

bag frozen assorted veggies

1

3-4

tablespoons

breadcrumbs

optional
Instructions
Preheat the oven to 400 degrees F. Generously grease (quinoa gets sticky!) a 9 x 13 casserole dish.

In a small saucepan over medium heat, bring 2 cups of chicken broth (I recommend low sodium) and 1/2 cup of milk (unfortunately only cow's milk works in this dish - skim milk never thickened enough in my experimentation so stick with 1%, 2%, or whole milk) to a very warm temperature (right before a boil). In another small bowl, briskly whisk together the remaining 1/2 cup milk, flour, and chicken seasoning blend until smooth.

Add the milk + flour mixture to the chicken broth mixture and whisk until smooth and thick. Remove from heat.

Stir in the quinoa. (I like to rinse the quinoa first in a mesh strainer to remove the bitter saponin coating. Do this unless your quinoa is already pre-rinsed) Stir in the remaining 1 cup of chicken broth.

Pour the creamy quinoa mixture in the bottom of the casserole dish and bake for 30 minutes.

Meanwhile, cut the chicken breasts into small and even pieces.

In a small bowl, stir together the Greek yogurt, Greek yogurt salad dressing mix, and 1/2 cup shredded cheddar cheese.

Mix the chicken into this mixture until all of the chicken pieces are well coated and the mixture is all used up.

Remove the quinoa from the oven, stir well, and add the covered chicken pieces in an even layer on top of the quinoa.

Return to the oven (no need to cover the dish, the chicken won't dry out) and cook for another 25-35 minutes. Stir every 5-10 minutes to keep the quinoa from sticking to the bottom.

Cook until the quinoa has "popped" and most of the liquid has been absorbed (not all.)

Remove and stir in the frozen veggies of your choice. If you aren't using frozen veggies I would recommend steaming veggies first before adding. (You may even just want to steam the frozen veggies too depending on preference).

Top the casserole with the remaining cheddar cheese adding more as desired. Add some salt and pepper and breadcrumbs if desired. Broil for 2-3 minutes or until cheese on top is melted.

Enjoy immediately.
Recipe Notes
*Any type of chicken poultry seasoning that you like should work great here
More easy quinoa dinners: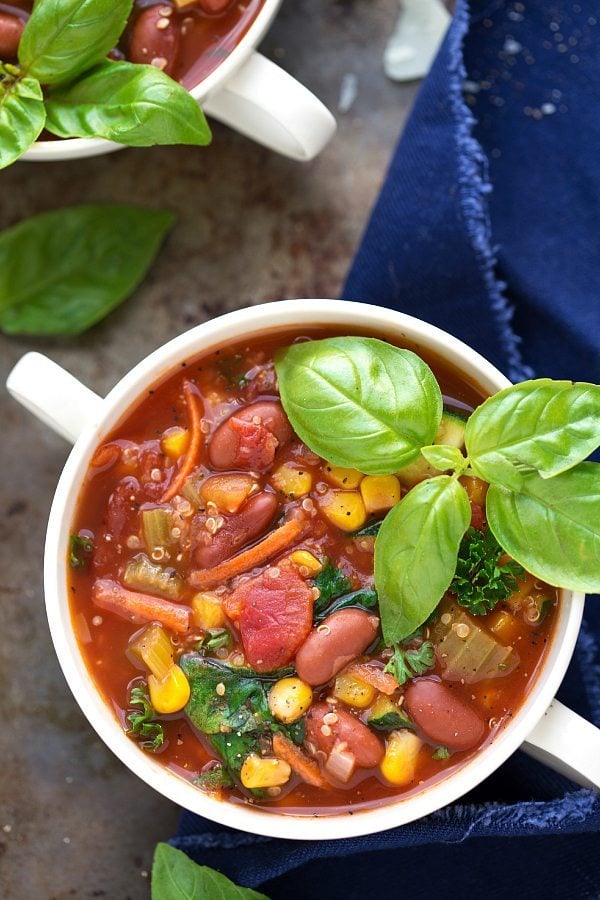 Crockpot healthy quinoa minestrone
A one dish, Crockpot Mexican Quinoa
Easy and Healthy Slow Cooker Quinoa Fajitas
Crockpot Quinoa Enchilada Dish