Miniature carrot cake cookie cups with oats and carrot cake M&M's. These cookie cups have a slightly indented center and are topped with a swirled cream cheese frosting and garnished with a touch of pumpkin pie spice. The perfect Easter dessert!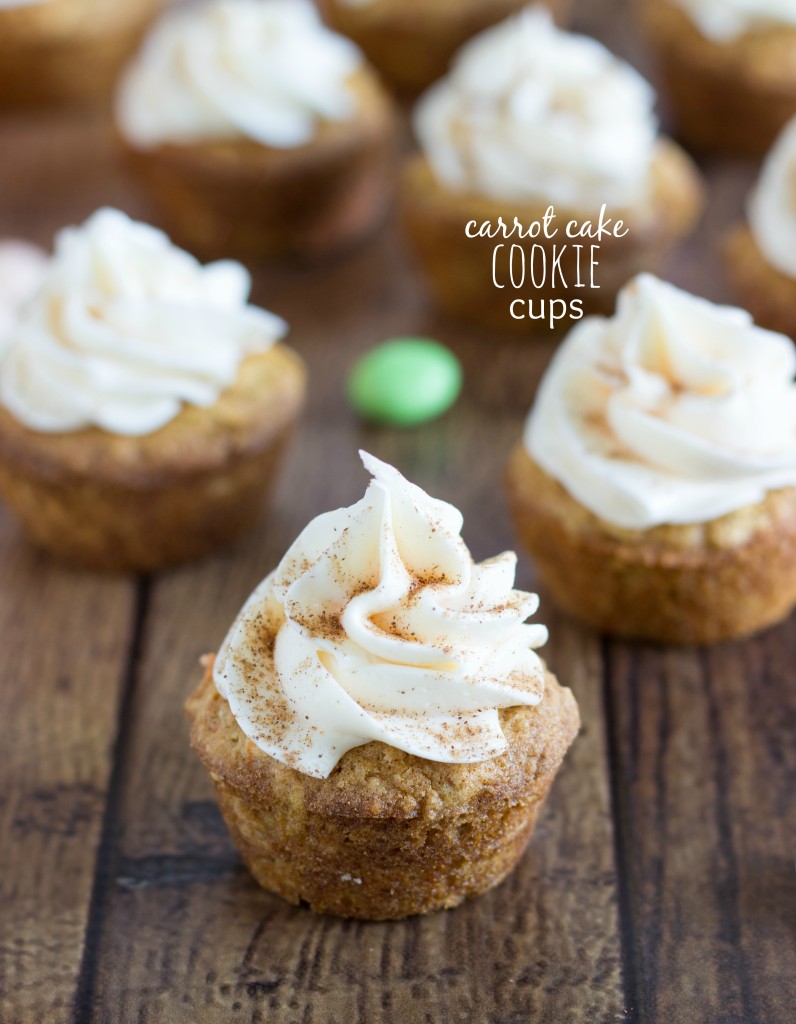 I'm not even a huge fan of carrot cake. But these carrot cake cookie cups – I am obsessed with them.
The hint of carrot is very mild, but the flavor and moistness of these cookie cups is incredible. They are loaded with oats and have a similar texture and taste to oatmeal chocolate chip cookies.
Except better. Because these little guys are stuffed with the best cream cheese frosting AND carrot cake M&M's.
Since these are cookie cups (and not plain cookies), they are incredibly thick and chewy. Just how I like my cookies to be.
Which, by the way, I tried this recipe two ways. One with these cookie cups and once with plain cookies. It works great both ways.
I still prefer the cookie cups though – more cookie in one bite! Oh, and more room for looooads of cream cheese frosting!
If you choose to make cookies instead of the cookie cups, the ingredients and directions are the same EXCEPT that the carrot cake M&M's get stirred into the batter before going onto a baking tray.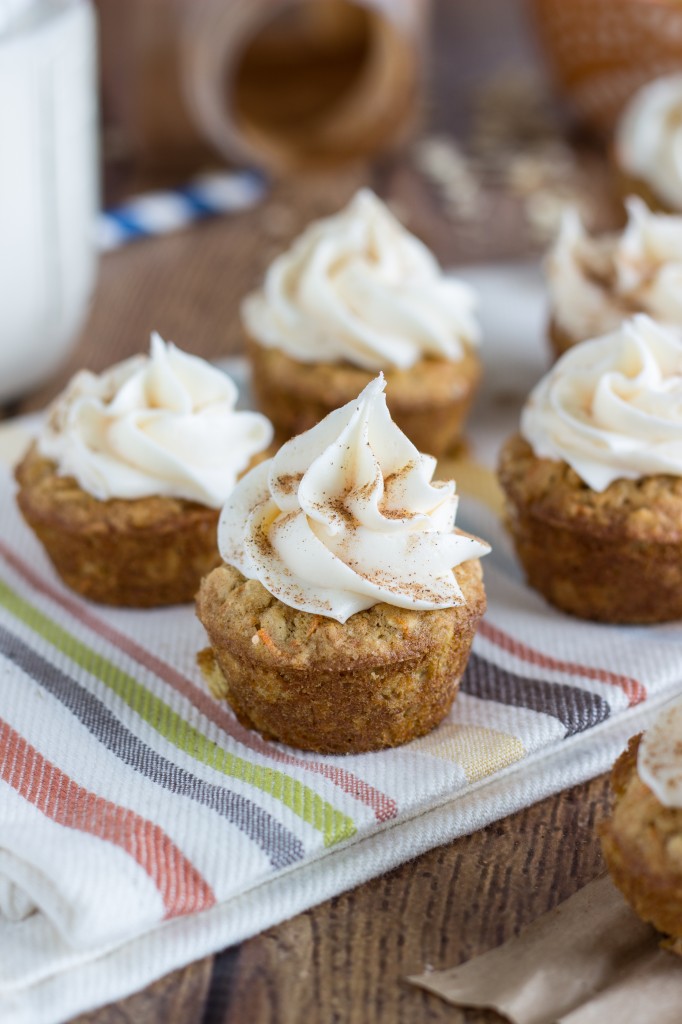 These cookies do have carrots in them – one cup of *very* finely shredded carrots. They also have two cups of old-fashioned oats and then 1 bag of carrot cake M&M's.
If you don't have carrot cake M&M's, they can be left out and this recipe will still work great (as long as you keep the loads of frosting!). The M&M's can be substituted for white chocolate chips. However, if you substitute white chocolate chips, only add in 1 and 1/4 of a bag instead of the entire bag.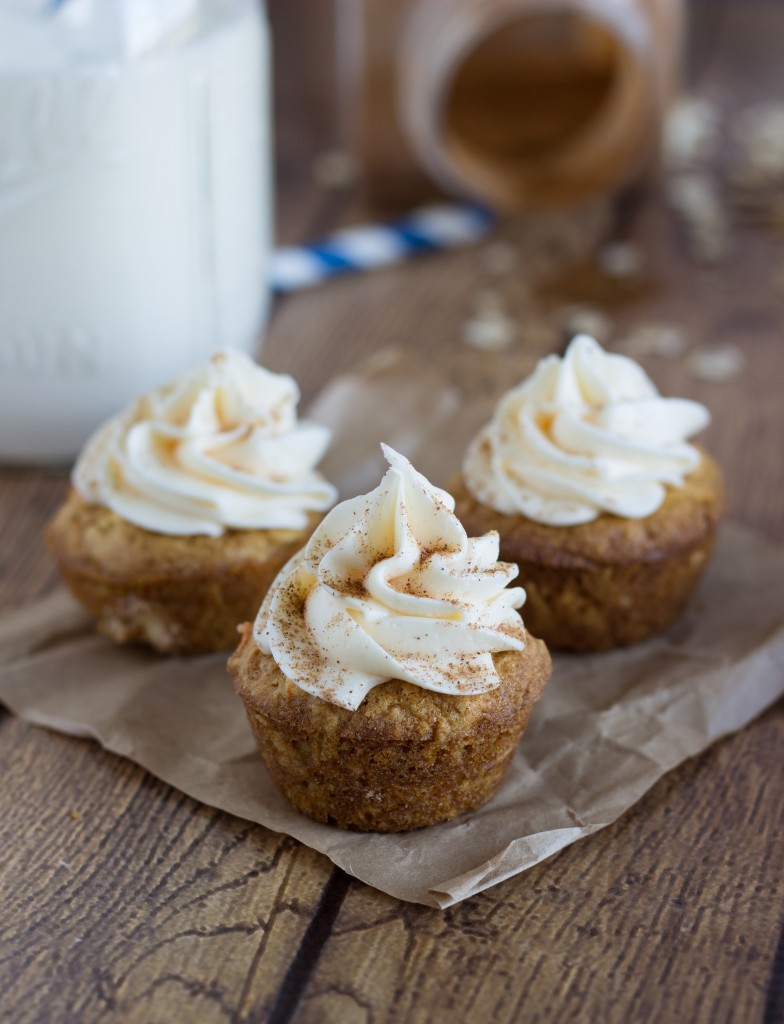 When making these cookies, make sure to grease your mini muffin tin very well so the cookies will come out easily.
Once they are done cooking remove them after about 1-2 minutes so they don't get too hardened in the tin. I remove mine by lightly prodding the sides with the tip of a small spoon. I then will use the spoon to almost scoop out the cookie.
Right before you scoop them out, you'll want to lightly indent the center. Nothing crazy, but just to make the frosting have a more prominent place to go. I lightly indent the centers with the back of a teaspoon measuring spoon.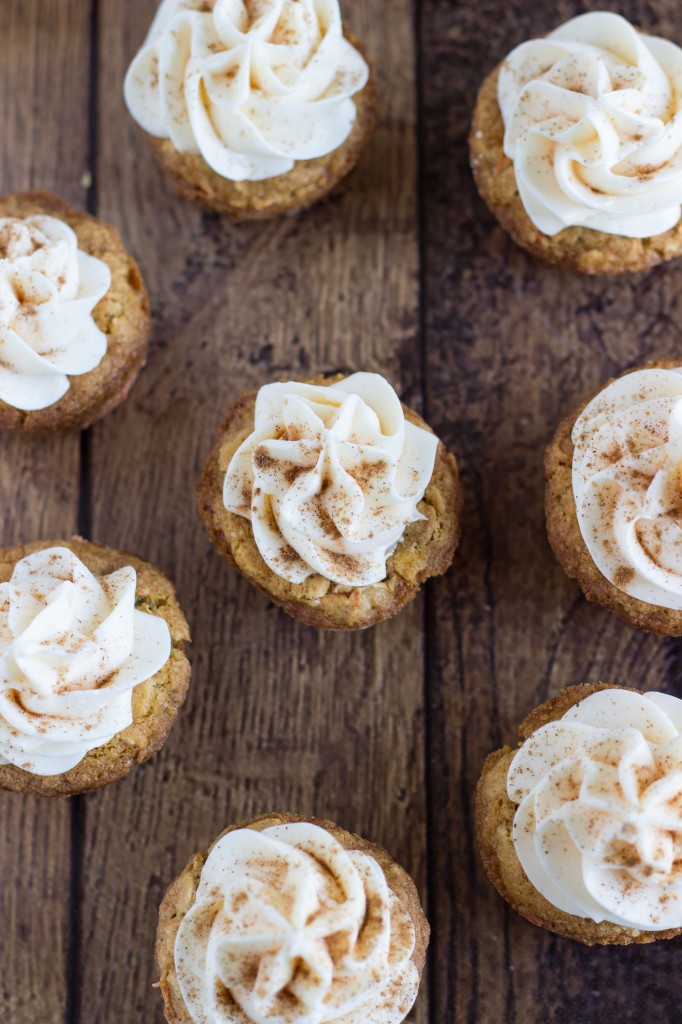 And finally, the frosting. AKA mega yum.
This cream cheese frosting is very rich. And cream-cheese like. And sweet.
If you don't like it that way, I have a few suggestions. You could use cream cheese frosting from a tub. You could use a cream cheese frosting recipe you know and love. You can mess around a little bit with the quantities I have listed until the frosting is how you like it.
I piped the frosting on with a large star tip. If you don't have a star tip, they are only about $1 at a craft store. Or, you can "pipe" the frosting through a plastic bag with the tip cut off. It just won't be as pretty. If you choose to make cookies, you can spread this frosting on with a butter knife.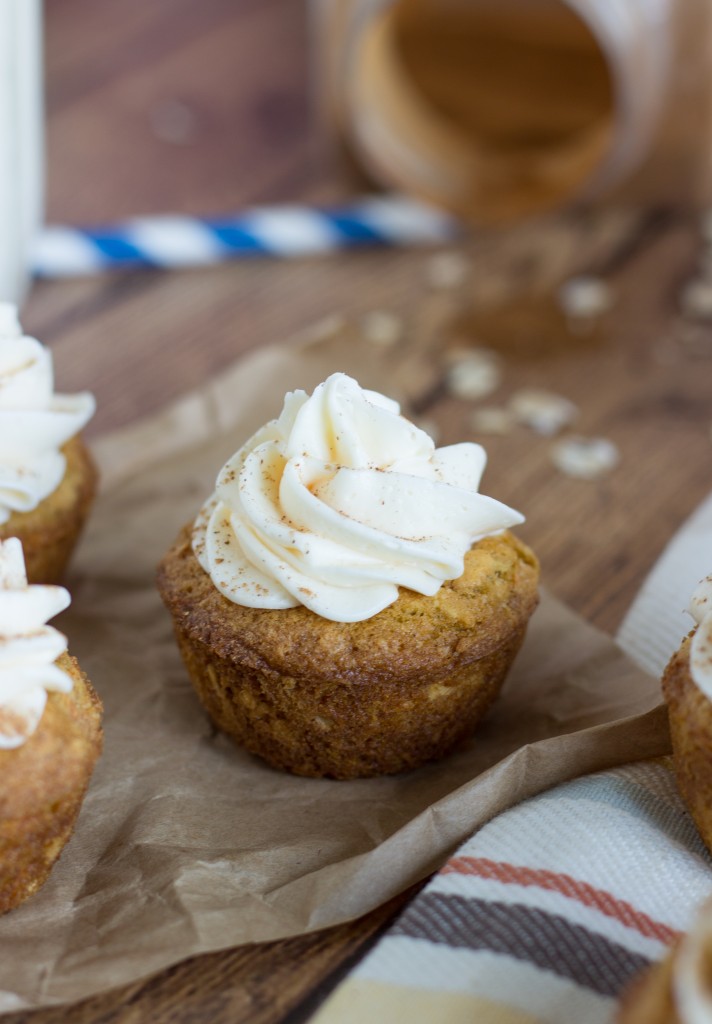 Carrot Cake Cookie Cups with a Cream Cheese Frosting
Ingredients
3/4

cup + 2 tablespoons

unsalted butter

at room temperature

3/4

cup

brown sugar

1/2

cup

white sugar

1 and 1/2

teaspoons

vanilla extract

2

large

eggs

1 and 3/4

cups

all-purpose white flour

1

teaspoon

cinnamon

1

teaspoon

baking soda

1/4

teaspoon

baking powder

1/4

teaspoon

salt

2

cups

old fashioned oats

1

cup

finely shredded carrots

1

bag

carrot cake M&Ms
Cream Cheese Frosting
1

package (8 ounces)

cream cheese

softened

1/4

cup

butter

softened

2

cups

powdered sugar

1 and 1/2

teaspoons

vanilla extract

Optional: pinch of cinnamon
Instructions
Cookie Cups
Preheat the oven to 350 degrees F. Grease a miniature muffin tin and set aside.

In a large bowl, cream together the butter, brown sugar, and white sugar until creamy or about 2-3 minutes. Add in the vanilla extract and beat in the eggs one at a time.

In a separate bowl, combine the flour, cinnamon, baking soda, baking powder, and salt.

Slowly combine the dry and wet ingredients making sure to scrape the sides.

Stir in the old fashioned oats and finely shredded carrots.

Using a cookie scoop, scoop the cookie dough into the muffin cups. The cookie dough should almost fill the muffin cups. Press in a few carrot cake M&M's deeply into the center of the cookie dough. (If you mix in the carrot cake M&M's they sometimes stick to the side and make the cookie cup fall apart when removed).

Bake for 7-10 minutes or until lightly browned on the sides. (Mine took 8 minutes)

Remove and lightly indent the center of the cups with the back of a teaspoon measuring spoon.

After about 1-2 minutes carefully remove the cookie cups and let cool completely.
Frosting
Cream together the butter and cream cheese until smooth. Stir in the vanilla and then slowly add the powdered sugar. Beat until smooth and creamy.

Pour into a frosting bag fitted with a large star tip.

Pipe the frosting on to the cookie cups and optionally garnish with a light sprinkling of cinnamon if desired.
Recipe Notes
* Or substitute 1 and 1/4 cups white chocolate chips
Want some more fun Easter desserts?