This dark chocolate breakfast mousse is made with Greek yogurt (no avocado!). It is smooth and creamy, simple to make, and packed with protein. This mousse is topped with fresh fruit, a chopped up chocolate brownie energy bar, and (optional) chocolate curls.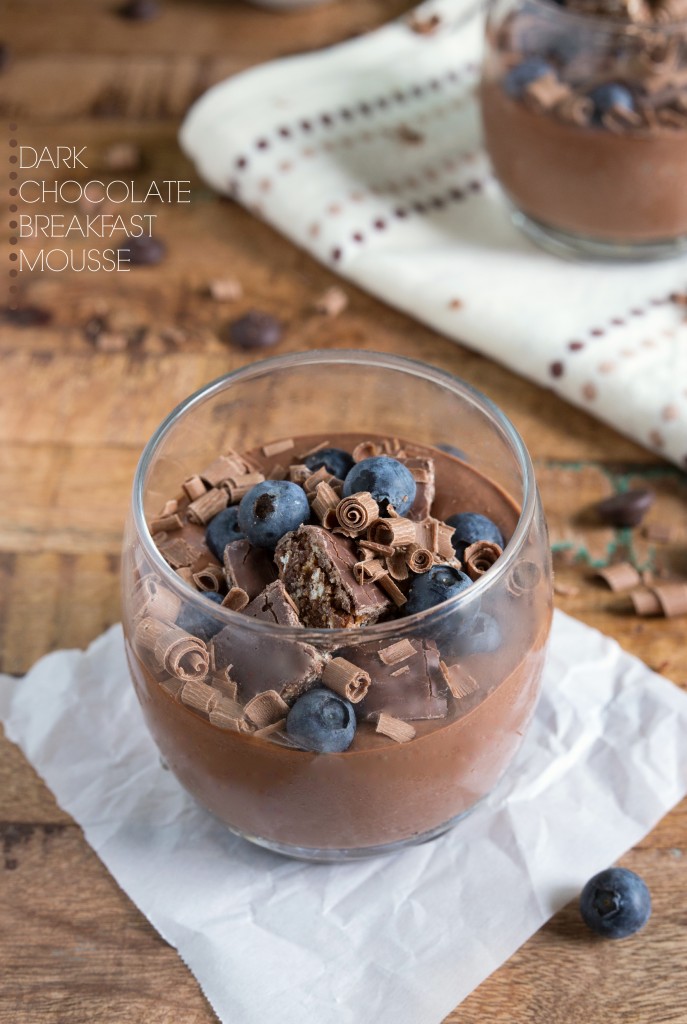 Chocolate mousse for breakfast anyone? I'll take five.
And did you see all the toppings on this mousse? I'm talking fresh fruit (I used blueberries), a brownie-flavored protein bar (YUM), and chocolate curls. Which I admit, the chocolate curls happened when I was just getting out of hand and excited decorating this mousse to take pictures. Those chocolate curls are totally optional.
But IF you did serve this chocolate mousse for a dessert instead of for breakfast, well, then the chocolate curls are totally appropriate. And making chocolate curls is so easy. All you need is a large chocolate candy bar (no nuts or add ins) and a vegetable peeler. Make sure the candy has been at room temperature, unwrap it, and "peel" it from top to bottom directly over the dessert you want the chocolate curls to land on.
So you know the wonderful-ness of overnight oats? You make them the night before, forget 'em, and they are ready and delicious in the morning? Well guess what. These are the same way!
They are quickly made the night before, then you freeze them for anywhere from 30 minutes to 2-3 hours (just depending on when you make them and when you go to bed), give em a good stir and transfer them to the fridge. When you wake up in the morning they will be deliciously mousse-like, chocolate-y, and ready to be topped.
I already briefly mentioned the toppings – blueberries, protein bar, and the chocolate curls, but let's talk a little bit about these protein bars. When I was in college, I seriously lived on protein bars. They were quick, on-the-go, and nutritious. I've also been on the search for the perfect protein or meal replacement bar.
And let me tell you, I've found a winner! The bars I used to top this mousse with are called Life Choice Bars and the flavor that I like (and is pictured above) is called chocolate fudge brownie. They are SO good, super fudgy, and are not over-powering protein tasting.  One last note – in the recipe I call out for 2% Greek yogurt. If you change this and try to do a lower fat content of yogurt or don't use Greek yogurt, the mixture will not thicken up like a mousse. I used Fage 2% yogurt which I highly recommend as it has always made for a really thick mousse that has set up well for me.
And now it's time for me to have dessert for breakfast and still feel great about it 🙂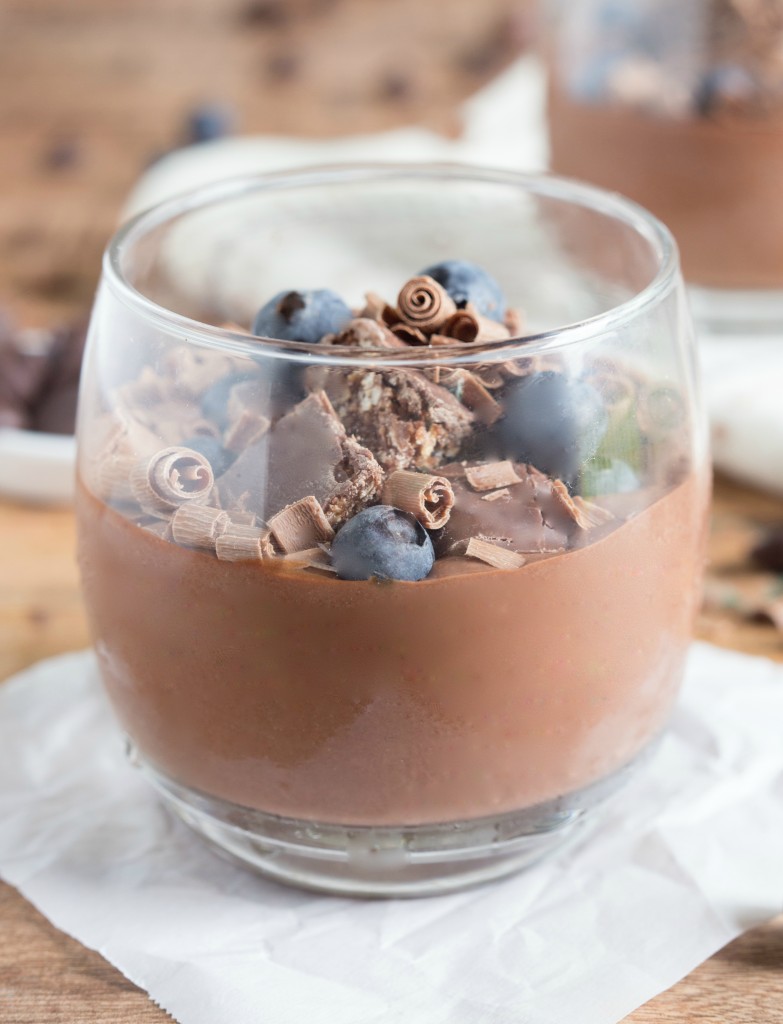 Breakfast Chocolate Mousse
Ingredients
1/2

cup

almond milk

2

teaspoons

truvia baking blend

or another sweetener

pinch

of salt

1/2

teaspoon

vanilla extract

3/4

cup + 3 tablespoons

dark chocolate chips

1

container (7 ounces)

2% yogurt

do not use a lower fat content

Optional toppings: fresh fruit, chocolate protein bar, chocolate curls
Instructions
In a medium-sized, microwave safe bowl, combine the almond milk (you may use another kind of milk), truvia (or another sweetener, but note that 1 and 1/4 teaspoon of truvia is equal to 1 tablespoon of real sugar), salt, and vanilla.

Microwave for one minute.

Remove and immediately stir in the chocolate chips. Stir the mixture briskly making sure to frequently scrape down the sides. You want all of the chocolate to melt in the milk mixture.

Once the chocolate is all completely melted, open up the yogurt. Drain any liquid that may have risen to the top.

Whisk the yogurt briskly with a fork and then fold it into the chocolate mixture.

Transfer the mixture to cups and cover. Freeze for 30 minutes to 2-3 hours (no more than 3 hours, no less than 30 minutes).

Remove from the freezer, stir everything again and re-cover.

Transfer to the fridge overnight.

Enjoy in the morning topped with fresh fruit, a chopped up protein bar, and if desired chocolate curls. (See post for instruction).
Recipe Notes
If you want a thick, mousse-like breakfast, the 2% yogurt is a must. Making any sort of substitutions to this recipe that haven't been indicated may result in a less mousse-like dish.
Here are some more protein-filled breakfasts:
Butterscotch Apple Pie Protein Shake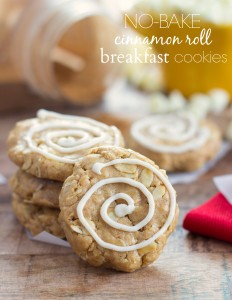 (No Bake) Protein Cinnamon Roll Breakfast Cookies
Peanut Butter and Banana Breakfast Muffins