A simple, under 30 minute meal with hot dogs in a homemade sweet BBQ sauce served over white rice.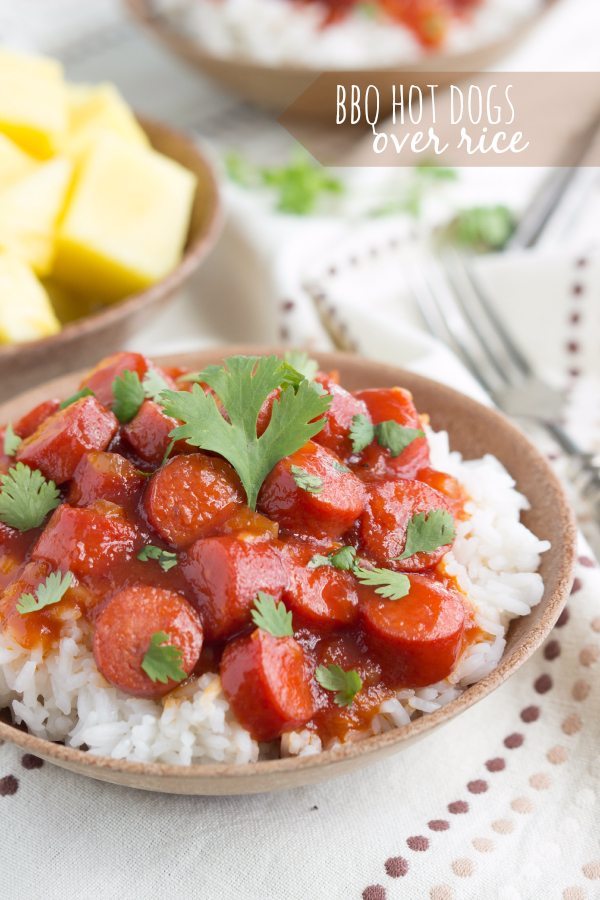 Okay I admit, not the prettiest looking food. And it's kind of weird right?
But, oh my gosh. This dish is SO good. Oh, and if you have kids/grand-kids/nieces/nephews/little kids around? They are going to go wild for this. The babe could not shovel these in quick enough. He loved them. And by them, I mean the hot dogs. He's not a huge rice fan quite yet. Mostly because he's Mr. Independent and likes to feed himself. And rice isn't super conducive for that.
So the sticky chopped up hot dogs became his favorite. And one of my favorite messes to clean up so far. It was in his hair, his feet, and all over his clothes. Step aside bib. The baby knows his way around it!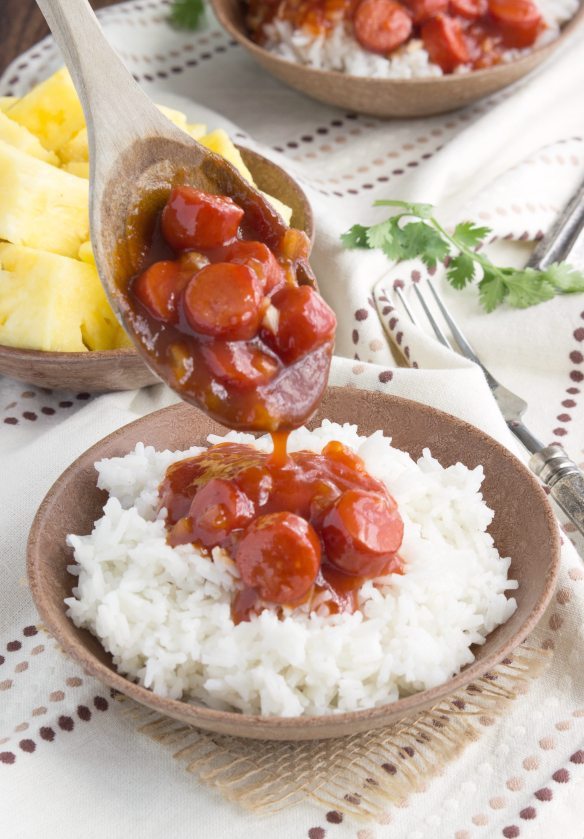 The "BBQ" sauce is slightly adapted from a favorite family recipe – my sister-in-laws. In fact, she helped my husband make it (the sauce but with chicken) for me when we were first dating. The husband passed it off as his own creation, but I've since learned his forte is combining cereal and milk OR boiling pasta noodles and mixing with spaghetti sauce. And that is one of my favorite things about him because I can make just about anything and he is super impressed and appreciative.
But back to this sauce – it's definitely a winner. A lip-smacking, finger-lickin' delicious sauce. And with the hot dogs? Oh yes. This is a good one! Perfect for summer and to change up your next BBQ a bit.
Who knew hot dogs without a bun could be this good?!
When it's summer my top picks of food – they pretty much revolve around what I can grill. The husband and I love grilling and we usually will do hot dogs or chicken skewers for Sunday Dinner. The little guy loves all the bites he can get.
And although these hot dogs aren't grilled, they are still hot dogs which is quintessential summer food to me 🙂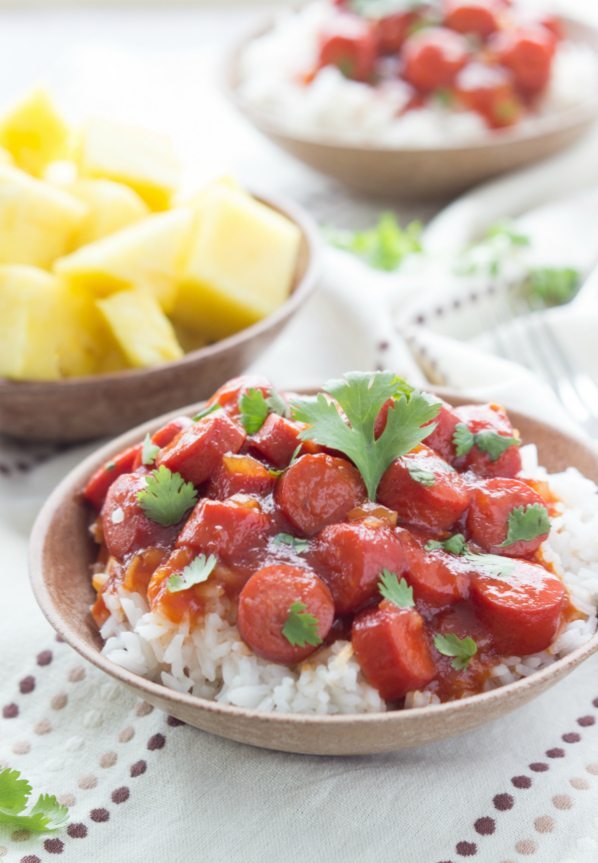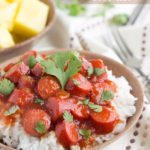 BBQ Hot Dogs over Rice
Ingredients
1

cup

white rice

2

cups

water

5

hot dogs

2

tablespoons

olive oil

separated

1/3

cup

onion

finely chopped

3/4

cup

ketchup

1/3

cup

vinegar

1/4

cup

brown sugar

not packed

2

teaspoons

mustard

1

tablespoon

Worchestershire sauce

Salt and pepper

Fresh cilantro

optional
Instructions
Cook the rice with the 2 cups water according to package directions.

Meanwhile, chop the hot dogs into 1/2 inch coins. Add 1/2 tablespoon olive oil to a skillet and then add the hot dogs. Add the hot dogs and brown on both sides, about 4 minutes total. Remove the hot dog pieces onto a paper towel lined plate. Drab off any grease and set aside.

In a large skillet combine the remaining 1 and 1/2 tablespoon olive oil with the onion. Cook until tender and translucent. Add in the ketchup and vinegar. Stir well. Add in the brown sugar, mustard, and Worchestershire sauce.

Reduce the heat and allow to simmer for about ten minutes.

Stir in the hot dogs. Add salt and pepper to taste.

Top the rice with the BBQ hot dog mixture

Optionally garnish with fresh cilantro.

Enjoy immediately.
Here are some more great summer recipes:
Honey-Chipotle Pulled Pork Taquitos