It's finally here – a recap of my little babe's 1st birthday party.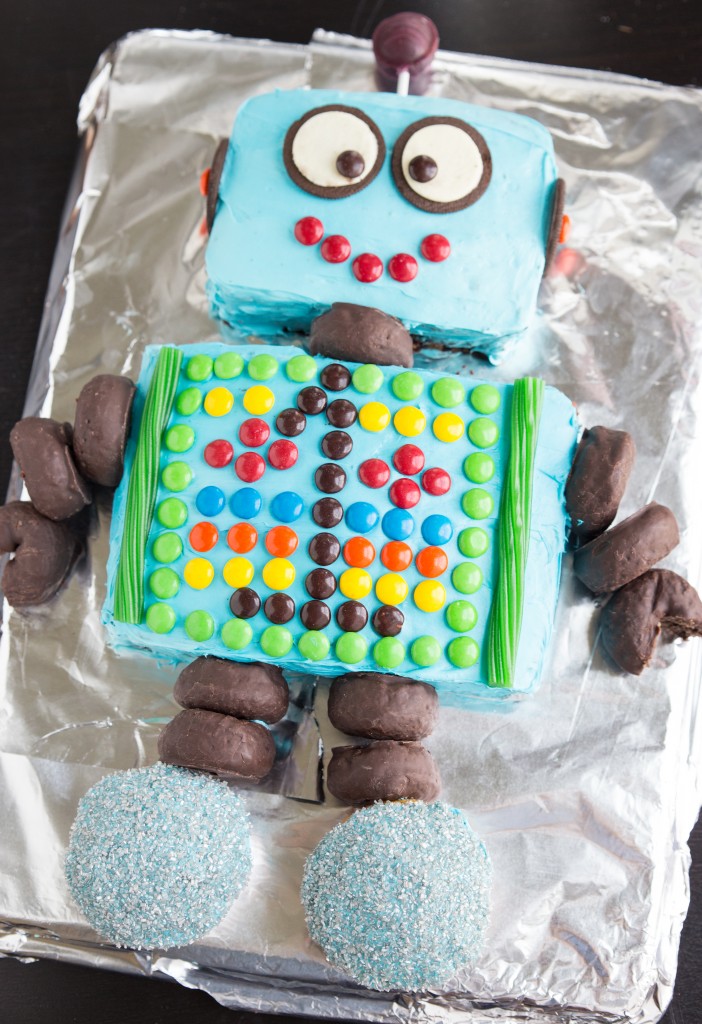 Let's start with the robot-decorated cake. I totally found a picture like this cake on Pinterest and put my own spin on it. Basically I baked a 9 x 13 cake and cut it up to create the body and the head; I dyed frosting blue and coated the cake in that. The links on the robot are just doughnuts, the "ears" are one cookie in an Oreo, the eyes are separated Oreos, the mouth and button screen are all M&M's, and the little feet are just cupcakes I frosted blue and dunked in silver sprinkles. Oh yeah, and some pull apart Twizzlers just to finish off the button screen.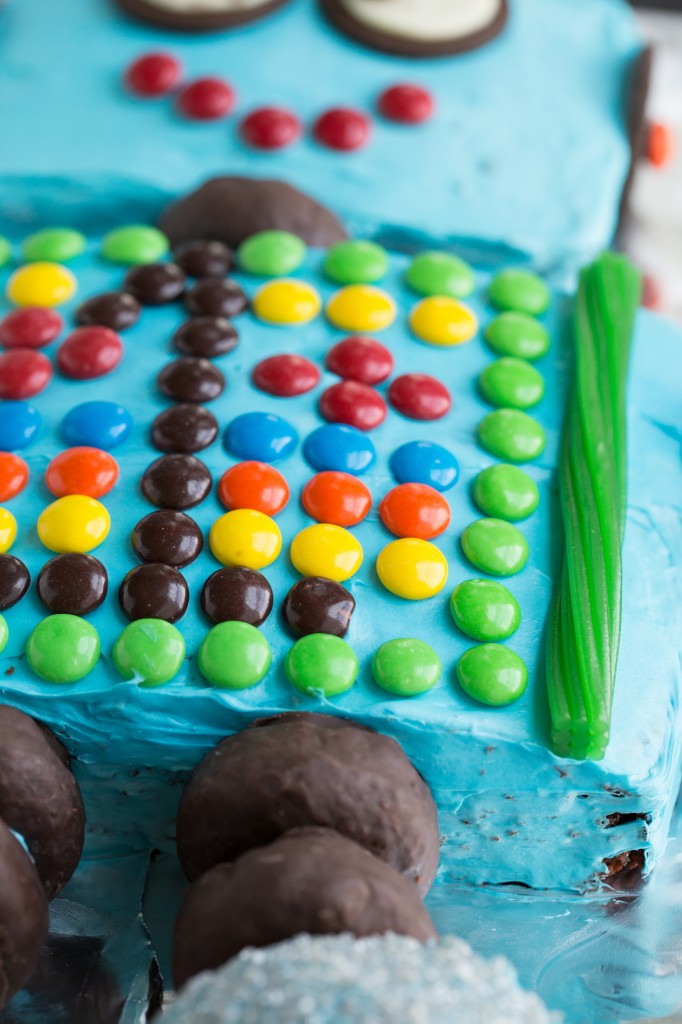 The banner – I just made found picture gears online and uploaded them and wrote the letters inside on the "design" section of Picmonkey. Then I cut out metallic paper and topped each peach with a sparkly striped paper. My friend actually came over and helped me with the banner and had all the ideas for this one. She's the one with the cutest little girl that Grey has a major crush on. He's kissed her about a majillion times to date. The "string" holding them together was a cool find – apparently it goes in flower bouquets, but made for an awesome metallic and robot looking rope. I found all the paper and the string at JoAnn fabric and craft.
I also have a Robot cricut cartridge that my mother-in-law got me which was actually the inspiration for the party. I cut out some little robots and decorated them with paper and silver pipe cleaners. They were hanging from the lights. I have one close-up you can see in this collage below.
For little table decorations, I hot glued skittles and googly eyes on starbursts. I also, with the creative genius of the hubs, made funny robot-themed labels for the food. My personal favorite: organic lifeforms was the label for the bucket of fruit. They were made with the same paper as the banner and decorated with the silver pipe cleaners.
I set up the table with all the silver dishes I could find. Thank goodness I'm a food blogger and have tons of random and un-matched silver dishes, because it made for a fun table decoration. I used all round silver plates or bowls and arranged them to look like gears on a large machine.
Grey was, of course, more fascinated with wrapping paper than he was with opening his presents. Luckily, his cute 3-year old cousin was more than happy to step up and unwrap the presents for him :). He would get excited about the new toys and then wouldn't want to move on to the next present – he was more than happy with just having one toy to play with.
Of course, that's changed since the party. He loves all the new toys he got and we have put some serious play-time in with those. Our sweet friend got him a bucket full of bath toys that haven't even made it in the bath yet, he just likes playing with them downstairs. He also loves squeezing them and getting air blown in his face. (They are the toys that fill up and squirt water – he just likes them squirting air more).
Oh yes, and possibly my favorite DIY Pinterest find – a cupcake robot stand. I found something similar on Pinterest, but with no instructions. It looked pretty easy though, so I just made it up. I wrapped coasters in tin foil for the feet, unwrapped cans to make his legs and body. I put silver plastic chargers to hold the cupcakes, and an upside down cake pan covered in buttons made the top of his body. I hot glued duct tape on to the buttons to make a sort of double-sided tape and then connected those to the cake pan. It work pretty well!
The arms are tin foil wrapped tissue paper holders with silver pipe cleaners sticking out that were formed to make hands. The "head" is a tin foil wrapped small box that I also decorated with pipe cleaners. I added some googly eyes and a button to the head with hot glue. And finally hot glued some antennas made out of more pipe cleaners. This was my favorite thing to make and actually came together pretty quickly.
I layered the cupcake stand with some cupcakes I made in silver liners, frosted with blue frosting, and dunked in silver sparkly sprinkles.
And finally it came to my favorite part of the party – the cake smash. This was outrageous – Possibly the most fun I've ever had watching Grey. At first he wasn't sure what to do, but after some coaxing from dad and a lick of frosting of dad's finger, he went nuts. He started shoving it in his mouth, playing with it, throwing it, stuffing it down by his legs (to later pull it up and eat it)… it was everywhere.
That bath and clean-up was quite the experience! And although it was a blast, I felt absolutely horrible since he had a rumbling tummy and wasn't feeling so great after eating the cake. No more sugar for a while for this little guy – he had enough to last him a whole year!
Happy birthday to my favorite little guy in the world! We sure love him 🙂