This easy Halloween cheesecake starts with a pre-made cheesecake and uses quick ingredients for a last-minute, super festive Halloween cheesecake. No baking or fancy tools required to achieve the look!
Okay, so Halloween is over a month away. But since it is one of my absolute favorite holidays, I've got a bunch of fun and simple ideas and this is one that I couldn't wait to share.
Mostly because it's one of those way quick recipes that can literally be thrown together in ten minutes and will still taste delicious. Granted I started with the cheesecake already made, but having a pre-made cheesecake makes for the best kind of last minute dessert. I don't know about you, but every year there seems to be so many Halloween parties/events that I need a QUICK dessert to bring to. Because instead of baking I'm spending time perfecting the costumes. Sound familiar anyone? 🙂 In fact, I've been so excited about Halloween costumes I've had my little Grey's costume since September!
So speaking of that pre-made cheesecake, I used a frozen pre-made classic cheesecake. They are super convenient for last minute desserts because you can have a few stored in your freezer and have them ready to be decorated within minutes. They are in the frozen food section of most grocery stores and they can be thawed super quick at home.
The rest of the decorations are super quick to create your edible graveyard. The gravestones are simply cookies with "RIP" written using a gel frosting tube (or black frosting piped through a bag that you've cut off the very tip of OR you can fit a frosting bag with a #3 tip and use that). Then all you need are some other small decorations like candy corns, pumpkin mellowcreme candies, creepy candy eyes, etc. Whatever you find in the Halloween candy section of the store that looks eery will likely look great on this cheesecake!
Now you can be the hit of your next Halloween party while still having PLENTY of time to put together an awesome costume 🙂
10-Minute No-Bake Halloween Cheesecake
Ingredients
1

pre-made Frozen Classic Cheesecake

6-7

Oreo Sandwich cookies

4-5

Milano cookies

Black gel frosting tube

Pumpkin mellowcreme candies

Candy corns
Instructions
Thaw out the cheesecake according to package directions.

In a blender or food processor (or in a sealable bag) crush the oreos (no need to remove the cream) until they resemble crumbs.

Sprinkle the crumbs evenly over the cheesecake.

Decorate the Milano cookies with the letters "RIP" using the black gel frosting tube or put some black frosting in a small plastic bag, cut off the top, and pipe it onto the cookies.

Press the cookies randomly into the cheesecake.

Place the pumpkin mellowcreme candies and candy corns randomly on top of the cheesecake.

Serve immediately
Inspired by this awesome cheesecake dip by Erin at Well Plated
More fun and simple Halloween ideas: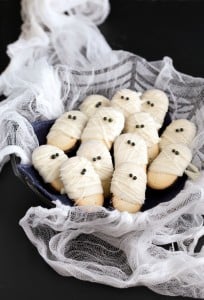 Mummy Milanos – the easiest Halloween treat!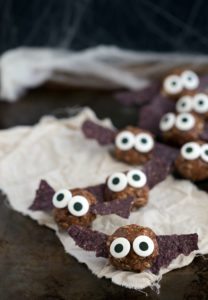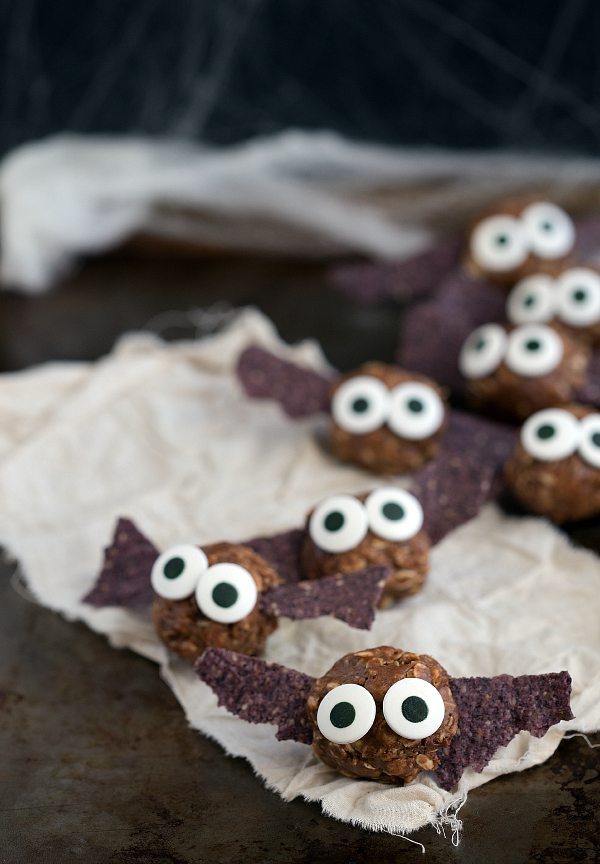 Healthy Halloween Snack – Bat Energy Bites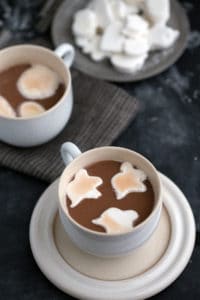 Homemade Halloween Marshmallows