These delicious and easy tin foil packets are so quick to assemble! They are packed with sausage, tons of veggies, and the best seasoning mix. This easy tin foil sausage and veggies dinner is sure to be a family favorite this summer!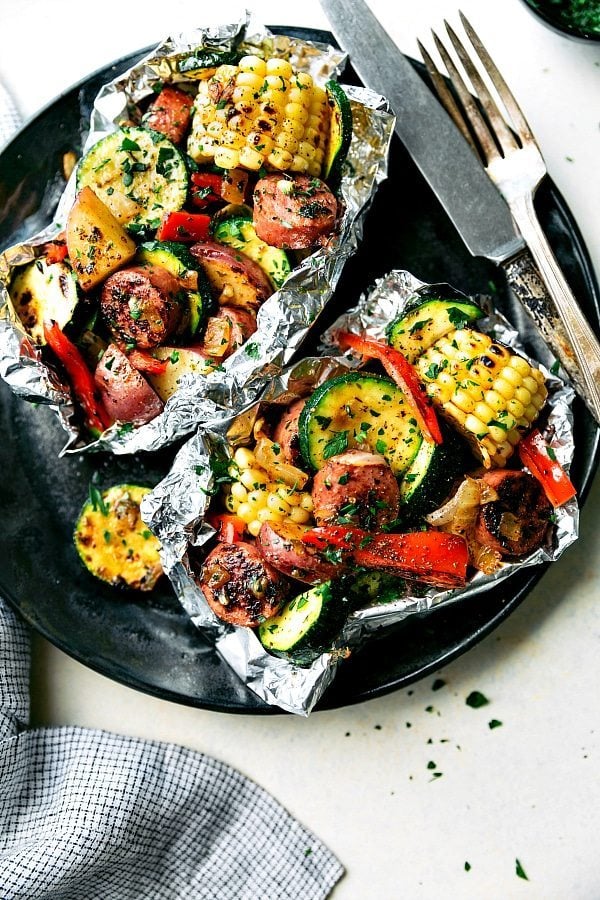 I am going to warn you all right now that I am totally & 100% obsessed with tin foil dinners and there may be about 500+ more tin foil dinners showing up in the next couple of weeks here (sneak-peak: there is a tin foil lemon parmesan crusted salmon coming soon that is 💯💯). This recent obsession with tin foil dinners is really just a rediscovery. My mom made a very traditional tin foil dinner every few weeks for us growing up. She'd cook them in the oven year round and we as kids loved them.
I've figured out why she liked them so much too — they are SO easy to assemble and the results are well worth the little effort of putting them together.
Not to mention clean up because that is pretty much nonexistent. I mean, eat it out of foil and then chuck out the foil and…wash your fork?? That is the kind of kitchen clean up I'm all about!…